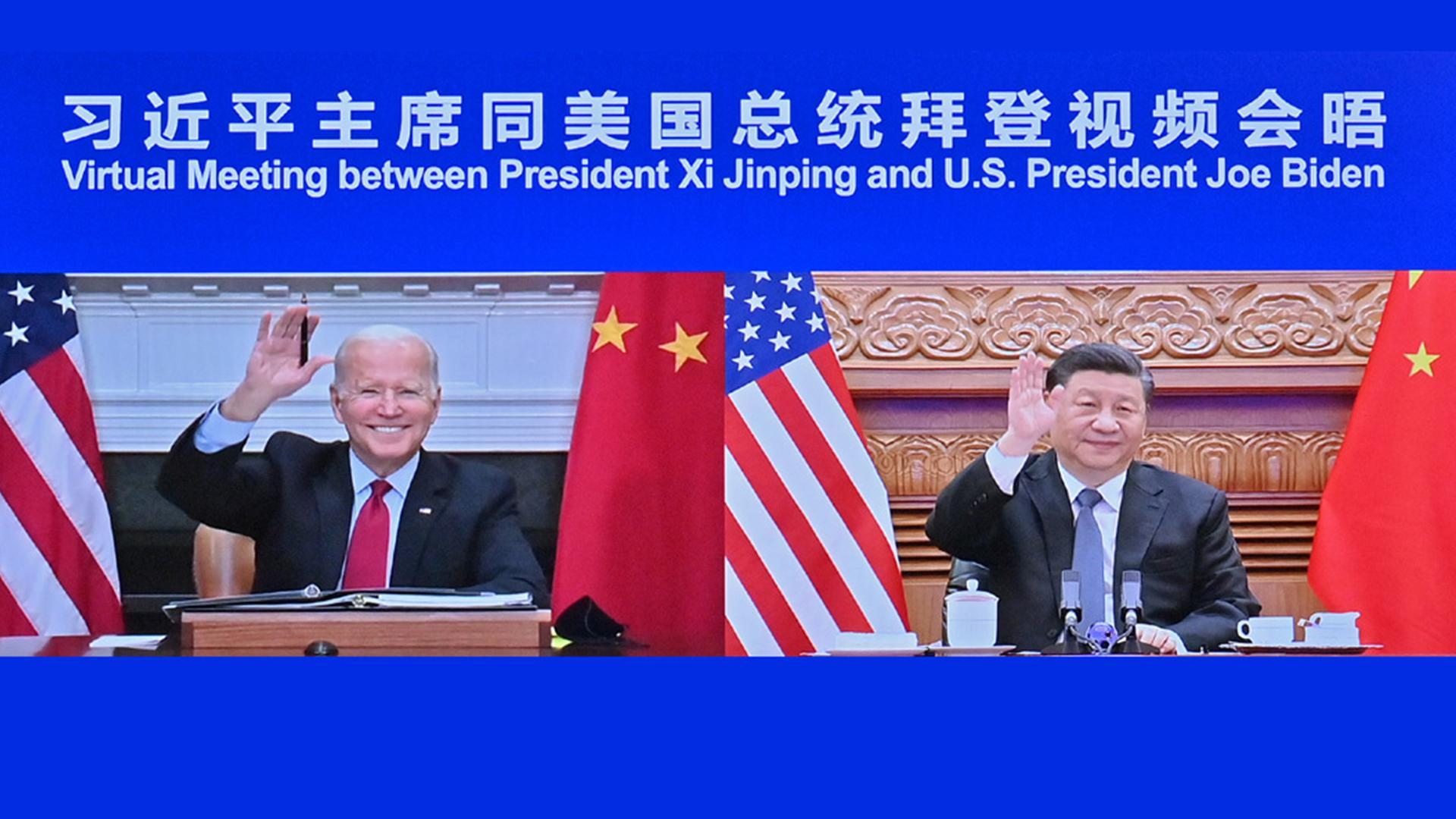 On Nov. 16, President Xi Jinping and President Joe Biden held a long-awaited virtual meeting. What stood out was not so much what they said at the meeting but how long it had taken for the two sides to agree to a summit. It been 10 months since Biden took office.
Taking stock of all debut meetings between Chinese and U.S. leaders in the past, this one was the longest-delayed after the one between Bill Clinton and Jiang Zemin on Nov. 19, 1993. The delay of the Xi-Biden meeting may be attributed to the COVID-19 pandemic, but that is not convincing, given the ease provided by modern technology. What stood in the way was the lukewarm relationship between China and the United States, starting with what the Biden administration did in the initial months of 2021 — lashing out at China on human rights, Xinjiang and Hong Kong; its continuation and expansion of restrictive measures imposed by the Trump administration on Chinese entities or individuals; and, crucially, the hostile and condescending tone of U.S. officials when talking about China or communicating with their Chinese counterparts.
Surprisingly, some things have changed in the past few months to create a favorable atmosphere for a summit.
Warming-up interactions between the two leaders were a positive start. On Sept. 10, the two leaders spoke by phone and both agreed to task those at the working level on both sides to intensify their efforts to engage in extensive dialogue that would create conditions for the U.S.-China relationship to move forward. As the National Committee on U.S.-China Relations held its 2021 annual dinner in New York on Nov. 9, Xi and Biden both sent congratulatory letters. Just five days before the summit, the two countries released a surprise joint declaration at the end of the UN climate conference in Glasgow agreeing to further cooperation to fight climate change. Reportedly, the progress was encouraged by the two leaders.
Furthermore, the tone of U.S. leaders and officials on China have softened somewhat. Biden said in a speech at the UN General Assembly in September that the United States has no intention of containing China and will not engage in a new cold war. On Oct. 4, U.S. Trade Representative Katherine Tai said she would initiate a tariff waiver process with China, acknowledging that it was unrealistic to decouple. She expressed hope to recouple with China to achieve "durable coexistence." On Nov. 1, Treasury Secretary Janet Yellen stated that the U.S. would consider "stabilizing and perhaps eventually lowering some tariffs in a reciprocal way" with China. When interviewed by CNN just days before the Xi-Biden meeting, Jake Sullivan, Biden's national security adviser, said that the U.S. is no longer trying to transform China and is exploring ways to coexist with it.
Notably, the U.S. Department of Justice abandoned its pursuit of extradition proceedings in the case Meng Wanzhou, the CFO of Huawei, a leading telecommunications company in China. After spending more than 1,000 days in Canada under surveillance, Meng returned to China. One of the thorniest issues that has plagued U.S.-China relations for years was resolved.
What was behind the policy fine-tuning on the U.S. side and the goodwill responses from China that paved the way for the meeting? Some assert that the U.S. needs China to cooperate on climate change, non-proliferation, Afghanistan, and other matters, but these are not urgent enough to require a summit. More crucially, the catalyst of the summit may likely be the belief of both leaders that summit diplomacy should not be suspended despite twists and turns in the relationship.
In the eyes of many American politicians, competition does not equate to confrontation, and it is possible to collaborate and compete at the same time. They believe that as long as there is no confrontation, summits between rivals should be no problem. Even during the Cold War, U.S. and Soviet leaders held meetings several times.
Soon after taking office, Biden publicly stated that the United States has no intention of clashing with China but rather will engage in "stiff competition." In his first foreign policy speech, Secretary of State Antony Blinken declared that the U.S. relationship with China will be "competitive when it should be, collaborative when it can be and adversarial when it must be."
Similarly, while declaring that China will firmly safeguard its core interests, Xi also wants to stabilize relations with the U.S. and prevent things from getting out of control. Xi once said, "There are a thousand reasons to make China-U.S. relations better, and no single reason to make them worse."
On the phone with Biden in September, Xi said U.S.-China relations are not a multiple-choice question of whether to get it right but a must-answer question of how to get it right, expressing his desire to keep the relationship on track.
Xi is skillful at summit diplomacy, judging from his record of meetings with political leaders around the world, including former American presidents. And there is no evidence that he has cast doubt on summit diplomacy as an effective way to reassure his U.S. counterpart and manage differences and crises.
In addition, a summit was needed from the perspective of personal relations. The two leaders had close personal contacts in the past, when Biden was vice president in the Obama administration, meeting many times and talking for hours. So it was not normal for them to have had no formal meeting 10 months into Biden's tenure as president. Since taking office, Biden has met nearly all the leaders of major countries, some several times, such as German Chancellor Angela Merkel and Japanese Prime Minister Yoshihide Suga. Biden even met with Vladimir Putin in June during his visit to Europe.
The summit was also driven by the need for crisis management. As tensions rise in the Taiwan Strait, there is an urgent need to communicate at the top level. Biden has vowed to assist in Taiwan's defense twice in one months, and the recent visit of some members of Congress to Taiwan and the strengthening of military ties give China the impression of U.S. intervention. Meanwhile, the frequent entry by Chinese military aircraft into Taiwan's air defense identification zone raises U.S. concerns that reunification by armed force is imminent. To prevent misunderstanding and miscalculation, it is necessary for the two leaders to explore the thinking of their counterparts in face-to-face communications, even if only virtual.
Measured on a scale of years or decades, the recent summit may not be so significant as to define the future of China-U.S. relations, but the difficulty of scheduling it indicates the complexity of a bilateral relationship characterized by the coexistence of competition, collaboration and confrontation.
However, the summit may have helped thaw the ice, so that more such events might be expected in the years to come, provided the two sides hold dear the political wisdom of "fighting without breaking."