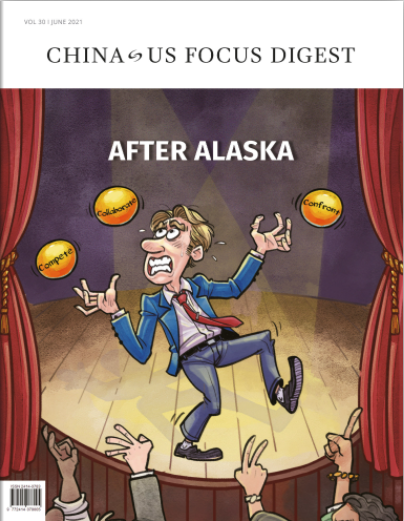 Click to read the latest China-US Focus Digest
The recently concluded troika of head-of-state meetings in Europe—the G-7, NATO, and U.S.-EU Summits—exhibited a new focus and coordination among Western allies in their approach to China. This represents the most concerted coordination in dealing with China in more than thirty years (since the aftermath of the 1989 Tiananmen incident).
While China was a central focus of all three summits and considerable time was devoted to discussing different dimensions of the challenges that China poses, the most impressive aspect of these meetings was the extraordinarily broad range of international issues—and the high degree of consensus—considered. The breadth and depth of issues covered in the joint communiqués was truly impressive. For all observers, including those in China, who believe that the West is in decline, lacks unity, and cannot speak and act with diplomatic coherence and purpose—these summit meetings show strong evidence to the contrary. Of course, this newfound commonality comes after four years of terribly divisive and destructive bickering under former President Trump. President Biden has made rebuilding transatlantic relations one of his highest priorities, and this first overseas trip by him was symbolic of this priority.
***
The resulting communiqués had much to say about China's perceived disturbing and disruptive behavior. The G-7 Summit, which occurred first, said this:
With regard to China, and competition in the global economy, we will continue to consult on collective approaches to challenging non-market policies and practices which undermine the fair and transparent operation of the global economy. In the context of our respective responsibilities in the multilateral system, we will cooperate where it is in our mutual interest on shared global challenges, in particular addressing climate change and biodiversity loss in the context of COP26 and other multilateral discussions. At the same time and in so doing, we will promote our values, including by calling on China to respect human rights and fundamental freedoms, especially in relation to Xinjiang and those rights, freedoms and high degree of autonomy for Hong Kong enshrined in the Sino-British Joint Declaration and the Basic Law.
In another clause referencing China (without naming it) the G-7 declared:
We reiterate the importance of maintaining a free and open Indo-Pacific, which is inclusive and based on the rule of law. We underscore the importance of peace and stability across the Taiwan Strait, and encourage the peaceful resolution of cross-Strait issues. We remain seriously concerned about the situation in the East and South China Seas and strongly oppose any unilateral attempts to change the status quo and increase tensions.
Being a military-security organization, the NATO Summit had this to say about China:
China's stated ambitions and assertive behavior present systemic challenges to the rules-based international order and to areas relevant to Alliance security. We are concerned by those coercive policies which stand in contrast to the fundamental values enshrined in the Washington Treaty. China is rapidly expanding its nuclear arsenal with more warheads and a larger number of sophisticated delivery systems to establish a nuclear triad. It is opaque in implementing its military modernization and its publicly declared military-civil fusion strategy. It is also cooperating militarily with Russia, including through participation in Russian exercises in the Euro-Atlantic area. We remain concerned with China's frequent lack of transparency and use of disinformation. We call on China to uphold its international commitments and to act responsibly in the international system, including in the space, cyber, and maritime domains, in keeping with its role as a major power.
NATO maintains a constructive dialogue with China where possible. Based on our interests, we welcome opportunities to engage with China on areas of relevance to the Alliance and on common challenges such as climate change. There is value in information exchange on respective policies and activities, to enhance awareness and discuss potential disagreements. Allies urge China to engage meaningfully in dialogue, confidence-building, and transparency measures regarding its nuclear capabilities and doctrine. Reciprocal transparency and understanding would benefit both NATO and China.
Finally, the U.S.-EU Summit said this concerning China:
We intend to closely consult and cooperate on the full range of issues in the framework of our respective similar multi-faceted approaches to China, which include elements of cooperation, competition, and systemic rivalry. We intend to continue coordinating on our shared concerns, including ongoing human rights violations in Xinjiang and Tibet; the erosion of autonomy and democratic processes in Hong Kong; economic coercion; disinformation campaigns; and regional security issues. We remain seriously concerned about the situation in the East and South China Seas and strongly oppose any unilateral attempts to change the status quo and increase tensions. We reaffirm the critical importance of respecting international law, in particular the UN Convention on the Law of the Sea (UNCLOS) noting its provisions setting forth the lawful maritime entitlements of States, on maritime delimitation, on the sovereign rights and jurisdictions of States, on the obligation to settle disputes by peaceful means, and on the freedom of navigation and overflight and other internationally lawful uses of the sea. We underscore the importance of peace and stability across the Taiwan Strait, and encourage the peaceful resolution of cross-Strait issues. We intend also to coordinate on our constructive engagement with China on issues such as climate change and non-proliferation, and on certain regional issues.
In another clause, clearly with implications for China, the U.S.-EU communiqué bluntly stated: "We reject authoritarianism in all its forms around the globe, resisting autocrats' efforts to create an environment that protects their rule and serves their interests, while undermining liberal democracies."
I include these lengthy passages for two reasons—because they need to be read in tandem (as they refer to different aspects of China's behavior), but also because readers in China and beyond need to actually know what was said in these official documents.
Thus, we see in these summits and their resulting joint statements a degree of unanimity and concern about China that has been percolating for several years—but has now come to the surface, coalescing a commonality of views, purpose, and action among Western governments. Recognizing this, there remained some disagreements. For example, Germany remained reluctant to criticize China's "non-market" behavior (in fear of retaliation against its huge investment and production in China), while French President Macron did not share the view that China should be a concern to NATO. Some other Central European states (notably Hungary) were also reluctant to criticize China.
***
Needless to say, the Chinese government was not at all pleased with these statements and subsequently lashed out against each. Chinese Foreign Ministry Spokesman Zhao Lijian, a prominent "wolf warrior," sharply attacked the G-7:
Xinjiang, Hong Kong and Taiwan affairs are purely China's internal affairs, which brook no interference from outside forces. China is unswerving in its determination to safeguard its sovereignty, security and development interests. A multi-polar world and democracy in international relations are the irresistible trend of our times. Gone are the days when one nation or a group of nations called the shots. Under the current circumstances, it is more important than ever for the international community to strengthen solidarity and cooperation and practice true multilateralism, instead of engaging in "group politics" based on "small cliques," suppressing different development models with ideological division, confusing right and wrong and shifting responsibilities. The United States is sick. The G7 should feel its pulse and prescribe medicine for it.
The Chinese Embassy spokesperson in London and China's EU Mission in Brussels issued similarly sharp critiques of the G7 and U.S.-EU Summit, as well as the NATO Summit. Official Chinese media echoed these criticisms.
***
These statements illustrate the new "war of words" occurring between China and the West—but, perhaps more importantly, they reflect Beijing's willingness to push back against other countries. Beijing has determined to no longer countenance criticisms from other actors—whether governments, NGOs, or individuals. As a consequence, increasing polarization and escalation of frictions can be anticipated between China and the West. While there will remain differences of degree in Western nations' approach to China, there is now a new consensus that they must collectively stand up to Beijing on various issues—but there is an equal consensus in China to no longer tolerate such criticisms. Chinese nationalism is running directly into Western liberalism.
For a host of Chinese domestic issues (Xinjiang, Tibet, Hong Kong, human rights, some commercial practices, some areas of academic research) Beijing has made it clear that these constitute "internal affairs" which brook "no interference" and are totally off-limits for even discussion. As long as this is the case, it is a recipe for a stand-off—with the West criticizing and pressuring and Beijing rebuffing and now countering (with the new anti-sanctions law) such criticisms.
Overall, however, this does not mean a new bifurcated style of "bloc politics" as Western countries and China remain deeply interdependent, and the fact that China has no bloc of its own to mobilize. Beijing seems to believe that it can rally the Global South to its side, but that is highly unlikely. Yet, with the recent G-7, U.S.-EU, and NATO Summits a new page has been turned in China-Western relations.