The foregoing was excerpted from the Wang Jisi's speech at the sixth World Peace Forum, as reported by ifeng. com. It has been lightly edited for clarity. Wang is a professor at Peking University and president of the university's Institute of International and Strategic Studies.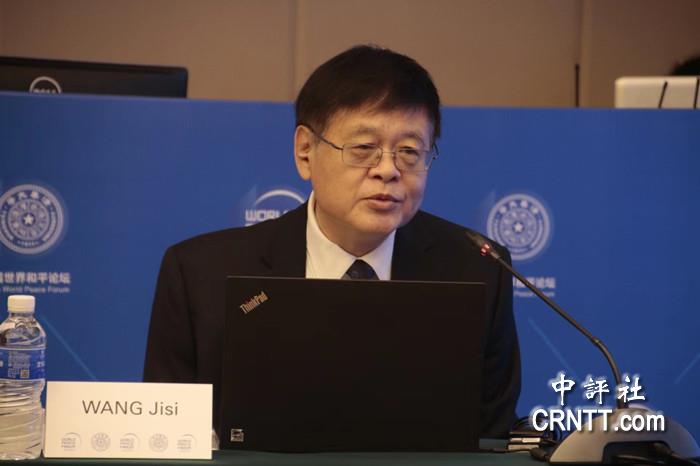 Right now I have three wishes:
First, normal diplomatic exchanges should be restored and increased. In the past more than two and a half years, normal exchanges between China and the United States have almost been cut off, but I think now is the time for us to restart, and restore close diplomatic exchanges.
I remember between 1991 and 1995, when Stapleton Roy was U.S. ambassador to China, we began to have lots of exchanges. Although think tanks were underdeveloped in China at the time, he had a lot of exchanges with us scholars, from which I benefited greatly. As to Daniel Russel and Susan Thornton, what has remained most vividly on my mind is that before President Xi Jinping's September 2015 state visit to the U.S. — when Max Baucus was U.S. ambassador here — they came to China in preparation for that visit, and we had in-depth talks in Beijing. They pointed out that China-U.S. relations needed to solve three pressing issues — trade deficits, possible conflict in the South China Sea and cybersecurity. Later they stated the most imperative issue was cybersecurity. So President Xi sent State Councilor Meng Jianzhu as his special envoy to visit the U.S. 10 days before his trip. As a result of close contacts between the Chinese and U.S. sides, the issue was eased then, and the visit was very successful.
Looking back now, seven years have passed, and the Chinese president hasn't paid another state visit to the United States. Five years have passed since Donald Trump paid a state visit to China as U.S. president in 2017. I think that while high-level exchanges between China and the U.S. have persisted, they have mostly been online communications, including the four talks between the Chinese and U.S. presidents, by telephone or visual dialogues. These are very important, but I think such high-level exchanges, including those between diplomats, should continue — and be increased.
Currently, the pressing issue is that direct flights between the two countries should be restored to normal levels, so that both sides' diplomats as well as embassies and consulates can carry out more normal activities, which I believe will be very conducive to preventing strategic misjudgments and to understanding the other side's thinking. If we have many specific problems to address, it must be done through contacts — not just between diplomats but also between business officials and enterprises to facilitate two-way communication.
This is my first wish, namely to restore exchanges as soon as possible. I had a month-long visit to the U.S. in February and March, during which I met with quite a few American friends, including Ambassador Roy, Danny Russel and Susan Thornton, and had profound communication with them, which I think was very meaningful.
Second, the two sides should find ways to avoid war. Considering the very obvious trend of declining China-U.S. relations, the popular judgment is that if relations between two countries deteriorate, bit by bit it will lead to a war. Will there be a war between China and the U.S.? Of course we hope war can be avoided, but I can't say for sure that one will not break out in the near future. If one does occur, the biggest danger lies in the Taiwan Strait. The most sensitive, core issue in China-U.S. relations is Taiwan.
There were crises in the Taiwan Strait in the 1950s, but there was no direct military conflict. There also were tensions following Lee Teng-hui's U.S. visit in 1995, but no direct conflict. Which reminds me of an article by two incumbent ranking U.S. officials, Jake Sullivan and Kurt Campbell, titled "How America Can Both Challenge and Coexist with China" in Foreign Affairs in 2019 (when they were not in government). One line impressed me profoundly: "Taiwan is not only a potential flash point. It is also the greatest unclaimed success in the history of U.S.-Chinese relations."
Though I don't totally agree with them on this point, I do think their idea makes some sense. That is, through diplomatic engagement and frequent exchanges of ideas, the two countries have reached a consensus that they shouldn't't enter a war over Taiwan. Even today, the U.S. insists that it adheres to the "one-China policy," which is certainly different from our "one-China principle," but the U.S. remains committed to its position and continues to say that it does not support Taiwan independence. On the Chinese side, we've always said we adhere to "peaceful reunification" and "one country, two systems." And there been no substantial change in the mainland's Taiwan policy.
Yet why have we felt such tensions over Taiwan? Some media rhetoric has really been perplexing and surprising to me. For instance, American think tanks have published a series of articles claiming something big will happen regarding Taiwan and that China and the U.S. will fight over the island, and China will use military force to resolve the Taiwan issue in the near future (or has a timetable for doing it).
I've paid close attention to the Taiwan issue, but have never heard any ranking official in the Chinese government mention unification by force, nor have I heard anything about a timetable. However, some on the U.S. side have been preaching this. I wonder if there is some ulterior agenda behind it. I worry that some people want to drag China and the U.S. into war, which is what we need to avoid. I have confidence in China's peaceful reunification, because China continues developing — prospering economically — and has placed considerable emphasis on the rule of law. As for Taiwan, I think its return to the motherland is only a matter of time. Taiwan independence has no future, and cannot succeed without U.S. support, so I think we need to do a lot of things to preserve stability of the Taiwan Strait, including on public opinion. We should no longer allow such radical clamors to take center stage, so that a major war between China and the United States can be prevented. I think conflict and competition are inevitable, but war can be avoided.
Third, we should continue developing economic and trade ties, as well as scientific and technological exchanges. In fact, against the backdrop of sliding China-U.S. relations, economic and trade exchanges have retained a certain scale. According to recent reports, U.S. exports of goods to China set a historical record in 2021, meaning trade in goods between China and the U.S. is increasing, not decreasing. Both China and the U.S. have suffered losses since the Trump administration launched its trade war against China. According to data available to me, the U.S. side has lost more, and American firms have suffered dearly. So I expect the U.S. to reduce or exempt some tariffs on bilateral trade.
During my latest U.S. visit, I heard one statement that made me very uneasy: "National security transcends economic interest." Isn't economic interest a part of national security? How can one say national security is more important than economic interest? It's not right to put national security against economic interest. Both my friend Evan Greenberg and his father, Maurice Greenberg, advocate continued development of China-U.S. economic and trade ties. Evan delivered a speech at CSIS recently, the basic idea of which was to handle economic relations with China based on interest rather than on what Americans put as ideological principles or anything else. I appreciate this idea very much. But he also pointed out that it seems people with such opinions may face political exclusion in the U.S., or even be subject to slander. I think such political obstacles should be removed. Meanwhile, as I know, many friends in the Chinese business community are anxious to restore normal economic exchanges between the two countries, especially Chinese investment in the U.S. American companies also want to invest in China.
I wonder — after China-U.S. relations make progress in the above three aspects and manage to restore and increase normal diplomatic exchanges — whether they could reach a consensus on what we should do and what we shouldn't't do. This remains unclear, and each side has expressed its opinions. But I think there still is room on some specific issues for them to explore. Some people suggest China and the U.S. need a fourth joint communique, which I'm afraid is unrealistic, as it is difficult to maneuver a consensus as comprehensive and perfect as the previous three, and with that kind of historical significance. However, the two parties can at least begin talking about how to avoid conflict and increase cooperation in the future. We need to work out the details.
Some people just mentioned different voices in both countries, especially from think tanks. I think this is a reality, and there is no way to change it. It is normal for various voices to be aired in the era of the internet. If there is anything we need to do, it is to speak out loudly on what we believe is correct. Of course, everyone believes he or she is correct and should speak louder. So this calls for the governments to make corresponding clarifications. Americans have different voices under any circumstances and on any subjects, so I hope all the different voices can be heard, especially the moderate, rational ones. American media should also play a role in this regard.
Ambassador Roy just mentioned that at the beginning of the Ukraine conflict, some people in the U.S. saw China and Russia in the same light, and believed China was complicit with Russia. Even today some people still see China that way. But I don't think the U.S. government is holding the same view of China's role as it did at the outbreak of the war. The U.S. is not treating China as it does Russia — as equally threatening — so far as Ukraine is concerned. In other words, the suspicion that China participated in planning a Ukraine attack has subsided. The Chinese government and our ambassador to the U.S., Qin Gang, have clarified this repeatedly, saying China had no knowledge of Russia's so-called special military operation against Ukraine beforehand. So far China has provided no substantial aid or military support for Russia. The U.S. government knows this very well.