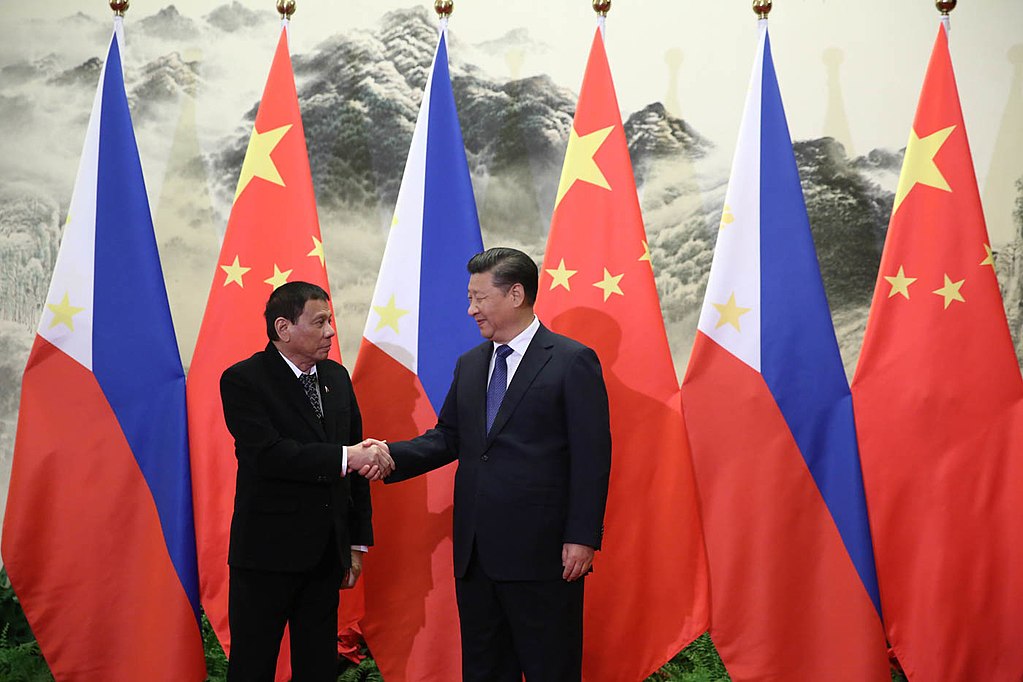 Still fresh from his testy showdown with the United States at the Asia Pacific Economic Cooperation Summit (APEC), which saw the organization failing to issue a joint communiqué for the first time in its history, Chinese President Xi Jinping made a historic visit to the Philippines.
And the visit couldn't come at a more crucial juncture, since both sides were desperate for a major breakthrough, as they grappled with an increasingly volatile strategic environment.
It marked the Chinese leader's first official state visit to the Southeast Asian country, which has emerged as an unlikely crown jewel of his 'peripheral diplomacy' strategy. Since coming to power, Xi has sought to charm estranged neighbors through an enticing package of infrastructure investments and development assistance.
Yet, the past year has seen international backlash from the Maldives to Malaysia, Pakistan, and Australia against China's growing influence. Under President Rodrigo Duterte, however, the Philippines has moved in a diametrically opposite direction, shedding the country's decades-old animosity towards China in favor of warmer strategic ties.
Even so, more than two years into his presidency, the Filipino president is still waiting for China's large-scale investment pledges, while the both sides have, so far, failed to finalize a resource-sharing agreement in their overlapping areas of claim in the South China Sea. Moreover, Xi's visit also provoked domestic backlash in the Philippines against warming ties with Beijing, a development that may gain steam ahead of next year's mid-term elections.
Regional Backlash
During the APEC summit, China came under fire for reportedly using aggressive tactics, including reports that four Chinese officials barged into the office of Papua New Guinea's Foreign Minister to demand changes to the language of the proposed APEC joint communiqué.
In the end, the organization failed to issue any joint statement, as the U.S. and its allies ramped up their criticism of China's trade and industrial policy. Meanwhile, members of the Quadrilateral Alliance, the "Quad", namely Australia, India, Japan and the United States, have also stepped up their countermeasures against China's growing influence across the Indo-Pacific.
In more concrete terms, Washington and Canberra, for instance, have decided to jointly develop naval facilities in the Southern Pacific islands and reinvigorate defense ties with the region. Washington, in concert with key regional allies, have launched the Indo-Pacific Transparency Initiative (IPTI) to track and criticize China's infrastructure-focused diplomacy, particularly the Belt and Road Initiative, while coordinating policies with likeminded regional powers, including other members of the "Quad".
It's precisely within this context of growing pushback against China that one needs to understand the relevance of Xi's visit to the Philippines, one of the oldest American allies.
Expectations were high ahead of Xi's visit. The Chinese leader briefly visited Manila for the Asia Pacific Economic Cooperation (APEC) summit in 2015, but he didn't hold any formal bilateral summit with his then Filipino counterpart, President Benigno Aquino.
After all, the previous Philippine leader fiercely resisted Beijing's maritime assertiveness in the South China Sea as well as suspended big-ticket Chinese investments over corruption concerns. As the maritime spats festered, Aquino made the unprecedented decision of taking China to international court at The Hague.
The upshot was a new nadir in bilateral relations, with both sides locked into mutual acrimony and recriminations. In stark contrast, Duterte not only opted to set aside disputes in favor of engagement with China, but also downgraded the Philippines' century-old alliance with the U.S.
China's New Best Friend
Duterte has blocked American warships' access to Philippine ports during Freedom of Navigation Operations (FONOPs), while rejecting Washington's request to preposition equipment and develop strategic bases bordering the South China Sea under existing defense agreements.
Three years into office, Duterte has yet to visit the White House, despite the Trump administration's mid-2017 invitation, and has made at least three official visits to China so far.
Duterte's foreign policy recalibration has been a strategic coup for Beijing. As the chairman of the Association of Southeast Asian Nations (ASEAN) last year, Duterte repeatedly refused to raise the Philippines' arbitration award against China, while maintaining that the situation in the South China Sea is generally stable.
He even told external powers that the disputes are "better left untouched", pushing back against efforts by Washington and other allies to pressure China against reclamation and militarization activities in the area. This year, as the president of the ASEAN-China country coordinator, Duterte said (Nov 15) that China is "already in possession" of disputed land features in the South China Sea, while criticizing FONOPs and related activities by the U.S. and its allies as creating unnecessary "frictions", which could derail ongoing Code of Conduct negotiations in the South China Sea. "
"China is there. That's a reality, and America and everybody should realize that they are there," he added. No wonder then, Chinese Foreign Minister Wang Yi has described the Filipino president as, "the most respected and the most important friend for President Xi Jinping and the Chinese people".
New Chapter
In a region of growing skepticism, the Philippines has emerged as an outlier, an island of rare optimism over burgeoning bilateral relations with China. No Chinese leader has ever come this close to extricating the Philippines out of the American orbit of influence. At least, that's what the nature of diplomatic exchanges between Xi and Duterte suggested.
During his joint press conference with the Filipino leader in Manila, the Chinese leader announced that the two nations have "charted the future course of China-Philippines relations, and drew an ambitious blueprint for its development."
He happily announced that both sides "agreed to elevate our relationship into one of comprehensive, strategic cooperation," which "sends a strong message to the world that our two countries are partners in seeking common development."
He tried to reassure his hosts that China "will continue to do its modest best to help and support the Philippines," including in areas that are close to Duterte's heart, namely "counter-narcotics and counter-terrorism struggle" as well as "helping to repair roads and bridges in Marawi and build new infrastructure there" after the city's devastation last year.
He was also quick to downplay bilateral disputes, since both sides "have a lot of common interests in the South China Sea." Duterte, in turn, hailed the "positive momentum" in Philippine-China relations, claiming that the two sides have "turned a new page" and a "new chapter of openness and cooperation".
Yet, among the 29 deals signed between the two new friends, there was hardly any indication of either a breakthrough in the South China Sea disputes, nor any major development in terms of China's earlier pledge of large-scale infrastructure investments.
Less than Meets the Eye
Despite earlier expectations that Xi's visit would coincide with signing of a joint exploration agreement in overlapping areas of claim in the South China Sea, both sides only ended up with a generic Memorandum of Understanding (MOU) on energy cooperation. As Philippine Energy Secretary Alfonso Cusi admitted, the preliminary agreement was "just a cooperation to explore solutions" on how the two countries can "enjoy the resources" in the South China Sea.
In short, the two sides are only exploring a possible joint-exploration deal, let alone a full-fledged joint development agreement in the area. Moreover, despite an MOU on BRI cooperation, none of the agreements signed gave any indication of a major breakthrough in terms of backlog of Chinese infrastructure projects in the Philippines.
As the Philippines' treasury secretary Benjamin Diokno complained, he hoped that the Xi's visit would "put pressure on the speed of implementation of all these [pledged] projects." Among the 10 proposed big-ticket Chinese infrastructure projects, supposedly amounting to as much as $9 billion, only one, so far, the Chico River Pump Irrigation Project, worth around $60 million, has passed the preliminary stages of implementation.
Moreover, there are indications of internal pushback against warming ties with China. The Philippines' newly-minted Foreign Secretary Teddy Locsin openly pushed back against "forces there saying we should come to [a major compromise]" with Beijing in the South China Sea. Meanwhile, the Armed Forces of the Philippines (AFP), which has been heavily skeptical of China's activities in the disputed waters, also apparently shunned Beijing's proposal for a Maritime and Air Liaison Mechanism in the Spratly chain of islands, where the two sides have overlapping claims.
Not long after Xi's departure, there was a chorus of criticism against warming ties with China from leading officials, including Vice-President Leni Robredo and former acting Chief Justice Antonio Carpio, who have called for a tougher stance against China in the South China Sea as well as greater scrutiny on any agreement with Beijing.
This was followed by several senate investigations over, among others, the reported influx of illegal Chinese workers, proliferation of online Chinese gambling companies, and expected entry of China Telecom into the Philippines.
As the midterms elections near, statesmen, including Duterte's allies, will likely find it hard to resist tapping into public skepticism towards warming ties with China. In the coming months, Duterte's China policy will come under the crosshairs. Thus, there will be growing pressure on Manila and Beijing to achieve a breakthrough in terms of economic cooperation and finding a mutually-satisfactory compromise in the South China Sea lest the ongoing rapprochement loses momentum.