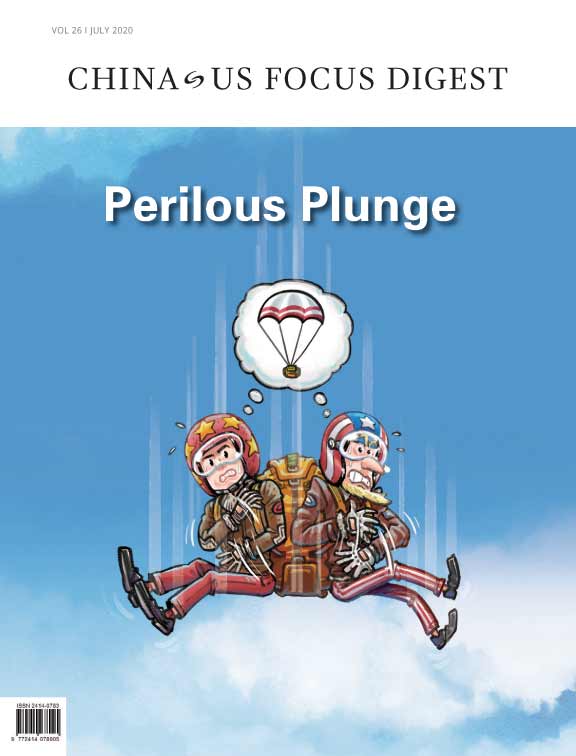 Click to read the latest China-US Focus Digest Vol 26 here
Sino-American relations have been in a constant state of flux following the establishment of the People's Republic of China (PRC or China) in 1949. Relations were strained up until 1972 because of the US's support in propping up the exiled government of the Republic of China (ROC) on its island outpost with massive amounts of economic, military and political support. Economic and political factors – and, most importantly, common opposition to the growing threat of the Soviet Union – brought the US and the PRC together, and formal diplomatic ties were finally established in 1979.
In the 1980s—the first full decade of the "official" US-China relationship—bilateral ties remained largely on track. President Ronald Reagan's 1980 campaign pledge to reestablish diplomatic ties with Taipei was quietly shelved. In fact, the charismatic president promised to reduce arms sales to Taiwan and cleared the way for American arms sales to the PRC. With the end of the Cold War in 1990-91, however, the strategic rationale for a cordial relationship between Washington and Beijing seemingly vanished, just as the Berlin Wall had crumbled in 1989. A wide variety of concerns that had been overlooked for the sake of national security—including economic relations, human rights and security policies—became issues of contention.
Today, there are voices on both sides of the political divide calling for policies of conflict or engagement, and there is no shortage of those claiming to support a mixture of both positions—a so-called policy of "congagement." Those who support constructive ties between the US and China often recite the reasons why a productive relationship is critical for international peace and stability. We are told that bilateral cooperation is essential if the global community ever hopes to resolve a wide range of pressing problems. These include challenges to economic growth and stability, the scourge of international terrorism, the proliferation of weapons of mass destruction, global environmental degradation, threats to global health, and dwindling energy supplies, to name just a few. Add to this mix the dangers emanating from a host of "flashpoints" for conflict such as the standoff on the Korean peninsula, the longstanding territorial disputes in the South China Sea and the East China Sea and, of course, the potentially explosive Taiwan issue. In short, many contend that a cooperative US-China relationship matters—and it matters a lot.
To be sure, each of the factors cited above holds the potential to undermine US-China relations to the detriment of both countries and the international community. But there is one issue that stands out above all others and represents a genuine threat to global peace. That issue is the so-called "Taiwan question." As President Xi Jinping explained to President Donald J. Trump during their 2017 summit in Beijing, "the Taiwan issue is the most important, most sensitive core issue in China-U.S. relations, and concerns the political basis of the China-U.S. relationship." And that's why there is a pressing need for both Washington and Beijing to recalibrate their respective policies toward Taipei.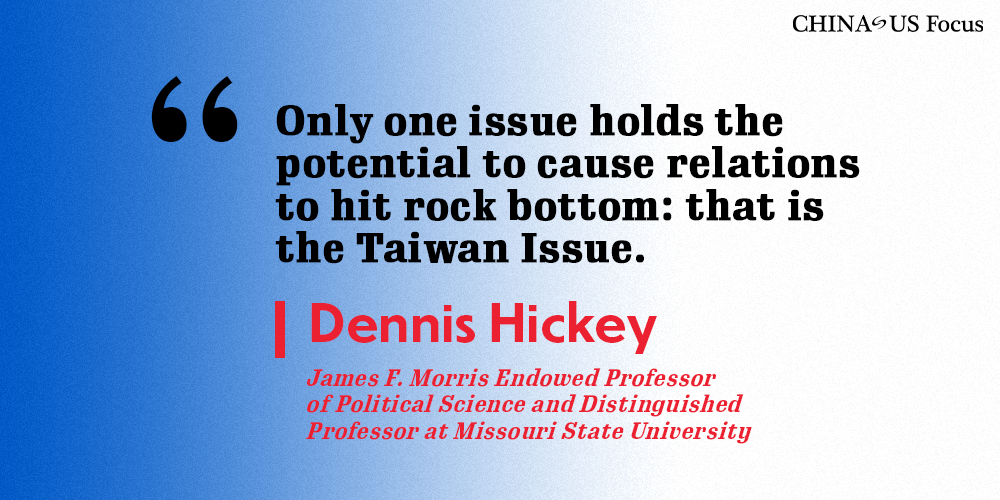 The US Side
The events that led ultimately to the historic rapprochement between Washington and Beijing have been extensively documented elsewhere and there is no need to recite them here. It is worth pointing out, however, that Nixon's administration made clear from the outset that the US would recognize Taiwan as a part of China – one of Premier Zhou Enlai's preconditions for beginning the bilateral talks. Moreover, following the normalization of US-PRC relations, the Jimmy Carter administration provided Beijing with secret assurances that China's reunification would likely be realized in several years.
Some now claim that secret pledges by Nixon and Carter mean little, claiming that America's public posture toward the Taiwan issue is often ambiguous. But not always. For example, in 2004, Colin Powell, then US Secretary of State, proclaimed that "there is only one China, Taiwan is not independent. It does not enjoy sovereignty as a nation and that remains our policy, our firm policy." When provided an opportunity to walk back the statement, the seasoned diplomat demurred.
As a first step toward stabilizing US-China relations, the present administration in Washington (and the US Congress) must stop using Taipei as a "poker chip" in its dangerous games with Beijing. The president should refuse to sign any additional Taiwan-related legislation, albeit largely symbolic, telegraphing a potential upgrade in "unofficial relations." Discussions about establishing US military facilities in Taiwan and other provocative steps must cease. And all other measures that encourage the separatist movement within Taiwan should stop immediately. Rather, the president and other high-ranking officials should vocally pledge to abide by the longstanding documents that guide US policy—namely, the 3 US-China Communiqués and the Taiwan Relations Act. Perhaps equally important, Washington should remind Beijing quietly that US policy toward Taiwan has always been contingent on the PRC's policies toward the island. In other words, if Beijing makes some meaningful adjustments to its cross-strait policies, Washington will reciprocate and consider corresponding changes to US policy.
The PRC Side
Chinese officials proclaim that Beijing's policy toward the Taiwan issue is longstanding and consistent. In some respects, this is true; the PRC has long called for the reunification of China. However, the means to achieve this goal changed. In the 1980s, for example, threats to "liberate" Taiwan were replaced with calls for peaceful reunification under the "one country, two systems" formula. But it is now clear that this policy needs to be updated.
For starters, there is no market in Taiwan for "one country, two systems." Both political camps—the Kuomintang-led camp and the Democratic Progressive Party-led camp —have long opposed the scheme. To do otherwise would be political suicide. And there is no support for immediate unification with the mainland. According to one of the only truly scientific polls conducted in Taiwan—the Taiwan National Security Survey (conducted by the Election Study Center of Taiwan's National Chengchi University, under the auspices of the Program in Asian Security Studies at Duke University)—support for immediate reunification stands at about 3 percent. But support for immediate independence also remains in single digits. Rather, roughly 70 percent agree that there is no need for declaring independence because the ROC is already independent. This, after all, is Taiwan's administrative reality.
Furthermore, like the PRC, the ROC has reformed and modernized during the past seven decades. Its leader, for example, is now elected directly by the people. Policies toward the mainland have also changed. But two facts remain constant. Namely, the ROC continues to exercise predominant authority within most of its post-1949 borders (it lost an island in 1954), and the PRC has never excised any authority over Taiwan or its people.
Some years ago, Hu Jintao, then PRC President, observed that his government must "start thinking in realistic ways" to promote cross-strait relations. He even suggested that the two sides negotiate a peace agreement "as equals." And according to leaked US diplomatic cables at the time, Beijing was preparing to recognize that the Chinese nation "is separately ruled, but not split."[1] Unfortunately, this momentum was not sustained. The time has arrived for Beijing to open some form of dialogue with Taipei to figure out a way to acknowledge the fact that both the ROC and PRC exist within one China. After all, if Beijing could maintain clandestine communication links with Taipei during the height of the Cold War, it can figure out a way to talk to the current leadership cohort in Taiwan without preconditions.
Conclusions: Avoiding Rock Bottom
As Professor Wang Jisi astutely observed, "the development of China-US relations is currently facing enormous obstacles and possible retrograde." There are many contentious issues dividing the two sides and returning the relationship to an even keel will be a daunting challenge. But only one issue holds the potential to cause relations to hit rock bottom and turn a "war of words" into a "shooting war"—and that is the Taiwan issue. Clearly, the time has arrived for Washington and Beijing to wake up to reality and adjust their respective Taiwan policies accordingly.
---
[1] See Dennis V. Hickey, "Wake Up to Reality: Taiwan, the Chinese Mainland and Peace Across the Taiwan Strait," Journal of Chinese Political Science, Volume 18, 2013, pp.1-20.