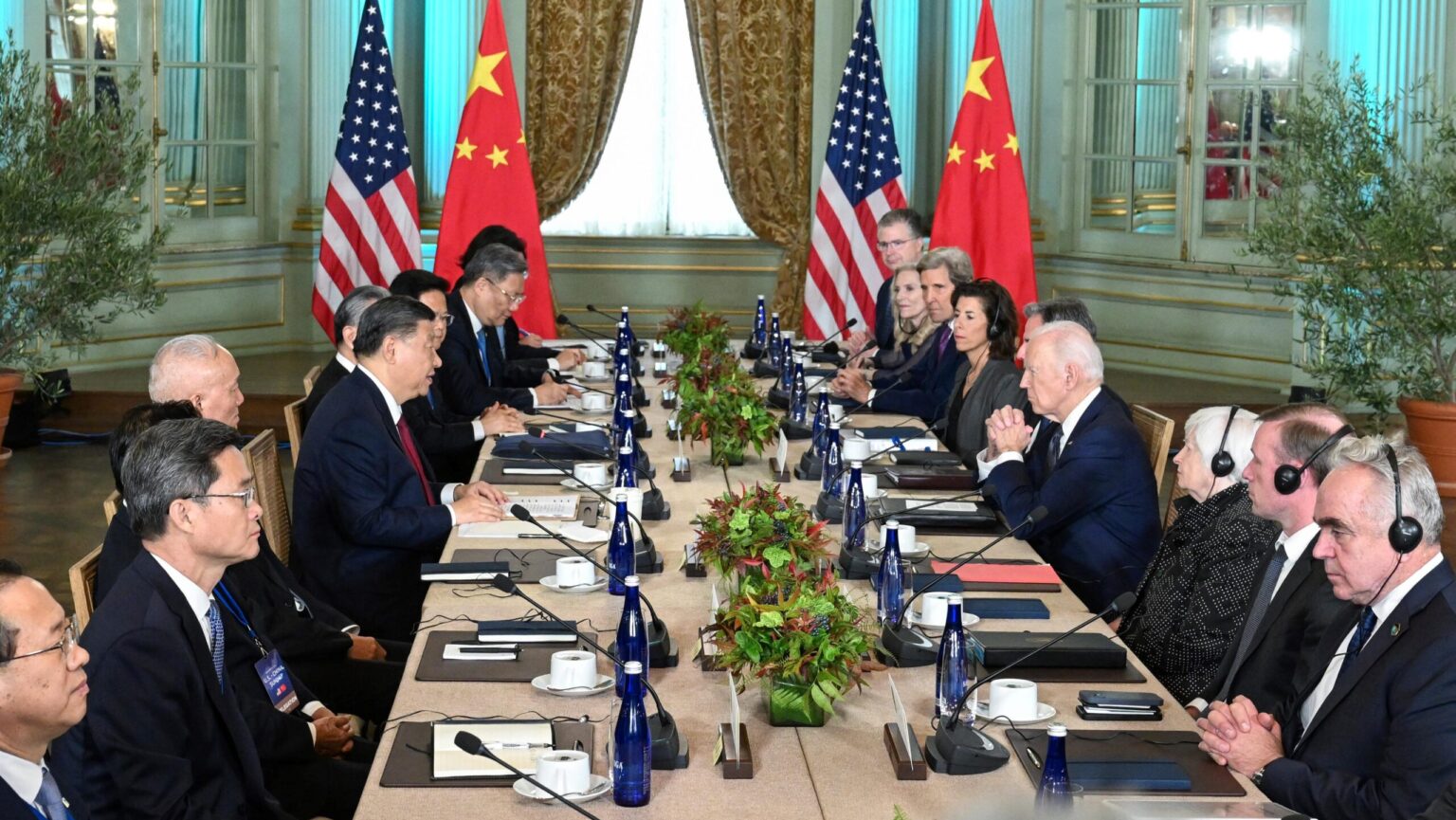 Chinese President Xi Jinping meets with U.S. President Joe Biden at Filoli Estate in the U.S. state of California, Nov. 15, 2023. (Photo by Rao Aimin/Xinhua)
While participating in a China-U.S. academic exchange event in early October, I met with some American officials, think tank members, experts and scholars. What I heard was at once inspiring and worrying about China-U.S. relations — inspiring because all the Americans expressed positive views about the bilateral relationship's momentum, about stopping its free fall and seeing it stabilize. Ranking officials of the Biden administration, senators of both political parties and such luminaries as Henry Kissinger have visited China, and people-to-people exchanges are beginning to recover.
It was also worrying because the United States has redoubled its efforts to suppress China in high-tech areas, and the two governments' strategic divergences in other realms have not narrowed. Bilateral ties still face uncertainties as the U.S. approaches 2024, a general election year, and fierce domestic political struggles and such geopolitical conflicts as the Ukraine and Palestine crises may yield even greater negative impacts on the two countries' relations.
Upon taking office in 2021, U.S. President Joe Biden inherited the basic framework of the Trump administration's China policy, taking China as America's greatest geopolitical challenge. The administration has composed a systematic China policy, engaging in competition with China in such fields as politics, economy, technology, military, diplomacy and international security. Meanwhile, the U.S. Congress has passed a series of anti-China acts by overwhelming majorities, indicating that the two major political parties have reached broad consensus on China.
I found during all four of my U.S. visits after February 2022 that they hardly disagree at all on defining China as a long-term strategic competitor — despite such geopolitical challenges as the Russia-Ukraine conflict and the fact that U.S. policymaking circles have different voices on China. Therefore, the outcome of next year's elections will not change the trend of U.S. China strategy.
At the same time, the majority of Americans I met expressed hope of avoiding military conflict or war with China. During my latest visit, almost all of the Americans expected that China-U.S. relations would stabilize, but they did not anticipate improvement. This means the U.S. on one hand wants to maintain a posture of strategic competition, and will not hesitate to sacrifice some economic interests and pay some political price in order to outcompete China. On the other hand, it will attempt to maintain the general stability of relations, so as to not affect overall U.S. global strategy or intensify domestic contradictions.
Some Americans predict that before the political campaign gets white-hot next year, if the Biden administration manages to improve relations with China the so-called China hawks will assign blame for being too soft on China, which will be damaging to the Democratic Party's campaign efforts. Likewise, if relations with China deteriorate seriously and fundamentally undermine U.S. economic interests or national security, this won't help the Democrats either. This is the domestic political consideration behind the U.S. side's current efforts to "stabilize" relations with China.
Against this backdrop, the U.S. has shown increasing enthusiasm about official, semi-official and non-governmental exchanges with China. At the invitation of U.S. Secretary of State Antony Blinken, CPC Politburo member and Foreign Minister Wang Yi is visiting the U.S. and may meet with President Biden. Following that is a possible bilateral meeting between Chinese and U.S. leaders on the sidelines of the APEC leaders meeting in San Francisco in mid-November, which may be the first meeting of the two countries' top leaders in the U.S. since President Xi Jinping's April 2017 official meeting with Donald Trump.
There will not be many opportunities for a meeting between Chinese and U.S. heads of state after the U.S. enters the election year. Hence, the San Francisco meeting will be of profound significance. It could set the tone for stable China-U.S. relations in the near future, while make arrangements for next year's official bilateral interactions.
The U.S. side has raised the fentanyl issue in relations with China. A synthetic drug that emerged in 1960, fentanyl was originally used for medical analgesia. Since its anesthetic potency is dozens of times stronger than heroin, and because it is cheap to make and easily addictive, drug dealers have mixed it with various other drugs.
In recent years, drug abuse has surpassed gun violence and traffic accidents to become the No. 1 cause of accidental death in the U.S. Among them, the abuse of such opiate-type drugs as fentanyl have been the most serious, causing more than 100,000 deaths annually. The fentanyl issue has thus become one of the most concerning sociopolitical topics in the U.S.
The American side claims that Chinese chemicals flow into Mexico and then into the U.S. after being turned into fentanyl, and it is asking China to help crack down on the illegal fentanyl trade. Recently, the U.S. has indicted and sanctioned some Chinese firms and citizens based on allegations they were involved in producing and selling chemical precursors of fentanyl and related equipment.
The Chinese government has attached great significance to the fentanyl issue. It has listed fentanyl and its analogs as controlled items; implemented strict supervision and regulation over its production, sales, use, import and export; made active efforts to prevent illegal production, trafficking and abuse; and played an important role in the process. Multilayer, multichannel anti-drug cooperation mechanisms have been established between China and the U.S. Although the fentanyl issue is mainly a humanitarian disaster resulting from America's own lax regulation and should not be blamed on China, the Chinese government will continue its anti-drug cooperation.
In current China-U.S. exchanges, the Taiwan question remains the foremost concern of the Chinese side. Taiwan will elect its political leaders in January, but new leadership will not assume office until May. It is foreseeable that this period of time will be sensitive for relations across the Taiwan Strait, and between China and the United States. The Chinese side is justified in requiring the U.S. side to be prudent about its words and deeds regarding Taiwan.
As the frequency and level of China-U.S. exchanges increase, one to-do list after another may be proposed. For example, such multilateral security crises as Ukraine and Palestine call for China and the U.S. to coordinate. They should not be allowed to become factors enlarging China-U.S. strategic divergences. We must realize that the China-U.S. relationship is not going to rise from its low point anytime soon. The mishandling of any accident might bring the hard-earned momentum back to its nadir.
During my early October visit to Washington, an American official told me he was "cautiously optimistic" about the orientation of China-U.S. relations and asked for my opinion. My reply was, "I'm only cautious, but not optimistic." I wish he had been right.