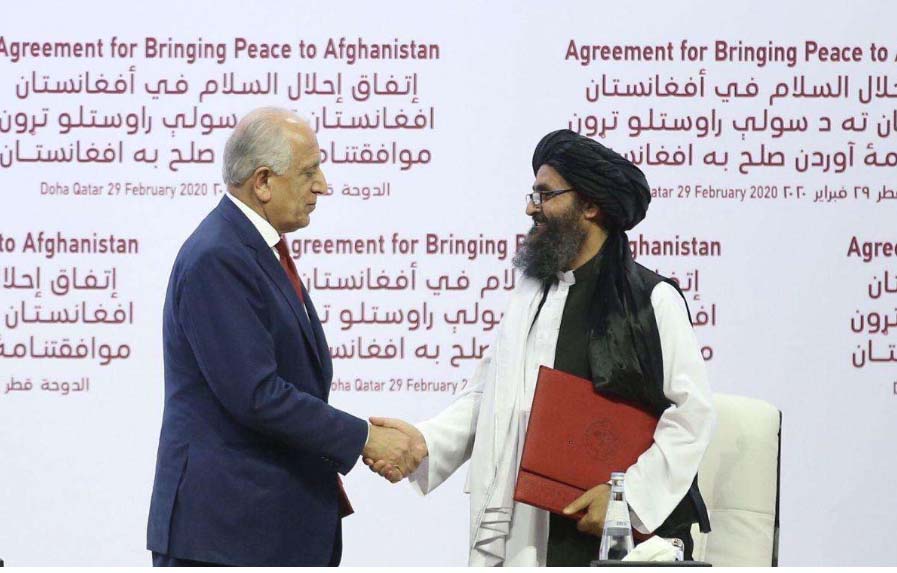 The United States and the Taliban signed a peace agreement in Doha, Qatar, on Feb. 29, under which the U.S. will withdraw troops in two phases within 14 months and intra-Afghan peace negotiations will start on March 10.
The United States and the Taliban signed a peace agreement in Doha, Qatar, on Feb. 29, under which the U.S. will withdraw troops in two phases within 14 months and intra-Afghan peace negotiations will start on March 10. As the biggest accomplishment since the U.S.-Taliban negotiations began in 2018, the deal has brought Afghanistan a long-absent hope for peace.
Political needs
On the U.S. side, the upcoming general election is the most direct and important factor driving President Donald Trump to sign it now. Trump, who is wholeheartedly pursuing re-election, needs some conspicuous achievements in both domestic and foreign policy to help woo voters. Reaching an agreement on Afghanistan and realizing more or less graceful withdrawal is evidently conducive to that goal. From a strategic perspective, Trump believes it is simply not worth it to invest heavily in the war in Afghanistan.
Since 2001, the U.S. has put more than $1 trillion into anti-terror and rebuilding endeavors in the country and sacrificed the lives of more than 2,000 U.S. soldiers, but the Taliban's influence and territory under its control have continued to expand. Trump has utterly lost confidence in crashing the Taliban militarily and hopes to achieve a graceful withdrawal through political arrangements.
Withdrawal is also consistent with the adjustments in the overall U.S. national security strategy. It no longer identifies terrorism as its No 1 threat, and the focus of its foreign strategy is shifting toward major power gaming and challenges to U.S. hegemony from other nations. Under the circumstances, the costly and futile Afghan war appears inopportune.
On the Taliban side, proponents of war hope to drive all non-believers of Islam out of Afghanistan by military means, and restore the Afghan Islamic Emirate of the 1990s. Despite the Taliban's considerable progress on the battlefield, however, recapturing Kabul remains a difficult or impossible task to control any large or medium-sized city in the face of U.S. air power.
Consequently, the Taliban's leaders have shown flexibility, buying additional insurance for their political position. For instance, The New York Times published an open letter on Feb. 20 from Taliban deputy Sirajuddin Haqqani, claiming that while the Taliban doesn't believe U.S. expressions of its intent in Afghanistan, it has decided to try again to reach a peace agreement so that the Afghan people can get rid of war as soon as possible.
Bumpy road
There is some doubt, first of all, that the U.S.-Taliban peace agreement can be implemented. As mentioned above, the most important reason for the agreement is the Trump administration's need to honor the promise of withdrawing troops from Afghanistan bolstering Trump's chances of victory in the November election. In phase one, within 135 days, the U.S. will reduce its troops stationed in Afghanistan to 8,600, while cutting allied strength and withdrawing five major military bases. This means the U.S. will cut about one-third of U.S. troops there by mid-July. During phase two, after the Taliban shows it is honoring its anti-terror pledges, the U.S. and its allies will withdraw the remaining troops in a little more than nine months.
Uncertainty lingers over whether the phase-two plan can be executed. By then, the U.S. elections will have concluded, and whoever is president will face no explicit measurements or oversight mechanisms regarding the Taliban's performance. He or she could easily refuse to withdraw troops, based on a claim that the Taliban has failed to fulfill its anti-terror commitments.
Second, there are many variables in intra-Afghan peace negotiations. Afghan President Ashraf Ghani has already openly refused the agreement's stipulation on releasing 5,000 Taliban prisoners before March 10, taking it as a goal, rather than a precondition for peace negotiations.
The Taliban has responded immediately, stating on March 2 that it wouldn't participate in negotiations unless Taliban prisoners were released. This again reveals the gulf between the Taliban and the government. If the two sides can so easily attack each other over the release of prisoners, the negotiations on and permanent all-around cease-fire and the arrangement of Afghan political powers will inevitably be more difficult.
Disputes over the outcomes of presidential elections linger. Former chief executive officer Abdullah Abdullah refuses to acknowledge that Ghani won re-election and even declared he would organize a government on his own. Therefore, the formulation of a new Afghan government faces plenty of problems and will certainly affect the ongoing peace process. This will make it more difficult to organize a professional team for negotiations with the Taliban, hence making it impossible to kick-start intra-Afghan negotiations following the peace agreement.
Third, international terrorist forces, such as ISIS, will continue to engage in violence. International and regional terrorist forces that have been hiding in Afghanistan don't want to see the situation stabilize, as that would reduce their space to maneuver. They will be motivated to sabotage any form of peace agreement. For example, ISIS has repeatedly attacked the Taliban, claiming its negotiations with the U.S. are a compromise with non-believers, and escalating its propaganda about establishing a regime of Islamic law and armed opposition to foreign invasion. It will take advantage of any positive development to buy popular support and lure people in Afghanistan and neighboring countries into its own organization.
On March 3, reports in the media said Trump had had his first phone conversation with Abdul Ghani Baradar, head of the Taliban's Doha office, during which he vowed to have State Secretary Mike Pompeo contact President Ghani about releasing the Taliban prisoners and clearing other obstacles to negotiations.
No matter what happens, the way the U.S. and Taliban implement their agreement, and how the intra-Afghan negotiations proceed, will contribute any number of catchphrases about the Afghan situation in the near future.