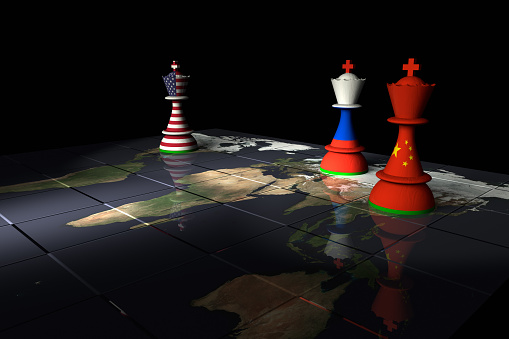 As the war in Ukraine enters its fourth week, many observers have pointed out that it is nearly impossible to stop the war without an embargo on Russian oil and gas. Indeed, international economic sanctions has significantly weakened the Russian ruble, roughly 400 international companies have left Russia, and half of the country's foreign exchange reserves have been frozen. However, these measures are still having a minimum impact on the Russian government's overall budget.
According to international estimates, Russia's national budget is able to stay afloat as long as oil sells for $44 per barrel at minimum. The current market price is around $100 per barrel, which allows the Kremlin to continue running both public and military services, even when its overall economy is in shambles. According to various estimates, Russia gets about $500 million per day from selling its oil and gas on the world market.
However, even if Europe stops buying Russian hydrocarbons, Moscow still has an option of redirecting all that traffic to China. This process is not going to be fast nor easy. After Russia's invasion of Ukraine, the daily freight rates for medium-sized tankers spiked from $13,971 to $43,671 per day, as cargo owners are weighing the reputational risks for loading Russian oil. If China refuses to import Russian oil and gas, the Kremlin will be few options to bolster the rapidly declining Russian economy. China therefore has outsized influence in the Russian economy and ultimately Russia's actions in Ukraine.
That said, Beijing is in no hurry to make this call, and there may be several explanations for this.
First and foremost, it is unclear if there is a unanimously agreed approach in Beijing on how China should respond to the war in Ukraine. This was indicative at the UN Security Council session, the agenda of which was to adopt a draft resolution on Ukraine. China's permanent representative to the United Nations Zhang Jun stressed that Russia's security aspirations are legitimate and should be properly addressed against the backdrop of NATO's successive eastward expansion. And yet, China abstained from voting on this resolution. Although technically Beijing did not condemn Russia's intervention into Ukraine, neither did it support one of its closest allies.
Second, although China continues to position itself as a neutral actor in Ukraine, leaked reports from U.S. officials suggest that China is swinging more towards supporting Russia. There were reports that Russia asked Beijing to provide military and economic assistance, even though both the Chinese and Russian governments publicly denied that such a request was put forward. The Chinese media's coverage of the conflict also broadcasted a pro-Russian position, albeit through an anti-American prism. Chinese state media has consistently referred to the term used by Russia – "special military operations," while the discussions focused mostly on negotiation efforts and veiled a critique of American influence.
Whether or not Beijing truly supports Russian military actions in Ukraine, Beijing is still unwilling to speak out and make clear its position. This may be related in part to the barrage of sanctions imposed on Russia by the West. Despite Russia's importance to China and China's foreign policy, Russia only makes up slightly over 3% of China's trade. Accordingly, China may be unwilling to risk its overall economic wellbeing over such a small fraction of its economy.
The U.S. and Europe have proved that they are determined to impose stringent financial sanctions on Russia, and the risk of getting hit by secondary sanctions – sanctions imposed on entities and individuals who engage in business activities with sanctioned targets ­– is only growing. This explains why, for instance, China has thus far refused to supply aircraft parts to Russian airlines.
The stakes are indeed quite high for Chinese companies, and privately-owned Chinese companies may not be willing to engage with Russia. TikTok, which is owned by Chinese company ByteDance, has already suspended its services in Russia. China's top ride-hailing app Didi has also announced that it will be exiting Russia (although Didi linked its exit to "poor earnings"). Looking at the bigger picture, there are nearly 254 Chinese companies listed on the U.S. stock exchange that seem to be caught in the crossfire of Western sanctions imposed on Russia. It is unlikely that the leadership of these companies are willing to risk it all.
In a public statement, U.S. Secretary of Commerce Gina Raimondo made it clear that any company, Chinese or otherwise, that defies American sanctions against Russia will be cut off from American technology, including software and manufacturing technology. It seems the European Union, Japan, South Korea and other allies may follow the suit. Such stern messages are likely to deter Chinese companies from engaging with Russia, although they are unlikely to swap the official position of Beijing.
Beijing may also be assessing how the situation will unfold in the long-term. If the situation between Russia and Ukraine worsens, China has the opportunity to position itself strategically as a mediator and true global leader. If China successfully interferes as the mediator, China will be seen as a "savior" of Russia, Ukraine, and international peace and will ultimately command greater respect on the world stage. This approach may also indirectly bolster support for China's Belt and Road Initiative (BRI), as plans for constructing new economic corridors through the BRI have long been accompanied by discourse of building a community of common destiny.
That said, as all eyes are on Ukraine, Beijing remains silent.