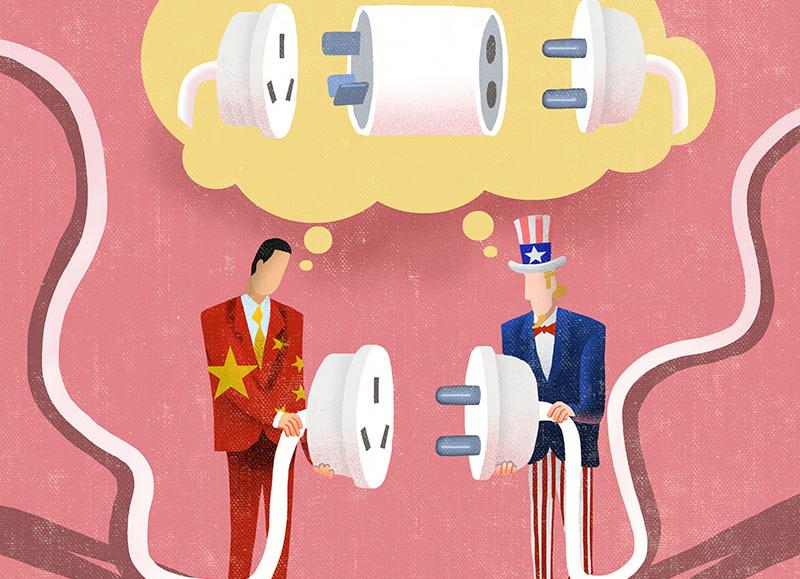 After President Joe Biden took office, the United States put forward the 3Cs concept on China — competition, cooperation and confrontation. China opposed this construction, and it was adjusted with an additional "no intention to have a conflict." The U.S. has also increasingly stressed the need to build guardrails, maintain and strengthen crisis communication and carry out necessary dialogues to avoid military confrontation, while insisting on strategic competition with China.
How should this be interpreted and responded to in China?
I think, first, that the Biden administration's desire to appropriately ease relations with China and avoid war is genuine. The U.S. experienced competition, confrontation, dialogue and finally detente with the Soviet Union during the Cold War. At present, in the face of China's resolute fight against American suppression and a sharp increase in antagonism, the Biden administration has concluded that it's in the overall long-term interest of the United States to avoid a military conflict with China, even as it pursues strategic competition — as it did with the USSR.
Second, the U.S. will build guardrails and establish and strengthen bilateral crisis management mechanisms as important tools to avoid war. The U.S. and USSR went through the Cold War with danger lurking on all sides. However, they managed to establish effective crisis management mechanisms — hotlines, stable strategic dialogues and an agreement for handling incidents at sea. They gradually carried out nuclear arms control and disarmament and avoided direct military conflict all the way through the Cold War. The experience gave the U.S. a strong sense of crisis management in light of potential confrontations with other great powers.
Third, Biden hopes to ease relations with China, which might be attributed to his strategic thinking, style of governance and political savvy. As a typical establishment leader, Biden thinks highly of values, words and wars of diplomacy. He values alliances over direct military standoffs. He also has a deep understanding of the serious contradictions that have arisen in the U.S. in recent years. He believes in repairing and strengthening the domestic foundation first, before engaging in strategic competition with China. In addition, Biden's team is basically in line with his views on security strategy, and his people are able to faithfully implement his security concepts and policies.
Fourth, most countries do not want to choose between China and the U.S., and they hope to see the great power relationship stabilized and eased. Although American allies have become more inclined toward the U.S., they still hope to maintain independence and autonomy in protecting their own interests. However, if a conflict or war were to break out between China and the U.S., inevitably they will be forced to choose sides in a world of bipolar confrontation. To maintain its leading position in the world, the U.S. will have to take into account the wishes of the vast majority of other countries.
Fifth, sharp internal conflicts exist with respect to the U.S. policy of easing relations with China. The U.S. wants continued suppression of China and continually provokes crises. At the same time, it wants to build guardrails to avoid dangerous conflicts or war. These conflicting objectives have made it extremely difficult for the two sides to relax. It is foreseeable that the easing of China-U.S. relations, if any, will be full of twists and turns and that material improvement will be unlikely anytime soon.
China-U.S. friction and competition started to intensify in Obama's second term, which began in January 2013. Will China and the U.S. be able to shorten the process that the Cold War superpowers followed to develop a relatively full-fledged crisis management mechanism while easing relations at the same time? In my opinion, this is possible and worth the effort. Things are different now:
• First, the China-U.S. relationship is not hostile, unlike the U.S.-Soviet duel, which featured competition for hegemony. Their economies are intertwined, unlike the mutual isolation of the American and Soviet economic systems.
• Second, China and the U.S. had already begun to create bilateral crisis management mechanisms toward the end of the last century and had made fairly good progress.
• Third, China and the U.S. can learn some profound lessons from the Cold War experience.
• Fourth, in the face of unprecedented global challenges, such as climate change, China and the U.S. are in the same boat and must help each other. The superpowers of the Cold War era never had such vast overlapping interests.
Of course, it is difficult for China and the U.S. to repair their seriously frayed relations in a short period of time. It is therefore imperative to first set up the necessary safety net, or guardrails, for them to play a significant role in avoiding a crisis or preventing it from getting out of control. Otherwise, if a military confrontation is triggered between China and the U.S., even short of all-out war — be it in the Taiwan Strait, the South China Sea, on the Korean Peninsula, in cyberspace or outer space -- the disastrous effects of hostility, total decoupling and a new cold war between China and the U.S. will follow. After that, it will be even more difficult for the two countries to stabilize relations, and they will pay a double price. If war were to break out, the consequences are beyond imagination.
In this connection, China emphasizes the need for itself and the U.S. to abide by the basic norms of international relations and the three Joint Communiques, finding it critical to manage and control their contradictions and differences and prevent confrontation or conflict. The U.S., on the other hand, stresses the need to maintain crisis communication mechanisms and dialogue, especially military-to-military, and to abide by the air and sea code of conduct jointly developed to prevent accidents. I think both are indispensable and must be closely combined. Only on this basis will it be possible for China and the U.S. to avoid a conflict or war and start the process of relaxation.
There are three possible scenarios for China-U.S. relations in the future:
First, if a safety net or guardrails are not put in place as soon as possible, we may see the outbreak of a military conflict between China and the U.S. This is the worst-case scenario that both sides should try their best to avoid.
Second, if the two countries can maintain the necessary dialogue and cooperation, and if they can strengthen the institutional frame and practice of crisis management, it will be possible for them to avoid war, start the relaxation process and gradually form a relatively stable competition-cooperation relationship within a decade or so. This prospect is better.
Third, coordination and cooperation will become the mainstream mode of bilateral relations again after a longer period of joint efforts. Then the two sides will engage in healthy competition, with the Chinese long-term goal of "mutual respect, peaceful coexistence and win-win cooperation" achieved. This is the best prospect for bilateral relations. China and the U.S. should make unremitting efforts to attain it.