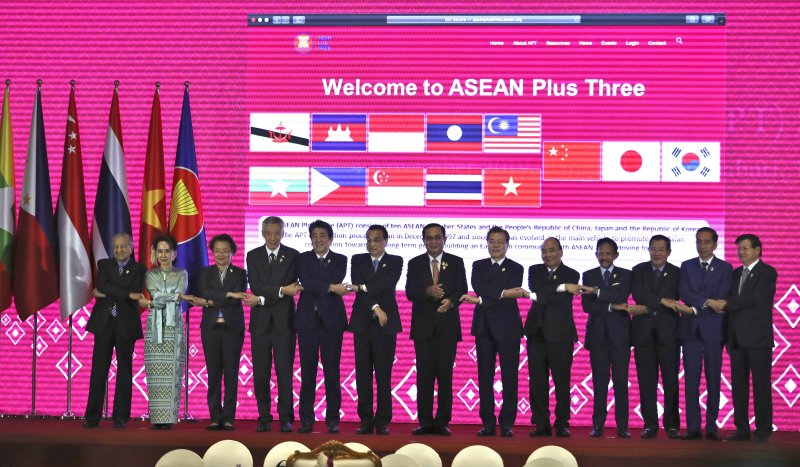 The leaders of ASEAN pose for a group photo at the ASEAN Plus Three summit in Nonthaburi, Thailand, on Monday, Nov. 4, 2019. (Aijaz Rahi—AP)
The United States and ASEAN countries have strengthened their defense cooperation in recent months, with more security collaboration and growing emphasis on interoperability and skills.
First, they have enhanced multilateral and bilateral security cooperation. In July, the U.S. and the Philippines held a bilateral strategic dialogue, the first of its kind to take place in the Philippines since the inauguration of President Rodrigo Duterte. In August, the U.S. and Thailand organized the Indo-Pacific Chiefs of Defense conference. Between Sept. 14 and 21, Malaysian Minister of Home Affairs Hishammuddin Hussein visited the United States to expand cooperation against terrorism and human trafficking. In addition, Singapore and the U.S. renewed their 1990 memorandum of understanding regarding the use of facilities in Singapore by the U.S., extending it for another 15 years. Also, the U.S. and Indonesia have agreed to normalize the relationship between their special forces through joint exercises starting from 2020.
Second, U.S.-ASEAN military exercises have grown more multilateral. In recent months the U.S. engaged in a host of joint naval exercises with many ASEAN countries, including Thailand, Malaysia and Indonesia. Some of these exercises were conducted on a large scale — for example, the U.S. doubled last year's attendance in Cobra Gold. In August, the U.S. launched Southeast Asia Cooperation and Training, or SEACAT, exercises, bringing together all ASEAN countries except Myanmar and Laos. And between Sept. 2 and 6, it carried out the first U.S.-ASEAN joint military exercises to practice naval operations. This high-profile event was also intended to promote the digital and multilateral nature of U.S. military exercises in the Indo-Pacific region.
Third, the United States has increased its military sales to ASEAN countries. In June, it announced the sale of 34 ScanEagle drones to the governments of Malaysia, Indonesia, the Philippines and Vietnam. In a sign of restored bilateral military relations, Thailand said in July that it would buy 70 Stryker infantry carrier vehicles from the U.S. And in September, the U.S. approved the sale to Thailand of eight light attack/reconnaissance helicopters and related equipment worth $400 million. In addition, the U.S. made its third delivery of six coastal patrol boats to Vietnam.
Finally, the United States Coast Guard has increased its presence in the South China Sea. In addition to carrying out more missions in the region, the USCG participated in many military drills in Southeast Asia and launched joint military drills and training programs with the Philippines, Indonesia, Malaysia and other countries. In particular, American and Philippine coast guard units carried out open military exercises near Huangyan Island (Scarborough Reef ), which for China was obviously a provocative move.
In the context of the China-U.S. strategic rivalry, the United States sees Southeast Asia as an important node in its Indo-Pacific security network. Some in America believe the country must elevate the strategic status of Southeast Asia because U.S. military strength relative to China and Russia has weakened and ASEAN countries are strategically rebalancing toward China. Because of the hard-line stance of the Trump administration on international trade and investment, security is now an important field in which the U.S. can strengthen its influence in the region. By playing up the South China Sea issue, it focuses on strengthening military and security cooperation with the Philippines, Thailand, Vietnam and Singapore and facilitating its comprehensive partnership with Indonesia and Malaysia, thus creating a regional U.S.-led multilateral military and security network.
In November 2018, the U.S. State Department and the U.S. Agency for International Development (USAID) approved the Joint Regional Strategy for East Asia and the Pacific, pledging to boost cooperation with countries in the region in terms of joint war fighting, reconnaissance and interception, and to help improve their maritime situational awareness. In the Shangri-La Dialogue on June 1, Patrick M. Shanahan, the acting U.S. secretary of defense, announced that in the next five years the United States will enhance its military ties with ASEAN countries across the board and take the Philippines, Thailand, Indonesia and Singapore as major security cooperation partners. In addition, the U.S. plans to expand its maritime military bases and logistics bases in Southeast Asia.
Moreover, the Trump administration is focusing more on Indo-Pacific issues, and the Defense and State departments and the Indo-Pacific Command are all pushing forward their policies on Southeast Asia. The Defense Department also appointed a new deputy assistant secretary to deal with issues on China.
Going forward, America will continue to increase the scale and frequency of military exercises in the region, and may even expand them into disputed areas in the South China Sea. It will also intensify multilateral cooperation to increase its influence on ASEAN countries and consolidate its leadership for security matters across the region.
Despite China's progress in its own military cooperation with ASEAN countries, those countries remain reliant on the United States for national defense. They also worry that their roles in regional affairs will be undermined if the Indo-Pacific strategy is focused on the U.S.-Japan-India-Australia quad. Therefore, they welcome enhanced security cooperation with America. For example, Thailand has increased its military exchanges with the United States this year and hopes to resume bilateral military relations, increasing the impact on ASEAN and the wider Indo-Pacific region during its ASEAN presidency. Other countries, such as Vietnam and the Philippines, also hope to intensify their cooperation with the U.S. as they try to add bargaining chips in consultations with China on the Code of Conduct in the South China Sea.
On one hand, ASEAN countries want to see more positive Chinese and American gestures toward them, even as the two countries are locked in rivalry, so that they can gain maximum benefits. On the other hand, they fear choosing sides and see internal divisions if the rivalry intensifies further. ASEAN countries don't want to be involved in the U.S.-led encirclement of China because their interests stand to suffer and their neutrality and inclusiveness will be challenged. The first U.S.-ASEAN maritime exercise in September showed no clear orientation in terms of scale, location or target, reflecting ASEAN's delicate balancing act between the two big powers.
In addition, given the political volatility and uncertainty of foreign policy in the U.S., ASEAN countries have raised doubts about the durability of the Indo-Pacific strategy and tend to believe that it is focused too much on security matters while contributing little to regional development. Following U.S. President Donald Trump's choice to skip the 2019 ASEAN summit led the leaders of seven ASEAN countries to stay away from the ASEAN-U.S. meeting in a sign of displeasure at the lack of American commitment to the region. These examples mean that U.S. attempts to force ASEAN countries to choose sides are unlikely to succeed and that ASEAN will continue to perform a balancing act between the two rivals in the days to come.
Although part of the Indo-Pacific strategy has been rolled out in Southeast Asia, China should remain confident in its relations with ASEAN countries and understand their demand for security. At the same time, it needs to continue to focus on fulfilling its commitments and deepen the China-ASEAN comprehensive strategic cooperative partnership. Guided by a China-ASEAN community vision, as well as by the goal of a community with a shared future around the South China Sea, China should turn its relations with ASEAN countries into an anchor of regional peace and stability. It is believed that ASEAN countries also want to build their cooperation with China as a major source of peace and prosperity, and hope not to see a negative impact from American actions on regional security. Moreover, China can encourage ASEAN to leverage its unique status to mediate between China and the United States, thereby preventing any spillover of the strategic rivalry into the region.