In February, the US-based Asia Maritime Transparency Initiative (AMTI) released a heavily-promoted report alleging that China sought to intimidate Filipinos into ceasing construction work on the Thitu Island (Pag-asa) in the South China Sea.
In March, former Foreign Affairs Secretary of the Philippines Albert del Rosario and former Ombudsman of the Philippines Conchita Carpio-Morales filed a complaint before the International Criminal Court (ICC) against Chinese President Xi Jinping's South China Sea "plan" and portrayed it as a "crime against humanity."
The complaint has been followed by rounds of alarmist media headlines, coupled with heavily-touted AMTI reports about "Chinese militarization" of the South China Sea." Yet local fishermen are apprehensive about the filing and its timing since they do not feel harassed by the Chinese anymore, according to Philippine GMA News.
Nevertheless, media carousels have intensified after the visit of US Secretary of State Mike Pompeo, various US "freedom of navigation" exercises, the debate about the review of the Philippine-US Mutual Defense Treaty, and the impending Philippine midterm elections.
Worse, the ICC filing is also linked to potential private gains behind the public agendas. Every think-tank is entitled to its voice, but neither AMTI nor Rosario's think-tank are as "independent" as claimed – and the latter is haunted by allegations of perceived conflicts of interests, according to its Philippine critics.
Interest conflicts and energy reserves
Educated in the United States, del Rosario served as the Philippine US Ambassador in the 2000s and Secretary of Foreign Affairs in the Benigno Aquino III government (2010-16). His ties with the Aquino political dynasty go back to the presidency of Corazon Aquino (1986-92), when he accompanied her on state visits to the US.
While del Rosario is portrayed as a diplomat, he is also a business executive. In the Aquino government, he was reportedly the wealthiest, with a net worth of almost $14 million in 2013. Prior to government, his business career covered many industries, corporate chairmanships, and directorships. These ties were officially suspended during his government activities - but not effectively.
In February 2010, Philippine government granted Forum Energy, the partner of Philex Mining, the right to explore oil and gas in Reed Bank. At the time, del Rosario served as director of Philex, which is led by Manuel V. Pangilingan, a wealthy businessman and the CEO of First Pacific Company, a Hong Kong-based investment firm which in the Philippines has major interests in telecom (PLDT), banking (Metro Pacific Investments) and mining (Philex).
In February 2011, President Aquino appointed del Rosario as acting Foreign Affairs Secretary. Reportedly, he left the Philex board in March, when he also stepped down from his post as non-executive director in First Pacific. In January 2013, the Philippine Department of Energy deferred to the Department of Foreign Affairs the decision to grant permits concerning the exploration and mining activities at the Reed Bank "because the area was part of the disputed waters being claimed by China."
That gave del Rosario, as Secretary of Foreign Affairs, effective authority to influence concessions on Reed Bank.
Indeed, the friction in South China Sea involves more than sovereign interests of several countries in the region. According to a 2013 report by the US Energy Information Administration, Reed Bank could hold up to 5.4 billion barrels of oil and 55.1 trillion cubic feet of natural gas. So Philex Mining and its associates, including del Rosario, could gain hugely from concession rights.
At the same time, the Philippines also filed the arbitration case against China. And in 2014, a year later, del Rosario and Aquino achieved the Enhanced Defense Cooperation Agreement (EDCA), which again opened the country to US military, ships, and planes— for the first time since 1991. That's when efforts began to deepen US ties with Rosario's think-tank, Stratbase (Albert Del Rosario) Institute for Strategic and International Studies (ADRi), which evolved in parallel with the Asian Maritime Transparency Initiative (AMTI), at the Center for Strategic and International Studies (CSIS), a major US think-tank close to State Department, Pentagon and Wall Street.
The organizational links are so diffuse that they require a chart (Figure).
Figure Simplified depiction of Rosario's ADRi's associations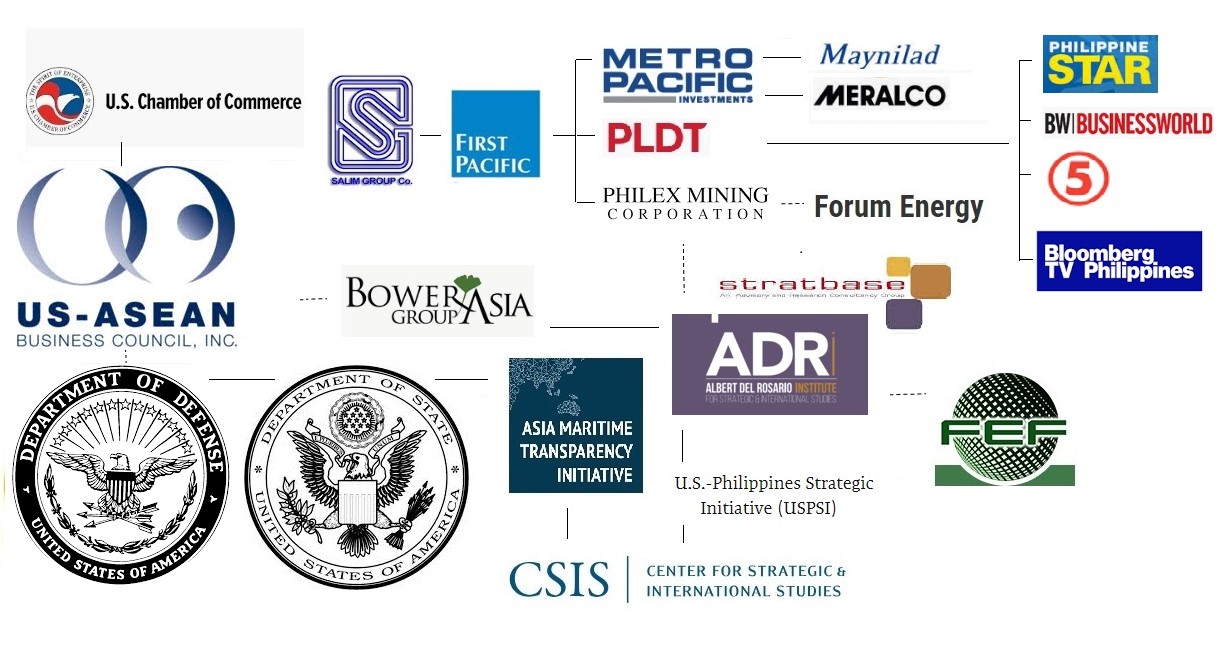 In May 2015, the CSIS/AMTI launched a three-year US-Philippines Strategic Initiative in Washington, with speeches by del Rosario, and William Cohen, former US defense secretary. It was supported by Rosario's ADRi and the Philippine Trade Foundation (PTF), which is linked with the free-market Foundation for Economic Freedom (FEF) and partners with US Asia Foundation, Australia's Foreign Affairs Department, USAID, World Bank, and Grover Norquist's ultra-conservative tax lobby.
The assumption was that Senator Hillary Clinton would be the next US president and that the US-Philippine Strategic Initiative would promote "a greater sense of urgency" to deepen the bilateral trade and military partnership.
On February 8, 2016, del Rosario, citing health reasons, announced he would resign as Secretary of Foreign Affairs. Then, the 2016 Philippine election caused a meltdown in Aquino's Liberal Party, del Rosario's core constituency. While sustaining US ties, President Duterte began to recalibrate foreign policy for a better economic relationship with China. Clinton lost the presidency to Trump who buried Obama's TPP trade deal, while questioning US alliances - the twin cornerstones of del Rosario's bilateral initiative.
Think-thanks, governments, and moneymakers
The fight was lost, but not the battle, del Rosario concluded. His health issues did not stop Pangilinan from re-appointing him as an independent non-executive director of First Pacific in July 2016, just weeks before the release of the ICC Arbitration Decision. As his think-tank and its foreign associates intensified their activities, the boundaries between public agendas and private interests dissolved further.
Rosario has long, historical business ties with Manuel Pangilingan, who is also the co-chair of Rosario's think-tank. Due to public controversies about its water (Maynilad) and electric-power arms (Meralco), Recently, Pangilingan's Metro Pacific has not avoided negative publicity. In turn, Philex and First Pacific are linked with Salim Group, which was created by Indonesia's richest businessman Sudono Salim, who made his fortune in the Sukarno and Suharto years. Today, Salim Group is led by his son Anthoni Salim whose net worth is $5.3 billion. The Salims own 44% of First Pacific, which has assets of $17.2 billion in six countries. In the Philippines, these assets also include major stakes through PLDT in media, such as Philippine Star, BusinessWorld, TV5, Bloomberg Philippines and radio stations.
Through its board members and executives, Rosario's ADRi is joined with its parent, Stratbase, an "advisory and research consultancy" founded in 2004, and Bower Group Asia led by Ernest Z. Bower IV. With equity and intelligence arms, Stratbase is the Philippine partner of Bower Group Asia. Between the mid-80s and mid-2000s, Ernest Z. Bower led US-ASEAN Business Council, which had been housed in the US Chamber of Commerce. He remains senior non-resident Southeast advisor at CSIS, embedded with AMTI, and board member of Rosario's think-tank.
Due to interlocking leaderships, Stratbase's head Victor Andres Manhit serves as ADRi's President, heads Bower Asia Group's Philippine branch and is a fellow at the FEF. Along with Pangilinan's mining interest, the ADRi's trustees also include former president of Philippine Mines and the incumbent ICC judge Raul C. Pangalangan, former publisher of Philippine Daily Inquirer. Inquirer has been critical of the Duterte government.
Public agendas and private interests
Here's how the process plays out in the media: In a typical sequence, the CSIS/AMTI releases a commentary and satellite photos of contested spots in the South China Sea, which leads to commentaries by ADRi's members, which are then promoted in the Philippines, especially in the country's foreign-owned media, such as Rappler (linked with US-based North Base Media and billionaire Pierre Omidyar's network) and by media properties close to Mangilingan/Rosario and their allies. Next, these articles are heavily headlined in international media, which re-publish the pieces or interview their authors as "independent" Filipino voices, even if they are ADRi's non-resident fellows and CSIS/AMTI authors in the US (e.g., Richard J. Heydarian).
Internationally, truly independent think-tanks shun interlocking directors and dual structures with private, particularly foreign interests to ensure their integrity. Rosario's ADRi is very different; and that's its prerogative.
Unfortunately, the net effect is that it is not clear whether ADRi seeks to influence Philippine decision-makers, who promote Filipino interests, or their American counterparts, who push US interests – as evidenced by its tight cooperation with the AMTI that has been criticized for bias and alarmist hyping in the region.
The perceived private interests and potentially huge private gains of ADRi chairs confound issues further.