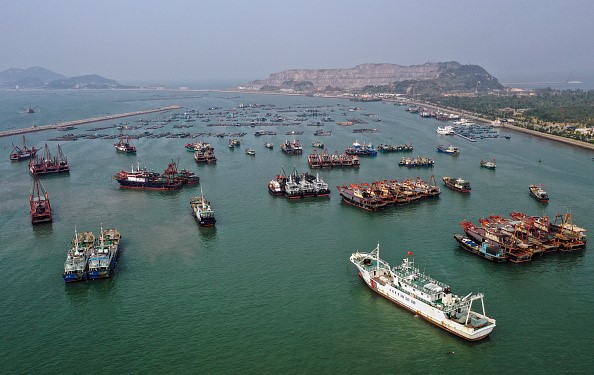 With a vicious pandemic posing the gravest threat to humanity in recent memory, one would have thought that zero-sum geopolitics will be pushed to the backburner. For the past decade, the South China Sea, in particular, has become a precarious site of growing superpower rivalry, putting into question decades-long peace and security in the Asia-Pacific region.
With all nations facing a common threat, a Group of Two (G2) cooperation between the United States and China makes sense more than ever. Instead, what we have witnessed in recent weeks is an unprecedented deterioration in Sino-American relations, with the Trump administration engaging in an all-out blame game against China, which, in turn, has stepped up its expansive claims in adjacent waters.
In the past month alone, the South China Sea has seen maritime showdown not only between China and its Southeast Asian neighbors, particularly Vietnam and Malaysia, but also with the US and Australia. The upshot is a dangerous, multifaceted Cold War just when the world needs maximum cooperation against an existential risk — a global pandemic.
The Blame Game
In fairness, there have been encouraging signs of solidarity against the COVID-19 pandemic, with the US airlifting tons of desperately-needed medical equipment from China in recent months. Meanwhile, Beijing has launched its own "Health Silk Road", providing masks, test kits, and Personal Protective Equipment (PPE) to countries around the world.
Under "face mask diplomacy", countless nations across Southeast Asian and beyond have been beneficiaries of medical assistance from China, which has successfully contained the epidemic at home. From Jakarta to Manila, Chinese donations and medical experts have been warmly welcomed by senior officials amid much fanfare. Beneath this veneer of solidarity amid one of the darkest periods in modern history, however, geopolitical tensions have been bubbling up with vengeance. Top US officials have openly warned regional partners and allies to think twice before welcoming Chinese assistance.
R. Clarke Cooper, the State Department's Assistant Secretary for Political-Military Affairs, has described China's assistance as a Trojan horse, which may undermine national security interests: "On the surface, I think the question partners should ask is, 'Is this an altruistic measure?' But we, as we've said on things like infrastructure investment, foreign investment, and arms sales, is caveat emptor—buyer beware."
The top Pentagon official has raised alarm bells over potential security concessions by beneficiary nations, as China's neighbors scramble to contain epidemic outbreaks at home. "There is a concern that we would not want any significant U.S. defense articles or sensitive systems to be at risk of exposure or exploitation," the Pentagon official said in an interview with Foreign Policy magazine, trying to dissuade regional states from striking new defense agreements and purchase advanced telecommunications equipment from China.
A recently-leaked memo from the National Republican Senatorial Committee (NRSC) shows that China-bashing will likely be the battle cry of Trump and his cronies in the coming months ahead of the November elections. "Note—don't defend Trump, other than the China Travel Ban—attack China," the memo states, underscoring a full-fledged embrace of the anti-China blame game in the coming months.
Asian Tinderbox
Trump's perfunctory defunding of the alleged Beijing-friendly World Health Organization (WHO) in the middle of a global crisis and the growing influence of China hawks within his administration, portends an ugly geopolitical confrontation between the two superpowers.
The situation looks particularly alarming in the South China Sea, where China has been accused of strategic opportunism by its rivals. Since March, the Asian powerhouse has conducted large-scale military drills in the area, while fortifying its position in heavily-militarized islands and reportedly deploying a giant coast guard ship to Philippine-claimed Scarborough Shoal.
Soon after, Vietnam accused China of sinking a fishing boat and apprehending two others in the northern portions of the South China Sea, while Malaysia has accused China of harassing its oil exploration activities in the southern portions of the disputed waters. The Philippines, meanwhile, has accused China of harassing its naval warship on a routine operation in the area, while openly expressing solidarity with Vietnam amid the latest boat sinking incident.
In a strongly-worded statement in late-April, Malaysia's newly-installed foreign minister, and former defense minister, Hishammuddin Hussein reiterated "Malaysia remains firm in its commitment to safeguard its interests and rights in the South China Sea" amid the naval showdown in energy-rich areas of the South China Sea in recent weeks. China has categorically denied any confrontation in the area while maintaining that its actions in the area are routine and that the overall situation is generally stable. From Beijing's standpoint, the US and its allies are stoking tensions in the area, with the Trump administration engaging in a dangerous blame game.
Amid rising tensions in the area, with China announcing two new administrative regions cutting across much of the South China Sea, the US has accused its Asian rival of "exploiting the distraction or vulnerability of other states to expand its unlawful claims in the South China Sea", calling upon Beijing to instead "remain focused on supporting international efforts to combat the global pandemic."
The Pentagon has upped the ante by deploying two American warships, USS America and USS Bunker Hill, to the disputed areas in unmistakable support for Malaysia, with Australian frigate HMAS Parramatta joining along. Smaller nations in the region, meanwhile, wonder if this is the best time for geopolitical flexing by the superpowers. Far from dialing down tensions, the protagonists are sleepwalking into a new and dangerous phase of confrontation just as the world desperately calls for unprecedented levels of cooperation.