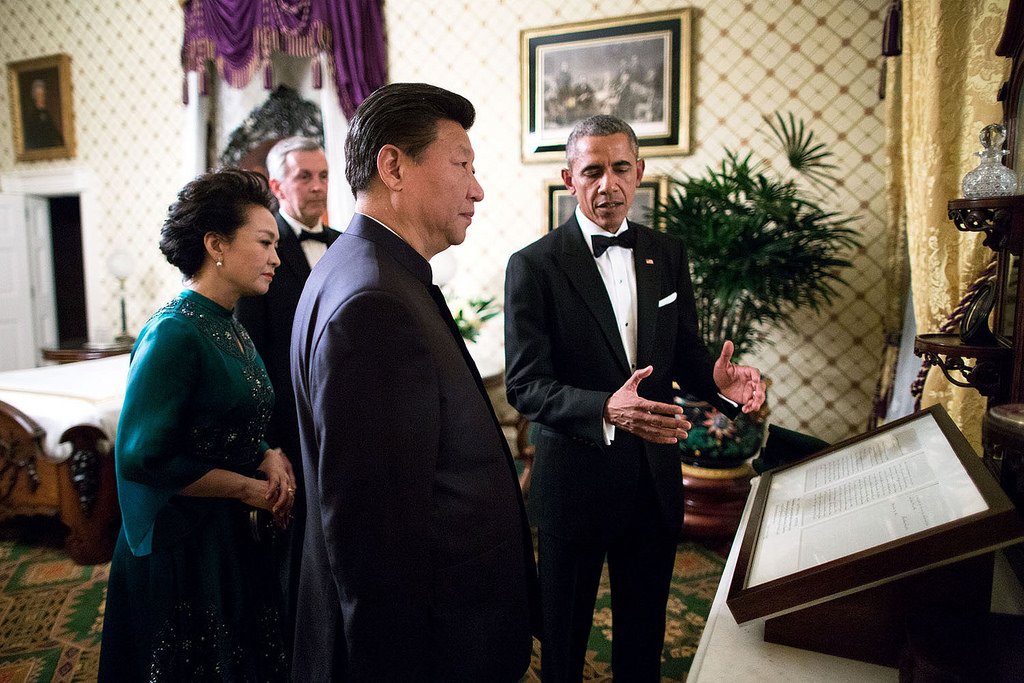 Former US President Barack Obama showing President Xi Jinping and Madame Peng Liyuan the Gettysburg Address in the Lincoln Bedroom at the White House.

The conspicuous achievements China made in its 40 years of reform and opening are due chiefly to the diligence and wisdom of the Chinese people, as well as a peaceful international environment and cooperation with most countries in the world, including developed nations. To a certain extent, China's opening up was an opening up to the U.S. China has accomplished spectacular success by utilizing American capital and adopting American management knowhow. Going forward, China still has a lot to learn from the U.S. Being the world's second largest economy, China remains a developing nation at the early stage of modernization, and is yet to fulfill its mission of "building a well-off society in an all-round manner." The economic miracle in China was based on government guidance, people's eagerness to learn, and diligent work. The future tasks are more challenging, and the road ahead will be more difficult. In President Xi Jinping's words, reform has reached a "deep-water zone" and a challenging period, what are left are all thorny tasks. To continue reform and opening is to continue learning from advanced countries.

On one hand, China emphasizes exploring new ideas, and new approaches and innovation in the face of a new environment. On the other hand, it still needs to continue engaging in equal exchanges with all countries in the world. In fact, there is a lot for China to learn from the successes and failures of advanced countries. For instances, Japan successfully solved the problems in city-oriented migration in the 1970s and 80s, Pittsburgh has transformed itself from a heavily polluted hub of the steel industry into a successful modern metropolis famous for science, technology, finance, and services. An important characteristic of the U.S. economy is a balance in regional development, with some mid-western cities receiving more development programs and hi-tech projects. The city of Columbus in Ohio has received a smart city project. Major enterprises settling in small cities may help balance regional development. How to attract tech talent and young people from across the world with more reasonable taxation and living conditions is one of many questions China is interested in learning about.

Many past industrial hubs in China have just begun the kind of transformation their American peers underwent decades ago. It is very important for these Chinese cities to learn from their American counterparts. From scientific and technological innovation to talent introduction, intellectual property rights protection, and quality supervision, the U.S. has rich experiences for China to learn from. Learning from all countries with a more open mindset is both a guiding principle of the new-era China, and an important way for it to demonstrate its conviction to press ahead with reform and opening, and to pursue benign interaction with the rest of the international community. Displaying readiness to learn with a peaceful mind is one way to improve China's relationship with the rest of the world.

The future China will be more open, and with a more international perspective. A more international China should not be arrogant and self-centered, instead it should be aware of its weaknesses. It must have the courage to face practical problems, be realistic about development gaps, and work hard to improve. This is the only way to showcase self-confidence. The country's past achievements give us greater confidence in its ability to learn and innovate.

China needs to show due respect for and appreciation of the experiences of transformation in other countries, including the U.S., and dissolve misunderstandings and confrontation between the two countries. As the world's largest and second largest economies, China and the U.S. never cooperated because of similarity, and they have always cooperated because they agreed to disagree. Historical and cultural differences have resulted in divergent development modes in China and the U.S. But that does not mean they can't work together. China can also share with the U.S. its experiences in innovation-driven development, new means of transportation, new media convergence, internet undertakings, social mobilization, and manufacturing. Though the two countries' economies are at different stages of development, they are competitive, complementary, and highly interconnected. The only way toward win-win outcomes is to be tolerant and to learn from each other.