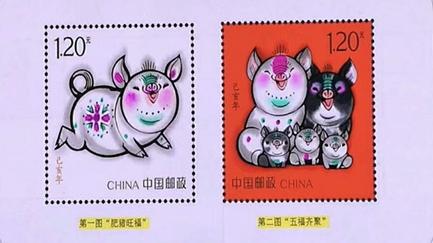 The Chinese government recently signalled its approval for larger families by issuing a Year of the Pig postage stamp for 2019 showing three piglets
After nearly 40 years of the often ruthless one-child policy, Beijing has done an about-face; with the initial relaxation to a two-child policy in 2016 bringing only a short-lived increase in the birth rate. As it stands, it is not evident that people in China want to have more children than they already do. The future economic and social consequences of the one-child policy are baked into the cake. The Chinese Communist Party (CCP) made a big mistake and there are no easy fixes to decades of birth restrictions.
China's leadership, however, has no intention of backing down from the challenge. The CCP considers childbearing to be a "state affair." Already, they have started fielding policy proposals to encourage childbearing through subsidy programs. If European lessons have taught us anything, it is that policies to encourage parents to have multiple children are expensive and have limited success. However, the CCP may be able to move past those obstacles with a new tool.
Enter the social credit system, a scheme to manipulate the behavior of Chinese citizens through surveillance technology. A high social credit score affords access to better jobs, terms on loans, and quality healthcare. Associate with the wrong people, have the wrong opinions, or lead what is considered to be an unhealthy lifestyle and the CCP may even deny you the ability to purchase train tickets through the social credit system.
Desperate times call for desperate measures. If the social credit system is successful in shaping behavior, the CCP may extend it to include childbearing. Before dismissing this notion as Orwellian nonsense, consider that the CCP already includes loyalty to the Communist Party as part of the criteria for sperm donors in Beijing's hospitals.
The costs of having children discourage people from wanting a second child in China. Similar to Western countries, fertility rates in Asian countries have declined following economic modernization. No other country has ever introduced an intervention like the social credit system to this calculation, and the CCP may find a way to make childbearing economically appealing without breaking the bank, by worsening the prospects of people without "enough" children.
Yet even if the CCP is successful in convincing or coercing the population to have more kids, not everyone will find a partner. Sex-selective abortions distorted the sex ratio in China and left many men without the prospect of marriage. In 2015, the United Nations Population Division estimated there were 115 males for every 100 women in China. Marriage is still largely a precursor to childbearing in China, with traditions that leave unmarried motherhood highly taboo. The imbalances in the marriage market make it all that much more difficult to promote childbearing.
In any case, the government's attempt to remedy the economic repercussions of the one-child policy may prove too little too late. Everyone who will be of prime working age in the workforce in 2040 has already been born. China's fertility rate stands far below replacement: international authorities estimate it is near 1.6 births per women per lifetime, while others contend it is even lower. Absent migration, China's labor force is going to shrink. By 2040, the prime working age population is set to drop by over 100 million people from 2015 levels, to 540 million. This shift in population composition does not bode well for China's slowing economy. For perspective, from 1980 to 2010, the prime working age population doubled to reach 670 million. Manpower inputs accounted for up to one-quarter of China's economic performance during the period.
Lastly, China's population is greying rapidly and thus there are an increasing number of pensioners. China's credit to the non-financial sector sat at 261% at the end of March, from 141% at the end of 2008, with most of the increase attributable to the government and a corporate sector supported by government banks. The state shouldering the weight of a larger pension system means taking on more debt on top of that and is therefore a daunting prospect. Moreover, public transfers will rely on a shrinking taxpayer base to subsidize a growing class of retirees. Historically, China's extended family networks provided a social safety net for the elderly. In a society of few children, the pressure is higher. Will Confucian family values save the day? China's leadership may not be confident, given they felt the need to criminalize neglect of parents.
The CCP may well provide incentives or administer punishments to raise the number of births, but existing demographic constraints will limit China's economic prospects regardless. An increase in the fertility rate at this juncture will take around 25 years to materialize in the labor force. Short-term skirmishes with the U.S. on trade or other issues have little bearing on these future troubles, which have been decades in the making. The CCP cannot avoid the consequences of its one-child policy, and instead must face them head on.