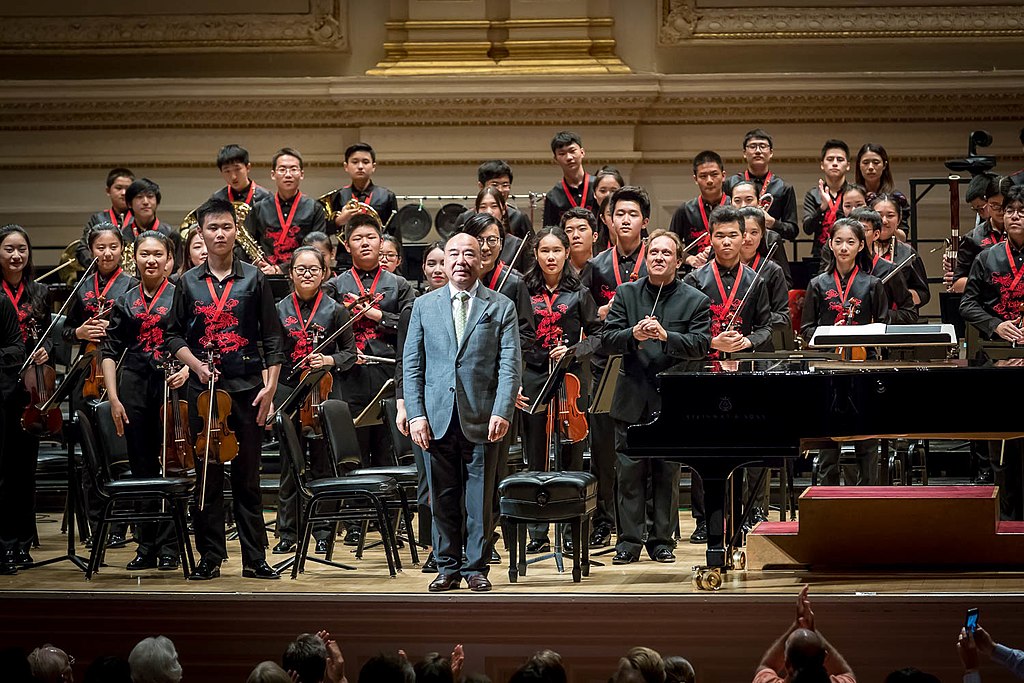 Chinese-American composer Zhou Long with French conductor Ludovic Morlot and the National Youth Orchestra of China at Carnegie Hall receiving applause after performing "The Rhyme of Taigu".
In 1971, the New York City Center wrote to Jiang Qing asking permission to tour a Peking Opera troupe. She replied, "Our model dramas are specially prepared for the appreciation of our working people, not for our enemy and money‐scented capitalists like you." While U.S.-China cultural exchange has developed vigorously since that inauspicious beginning, ideological and structural differences continue to complicate the relationship.
In today's China, culture remains a tool of the state, both managing its citizens and communicating its messages to the outside world. The United States government, by contrast, has no official cultural policy, does not oversee the country's cultural industry, only minimally supports them, and uses cultural diplomacy only sparingly.
When the U.S. and China normalized relations forty years ago, all exchanges were by law facilitated by government organizations. Programs in China could only be government-produced, whereas in the United States they were produced by non-governmental organizations such as the National Committee on U.S.-China Relations (NCUSCR).
The exchanges were largely symbolic, intended to expand U.S.-China relationships and stem Soviet influence. After Ping Pong diplomacy, exchanges used leading artists, including the Philadelphia Orchestra, Boston Symphony Orchestra, the Jerome Robbins and Alvin Ailey dance companies, playwright Arthur Miller, and violinist Isaac Stern. The first formal cultural agreement was signed in 1979 with renewals continuing through this year.
Cultural exchanges did not generate fees, so each country covered only in-country expenses for visiting artists. American participants were forced to find independent financial support. Fortunately, increased trade possibilities made sponsorships attractive to U.S. corporations.
The 1980-90s saw mostly (though not exclusively) one-way traffic: America exported its culture to China, and the Chinese studied our exports in preparation for its own future cultural exchanges and commercial cultural exports. American conservatories and artist agents recruited Chinese talent. Agency rosters soon included Chinese acrobatic groups and song and dance companies, which were quite lucrative. Chinese fees were low, U.S. demand was high, and no unions protected the Chinese performers from sometimes exhausting and exploitative tour schedules.
In the early 2000's, the ripples from Reform and Opening Up and impending WTO entry reached the cultural apparatus. Until then, China's cultural industry remained a state-run monopoly. The 2000-2002 U.S.-China Performing Arts Presenters Exchange funded by the U.S. State Department accelerated reform through its sharing of the potential benefits to China of an American-style cultural industry.
The breakup of this monopoly allowed the development of multiple avenues of exchange and commerce. Savvy Chinese arts managers worked with US agents to create a more marketable product. New China presenters and venues paid fees, and American commercial theater came to China. In 2005, the JFK Center produced its month-long Festival of China, curated without interference despite full artist funding by the Ministry of Culture.
Chinese frustration at a perceived lack of understanding and respect for its culture led to it sometimes buying its way into the US market. There was so little commercial interest in a 2005 China Philharmonic U.S. tour that concerts were given away. In 2010, the Shanghai Symphony Orchestra bought the right to share a New York Philharmonic Central Park concert. Broadway producers have organized limited runs for Chinese musicals, fully financed by the Chinese producers, with the expectation of favors and guanxi, meaning social or business connections, in return. There was an obsession with creating successful Chinese musicals for Broadway, with often surreal results. "Jews of Shanghai" feels like an unintentional Mel Brooks parody of a revolutionary opera.
Today, exchanges take place in many ways: from traditional government-related projects to individual entrepreneurial initiatives. Limited US funds are still granted on a competitive basis by the U.S. Embassy in Beijing, the State Department's Bureau of Educational and Cultural Affairs, USArtists International, and by foundations and other NGOs. Outside of paltry government sources, funding is generally haphazard. Major festivals in Shanghai and Wuzhen co-commission collaborative projects with American artists and present avant-garde American work. In recent years, Cadillac and General Motors purchased naming rights for large Chinese commercial venues. Many U.S. university and amateur cultural groups self-fund their own China tours.
Younger Chinese diplomats now understand that the US cultural industry is not government-organized or regulated, and reach out to varied organizations to create and collaborate on projects. States and cities participate through their "sister" relationships, and American regional arts organizations such as Arts Midwest produce substantive ongoing programs in both countries.
There is now greater competition for identifying and accessing partners, guanxi and funding. This competition plays out through soap opera-worthy domestic and international rivalries at the highest levels.
International sponsorships are attractive only if they fit corporations' marketing plans. Chinese corporate sponsorships of international projects are still rare, though in the PRC, private sector organizations now produce and finance projects.
Effective cultural exchanges emerge from long-term relationships and aligned goals. Trust allows frankness, and sophisticated use of language expresses both understanding and sensitivity. Use of "tífǎ" (提法), meaning language and phrasing taken from current political and thought campaigns, facilitates deal-making. Today, American cultural workers work hard to find and support young Chinese artists and their unofficial networks, independent voices who live and work outside of official institutions and the government patronage system.
Recently, the direction of China's cultural diplomacy has changed: it looks outward, but not at the U.S. It has added a cultural component to its One Belt One Road (OBOR) initiative, and has created a Network of Silk Road Arts Festivals Annual Conference. China seems less in need of U.S. approval and success for its cultural products: it is content to create products for domestic audiences.
China does face challenges during this volatile period. There is increasing pushback against heavy-handed so-called public diplomacy efforts, including closure of Confucius Institutes. Chinese cultural organizations and officials still lack comprehensive understanding of American cultural markets. They do not conduct sufficient market research, and are obliged to produce and export official presentations of history and culture that advance political goals, not that offer what is cool and trendy in China. They don't realize that good art can't be created on demand. The effect of increasing censorship of the arts, especially narrative arts, results in weak dramatic works with limited appeal. The continuing retrenchment of the cultural industry under China's current regime is also inspiring the departure of Chinese creators, artists, and arts administrators to the U.S. or to work for American-run artistic enterprises located in China.
Many Chinese ensembles are still self-presented in the U.S., and are targeted at Chinese media and expat audiences with little concern for U.S. audience interests. Meanwhile, Chinese cultural diplomacy "unfunded mandates" in the U.S. have folded due to insufficient Chinese government or corporate support.
Going forward, diverse paths of engagement will survive, though the Ministry of Culture and Tourism will favor major government-to-government initiatives despite more limited funding. The Ministry will favor official troupes, though independent players will continue to exist within limits. It will be harder for Americans to find Chinese collaborators, as OBOR and European projects will dominate.
General funding challenges will continue. PRC engagement will follow the money and public diplomacy priorities. Americans will have to work harder to find and fund projects with independent voices, and to encourage networks of creation and support from US producers and presenters. Nonetheless, culture will continue as the one safe space for dialogue when all other avenues have closed.