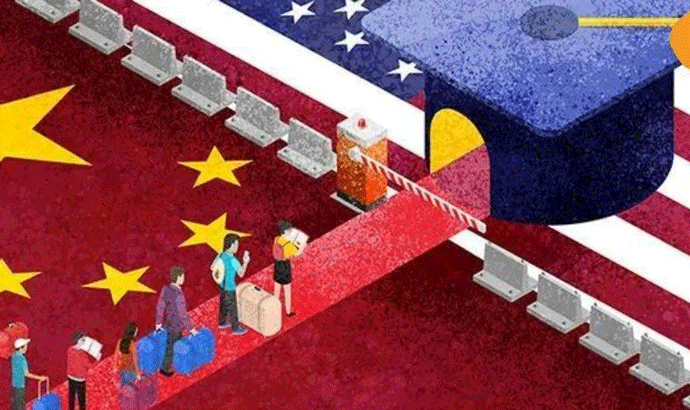 Few would dispute that the toughest foreign policy decision facing the incoming administration of Joseph Biden Jr. is how to stabilize relations with China so that the two countries can compete for geopolitical influence and cooperate in areas of shared interests. Unlike the outgoing Trump administration, which sees no room for cooperation with China, President-elect Biden and his incoming senior national security advisors seem to be trying to chart a more balanced course and seek to work with Beijing on issues such as climate change and pandemics while maintaining substantively tough positions on trade, human rights, and national security.
One area that has not received sufficient attention is exchanges in cultural and educational areas. When bilateral relations began to deteriorate in 2018, people-to-people ties between the U.S. and China were tragically taken as collateral damage. The two countries expelled each other's journalists and imposed restrictions on the activities of those who remain. Suspicious of Chinese influence, Washington also significantly curtailed cultural exchanges by classifying China-sponsored Confucius Institutes "foreign missions." Fear of leaking advanced knowledge to Chinese graduate students also prompted the U.S. to tighten visa issuance. Dismissing the value of American cultural exchange, Republican lawmakers engineered the ending of the Peace Corps' China program (which has sent more than 1,300 volunteers to China since 1993).
While these measures are unlikely to make either country more competitive in their protracted geopolitical duel, they are almost certain to fuel mutual distrust and antagonism at the popular level.
One of the most important differences between the U.S.-Soviet Cold War and the unfolding great power contest between the U.S. and China is that, while there were practically no cultural or educational ties between the two superpowers during the Cold War, the U.S. and China have forged extensive, deep, and dense people-to-people networks and relationships over the last four decades.
Maintaining these networks and ties will be crucial in helping mitigate the distrust and antagonism created by the competitive policies of the governments of the two countries. If Washington and Beijing wish to have built-in stabilizers in their relationship, people-to-people exchanges must be one of them.
Three data points may illustrate how cultural and education ties now bind the two societies close together. Between 1999 and 2019 Americans adopted 82,456 Chinese children . Since diplomatic relations were normalized in 1979, millions of Chinese students have come to the U.S. to study, and many of them have remained. In 2019, American higher educational institutions hosted 369,548 Chinese students, who now account for one third of all international students in the U.S. . In 2018 about 2 million Chinese tourists visited the U.S.
However, due to the rising hostility and distrust between China and the U.S., it will require both governments to take politically courageous steps to repair the damage done in 2020 and restore cultural and educational exchanges to a healthy and mutually beneficial level once the coronavirus pandemic has been contained successfully.
In repairing their cultural and educational ties, both governments should prioritize measures that will generate the greatest mutual benefits at the least political cost, but delay tasks that may arouse excessive amounts of controversy.
Top on the list should be the return of American journalists to China and the end of American restrictions on Chinese journalists in the U.S. Both countries will benefit from this step. Even though Chinese reporters working for state-owned media outlets in the U.S. will not be able to publish freely in China, greater freedom to work in the U.S. will enable them to gain a better understanding of America and improve their reporting and convey a less distorted picture of the U.S. to their Chinese readers.
China and the U.S. will benefit even more with the return of American journalists for The New York Times, The Washington Post, and The Wall Street Journal, and the lifting of restrictions on other U.S. news outlets in China. It is true that some American news coverage of China is often critical and even offensive to the Chinese government, but the vast majority of their coverage is professional, objective and informative, and helps American public gain a much better understanding of China. Without these reputable news organizations providing quality coverage, most Americans may have to turn to less credible, if not fake, news sources, for information about China.
The second area that needs urgent attention is the return of the Peace Corps and other U.S.-sponsored exchanges programs, such as the Fulbright program, which was suspended in July 2020 as part of American sanctions against China's imposition of the national security law on Hong Kong. The Biden administration, which is expected to maintain a tough position on human rights, is well-positioned to lift this symbolic sanction because it will advance Washington's agenda of promoting American values through educational exchanges. China, needless to say, should welcome the return of these programs with open arms.
The third item on this agenda should be a cooperative push to encourage Chinese tourists to visit the U.S. The economic benefits to American businesses hard hit by the pandemic are self-evident. But making this happen will not be easy. The Biden administration needs to reiterate that the 10-year tourist visa for Chinese visitors will remain unchanged and decide whether the enforcement of visa restrictions recently imposed on members of the Chinese Communist Party by the Trump administration should be delayed pending a feasibility study.These restrictions, designed to discourage Chinese visitors, will almost certainly force Beijing to retaliate at some point. If a face-saving compromise can be worked out over such visa restrictions, Beijing should implement a program to channel more visitors to the U.S. (which will also help fulfill China's commitments to buying more American service under the Phase I agreement).
Lastly, both governments must cooperate to ensure that Chinese students will continue to be welcomed on American college campuses. Beijing should curtail anti-American propaganda portraying the U.S. as an unsafe and hostile place. The U.S. should be more transparent and less arbitrary about the fields of study it does not want Chinese students to gain access to in the U.S. and remove unnecessary and burdensome visa restrictions that will not only discourage Chinese students but also hurt the STEM graduate programs in the U.S. that need them.
These are modest and realistic steps for repairing the damage done to the people-to-people exchanges between the U.S. and China in the last few years. They are also the litmus tests for both Presidents Biden and Xi Jinping. If they are genuinely interested in stabilizing bilateral relations in the coming years, these are the low-hanging fruits they must pick first to demonstrate goodwill.