As the consequences of the still evolving temporary travel ban to the United States put in place by the Administration of U.S. President Donald Trump continue to play out, policy makers need to keep in mind that understanding begins with engagement.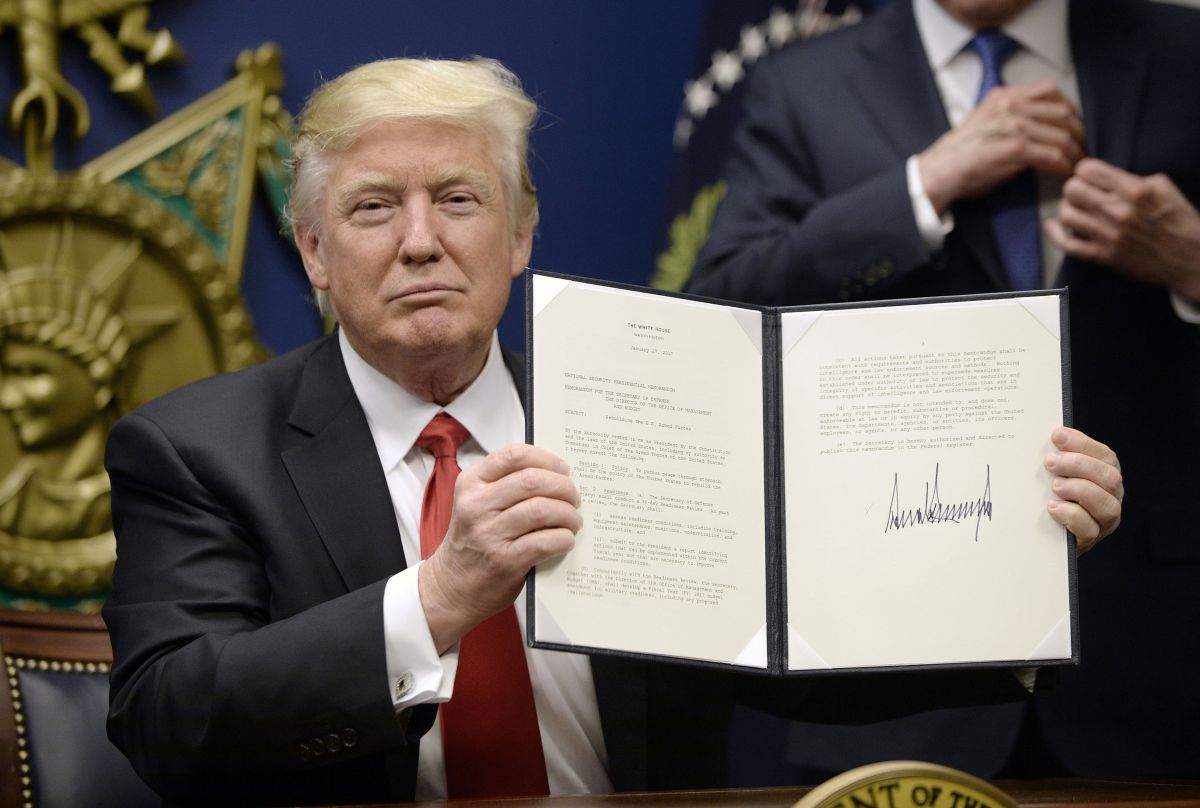 President Donald Trump signs Executive Orders in the Hall of Heroes at the Department of Defense Friday, Jan. 27, 2017 in Arlington, Va. (Olivier Douliery/Abaca Press/TNS)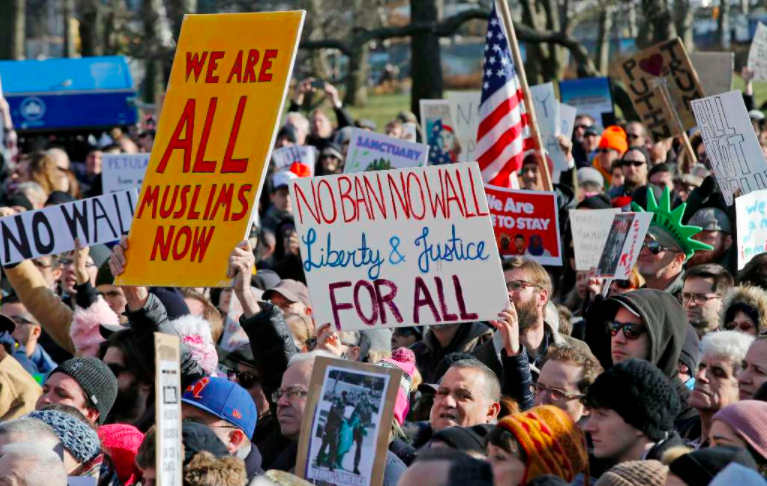 Protesters and immigrants rights advocates gathered at Castle Clinton National Monument, the physical departure and arrival point for tours of the Statue of Liberty in New York City. (AP)
Citing concerns about terrorism, the Executive Order announcing the travel ban is focused on the vetting process for all refugees seeking to enter the United States as well as for would-be immigrants from seven predominantly Muslim nations -- Iran, Iraq, Syria, Sudan, Libya, Yemen and Somalia.
China is not included. Yet, worries have mounted among foreign students studying in the U.S. about what the travel ban might mean for them. That is unfortunate.
With China-U.S. tensions likely to grow over trade and territorial disputes, there is certainly more reason for greater U.S.-China engagement as 2017 unfolds. That should include greater study abroad and student exchange programs.

2016 saw rising levels of both anti-China and anti-U.S. rhetoric on opposite sides of the Pacific as the U.S. election year unfolded, China lost an international tribunal ruling on the South China Sea and Philippine President Rodrigo Duterte came to power.

The year ahead may well prove equally tumultuous, and momentous, as Trump threatens to revisit if not overturn accepted diplomatic protocols of the past. Tensions also continue over Beijing's role in the selection of Hong Kong's next Chief Executive.

Far away from the geopolitics, here is one specific suggestion toward greater long-term understanding. If the young are to inherit the earth, then more effort and resources should be dedicated to ensuring our youth better understand one another – both at home and abroad.

In our increasingly connected world, the right study-abroad program can increase understanding of another culture and view, help with learning a second language, and give one a step-up in a competitive workplace. By going abroad, students may also return conversely with a greater appreciation of their own homes, including their rights and freedoms.

All this underscores the importance of America's young people studying abroad in China, and China's youth in turn studying abroad in the United States given the importance of these two largest economies. Greater efforts must be made to understand the on-the-ground realities that each nation's citizens face, beyond the propaganda and official government rhetoric.

Expanded horizons and understanding though need not and should not require moving or studying overseas. Indeed, there is much we can learn from each other within the United States, and within China.

In recent years, both countries have faced growing gaps between rich and poor, and growing divisions and concerns about inequality. For China, growing inequality has not just hit the Mainland but also Hong Kong.

In the United States, the recent U.S. presidential election underscored what seemed a growing divide between the urban and the suburban and rural, and between those who were benefiting from an increasingly globalized world, and those who saw themselves as increasingly left behind.

Government, business and civic society, and most critically educators and parents, must come together to find a way for Americans and Chinese to better understand not just those overseas but also the lives of their fellow citizens who live lives not like their own.

There is a need for broadening what all students study and experience. This is true for high school students as well as those at college, including those fortunate few who do get the chance to go abroad during their undergraduate years.

According to the latest "Open Doors" report of the Institute of International Education (IIE), only about 10 percent of all U.S. undergraduate students, including community college students, will study abroad by the time they graduate.

Some 315,000 U.S. students studied abroad for academic credit in the 2014-2015 school year, based on IIE data. Approximately another 22,000 U.S. students took part in non-credit work, internships and volunteer programs abroad.

The Open Doors report is conducted annually with the support of the Bureau of Education and Cultural Affairs of the U.S. State Department.

More than half of these study abroad students went to Europe, with about a third in the United Kingdom, Italy and Spain. France, Germany and Ireland attracted another 13% combined. Some 4 percent go to China, 3 percent each to Australia and Costa Rica, and 2% to Japan.

That 90% of all U.S. undergraduate students enrolled in U.S. higher education are graduating without an international experience suggest there is a way to go in increasing young Americans' exposure to other cultures and points of view. But that too is a challenge for Chinese students. In the 2015-2016 academic year, some 328,547 students from China were studying in U.S. colleges and universities, according to IIEE. That is about 31.5% of all international undergraduate students in the United States but a small percentage of China's overall student population.
In 2014, China had more than 35.5 million students enrolled in some 2,845 higher education institutions, according to World Education Services, the largest non-profit credential evaluation service in North America and a leading provider of research on international education trends. (Disclosure: I served for several years on the WES Board.)

Today, even as young people explore the possibility of college or the chance to study abroad, let us also recommit to increasing their understanding of their own home regions or countries. That includes understanding racial, cultural and economic diversity, and the challenges that every day people face beyond the worlds of the elite.