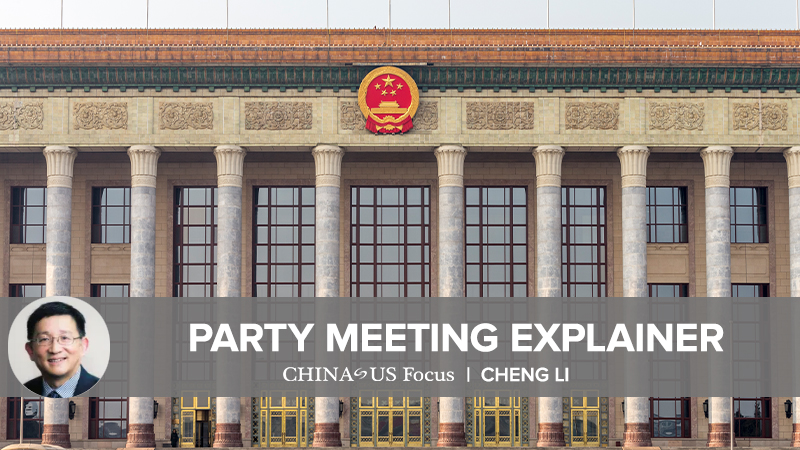 This fall, the CCP will convene the highly-anticipated 20th Party congress, setting the stage for significant leadership turnover. Li predicts that, while Xi Jinping will surely remain Party chief, as many as two-thirds of the Central Committee, half of the Politburo, and more than half of the Politburo Standing Committee will be newcomers.

China's upcoming Party Congress, in which as many as two-thirds of CCP leadership roles will change hands, deserves a close examination of the processes and procedures behind the vetting and selecting of new leaders.

The year 2021 brought sweeping regulatory crackdowns and drastic foreign policy moves in China. The Chinese leadership also recognizes the competing needs to play hardball and maintain socioeconomic stability during this sensitive political season.

To grasp China's changing national leadership, one must understand developments in the provinces, including the historical trend of recruiting Party elites from province-level leadership.

China is presently taking measures to reorganize its 31 province-level Party committees. As the 20th Party Congress approaches, understanding this reshuffling is crucial to assessing the current and future trajectory of China's national leadership.

China's leaders have been sorted into generational brackets by decade of birth. This article examines the formative experiences and policy orientations of the post-1960s generation, which will dominate the Chinese leadership after the 20th Party Congress.

A deeper examination of the age cohorts of each generation of Chinese leaders gives insight into the trends that have developed within the CCP's promotion structure and political trajectory.

After diving into the age brackets of China's CCP leadership, a deeper look at their previous roles and professional experience reveals a shift toward business executives gaining higher positions within the Party's hierarchy.

The economic boom and financial risk of present-day China has fostered a new generation of financial technocrats who have ascended the ranks of the national and provincial leadership on the eve of the 20th Party Congress.

At a time when male dominance in political leadership is being challenged across the globe, both the Chinese public and the international community are likely to take greater notice of the gender imbalance within the Chinese political elite. And while the number of females in provincial and national leadership positions has increased, there is still much work to be done to progress forward.