Since the founding of the People's Republic of China (PRC) in 1949, the Chinese Communist Party (CCP) has consistently declared that the "equality of men and women" should be a key feature that distinguishes the new Communist state from "old China." Prejudice––and discrimination—against women in Chinese Confucian society undoubtedly dies hard. But the Mao-era slogan, "Women hold up half the sky," seemed to reaffirm that the improvement of the socio-economic status of women in the PRC should be considered "one of the least controversial of legacies" of CCP rule, as a BBC reporter observed almost a decade ago.
It is perhaps also just as uncontroversial within the China studies community to assert that female representation in the Party leadership has always been inadequate or even negligible. As Valarie Tan, a Singaporean analyst, has bluntly asserted, "Women hold up half the sky, but men rule the Party." Women are significantly underrepresented at all levels of the Chinese leadership. Women account for 48.7 percent of the population and 44.5 percent of the labor force in present-day China. There are 30 women among the 376 full and alternate members of the Central Committee (7.9 percent). Only one woman serves on the current 25-member Politburo (4 percent), and no woman has ever served on the Politburo Standing Committee (PSC), the supreme decision-making body in the country.
As for the government leadership bodies, only one member of the 11-member Executive Committee of the State Council, which consists of China's premier, vice premiers, and state councilors, is a woman (9 percent). Additionally, today all 26 ministers of the State Council are men. At the subnational level, among the 31 provincial administrative units of the PRC, there is only one woman serving as Party secretary and one serving as governor (3 percent for each position).
An earlier essay in this series forecasted that the upcoming 20th Party Congress will most likely witness a large-scale leadership turnover. About two-thirds of the Central Committee (CC) members, half of the Politburo members, and more than half of the PSC will be newcomers. What are the prospects for women leaders at the 20th Party Congress? Who are the prominent female candidates for the upper echelons of the CCP leadership?
A review of the persistent gender imbalance in Party leadership
Gender imbalance in the composition of political elites is, of course, not unique to the Chinese leadership. For example, among the current 542 members of Lok Sabha, the Parliament of India, women occupy 78 seats, accounting for 14.3 percent, the highest representation of women since independence. In Japan, female lawmakers accounted for only 9.7 percent of elected representatives in 2021, the latest Lower House election. In Vietnam, 19 of the 200 members of the current Central Committee of the Vietnamese Communist Party are women (9.5 percent).
There has been a huge gap between the CCP's long-standing official rhetoric about promoting more female leaders at all levels of leadership and the persistent low representation of women. The proportion of female members of the CCP has indeed increased significantly from 11.9 percent in the early 1950s to 16.6 percent in 2002 and 25.7 percent in 2017. According to the most recently released official statistics from June 2021, the CCP had a total of 95.2 million members, of which 27.5 million were female members, accounting for 28.8 percent of the total. From January 2020 to June 2021, the Party recruited a total of 4.73 million new members, of which 2.12 million were female, accounting for 44.8 percent.
To be fair, the percentage of women delegates to the Party Congress has also increased considerably from 9.3 percent at the 8th Party Congress in 1956, to 20.1 percent at the 17th Party Congress in 2007, to 23 percent at the 18th Party Congress in 2012, and to 24.2 percent at the 19th Party Congress in 2017. For the selection of delegates to the upcoming 20th Party Congress, the CCP Central Organization Department requires that the proportion of female delegates in the provincial delegations should generally be higher than the proportion of female Party members in the province. But as a matter of fact, female representation in the Party leadership bodies, especially at the national and provincial-municipal levels, has been remarkably low.
Table 1 provides an overview of female representation on the CCP Central Committee from the first CC at the founding of the PRC to the current CC. Except for the 10th Party Congress in 1973 and the 11th Party Congress in 1977, women have never made up more than 10 percent of the total membership of the CC. Female representation decreased from 10 percent on the 17th CC to 8.8 percent on the 18th CC, to 7.9 percent on the 19th CC. There were only ten female full members (4.9 percent) on both the 18th and 19th CCs.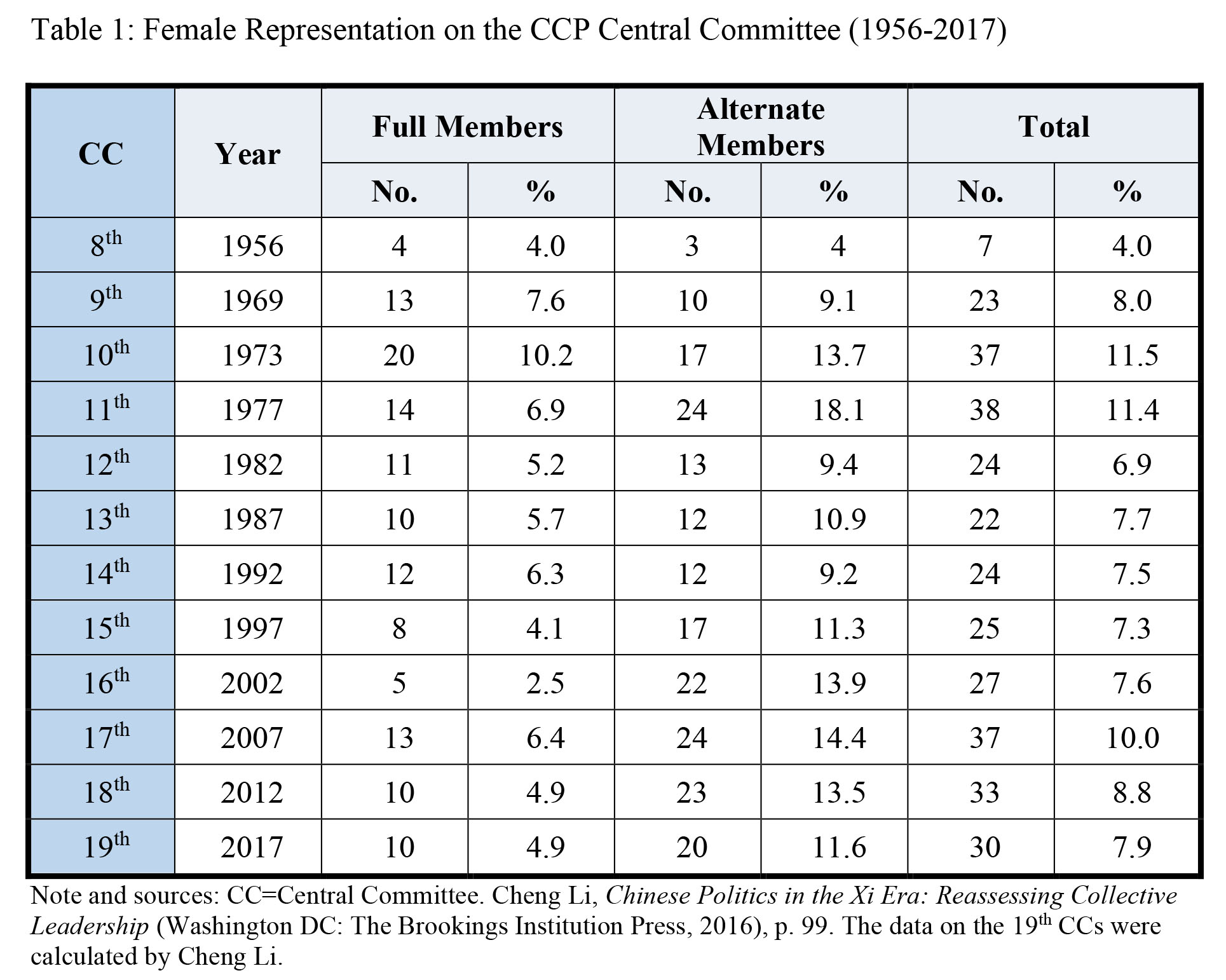 As for the Politburo, only a handful of female leaders have ever served in this important decision-making body over the past seven decades. They include the wives of top leaders, such as Mao's wife Jiang Qing, Lin Biao's wife Ye Qun, Zhou Enlai's wife Deng Yingchao, and model workers such as Wu Guixian and Hao Jianxiu during the Cultural Revolution. There was a complete absence of any female members in the Politburo on the 13th CC in 1987 and the 14th CC in 1992.
As for high-ranking positions, most female leaders have usually served as provincial vice governors and central government vice-ministers. According to a 2021 Chinese study of the provincial leadership, there were 31 female vice governors/vice mayors in China's 31 provincial-level administrations, an average of one per province. Female leaders accounted for about 8.2 percent of the members on 379 provincial Party standing committees. In PRC history, only four women have ever served as a provincial Party secretary, including current Guizhou Party Secretary Chen Yiqin.
Prominent female candidates for the upper echelons of Party leadership
Given that the CCP leadership has such a limited pool of women leaders from which to choose for higher offices, the number of female leaders in the 20th Politburo is highly unlikely to increase in any significant way. It would take a miracle for any female leader to defy history to serve on the PSC this fall. More likely, there will be a new female Politburo member to replace Sun Chunlan (1950), the current female member in this important leadership body. The leading female candidate –– and perhaps the only female candidate–– is the aforementioned Chen Yiqin (1959).
A current full member of the 19th CC, Chen is an ethnic minority (Bai). She was born in Zhijin, Guizhou Province. After completing her undergraduate studies in history at Guizhou University in 1982, she worked at the Guizhou Provincial Party School for 17 years as an instructor, director of the personnel office, and vice president. She studied at the Central Party School (CPS) in 1998-2001 where she first attended the one-year program for young and middle-aged officials and then received her graduate-level education in economics. She returned to Guizhou where she advanced her political career by serving as deputy prefecture Party secretary, director of the propaganda department of the provincial Party committee, vice governor, deputy Party secretary and consecutively secretary of the political and legal committee, governor, and Party secretary.
If Chen's experience exclusively in Guizhou can be seen as a disadvantage for her promotion to the Politburo (as most other members have wide-ranging leadership experiences in different sectors or regions), her association with and experience working under some heavyweight political leaders in Guizhou are notably invaluable. These prominent political leaders served as Party secretary of Guizhou, including Hu Jintao (1985-1988), current PSC Member Li Zhanshu (2010-2012), current State Councilor Zhao Kezhi (2012-2015), and current Politburo Member Chen Min'er (2015-2017). Chen Yiqin closely worked under Li, Zhao, and Chen Min'er.
Of the other nine female full members of the 19th CC, some have already retired or moved into ceremonial positions, including former Auditor General Hu Zejun (1955), former Inner Mongolia Governor Bu Xiaolin (1958), and former Qinghai Governor Song Xiuyan (1955). Former Ningxia Governor Xian Hui (1958) recently stepped down from her provincial leadership position and it is unclear whether she will be appointed to another important position in the coming months so that she can retain her full membership on the 20th CC.
Table 2 lists 20 prominent female candidates for full or alternate membership at the 20th CC. All except one were appointed to their current leadership positions within the past two years, suggesting they are prospects for further promotion at the 20th Party Congress. In addition to Chen Yiqin and Xian Hui, Inner Mongolia Governor Wang Lixia (1964), Director of the Office of the CCP Central Institutional Building Committee Li Xiaoxin (1962); Executive Vice President of the Supreme People's Court He Rong (1962); and Chair of the All China Federation of Supply and Marketing Cooperatives Liang Huiling (1962) should secure their full membership this fall based on the Party norms regarding their current important positions. Deputy Secretary of the Central Commission for Discipline Inspection (CCDI) Yu Hongqiu (1960), the highest ranking female official in this anti-corruption body, may also obtain full membership if she switches from the CCDI to CC.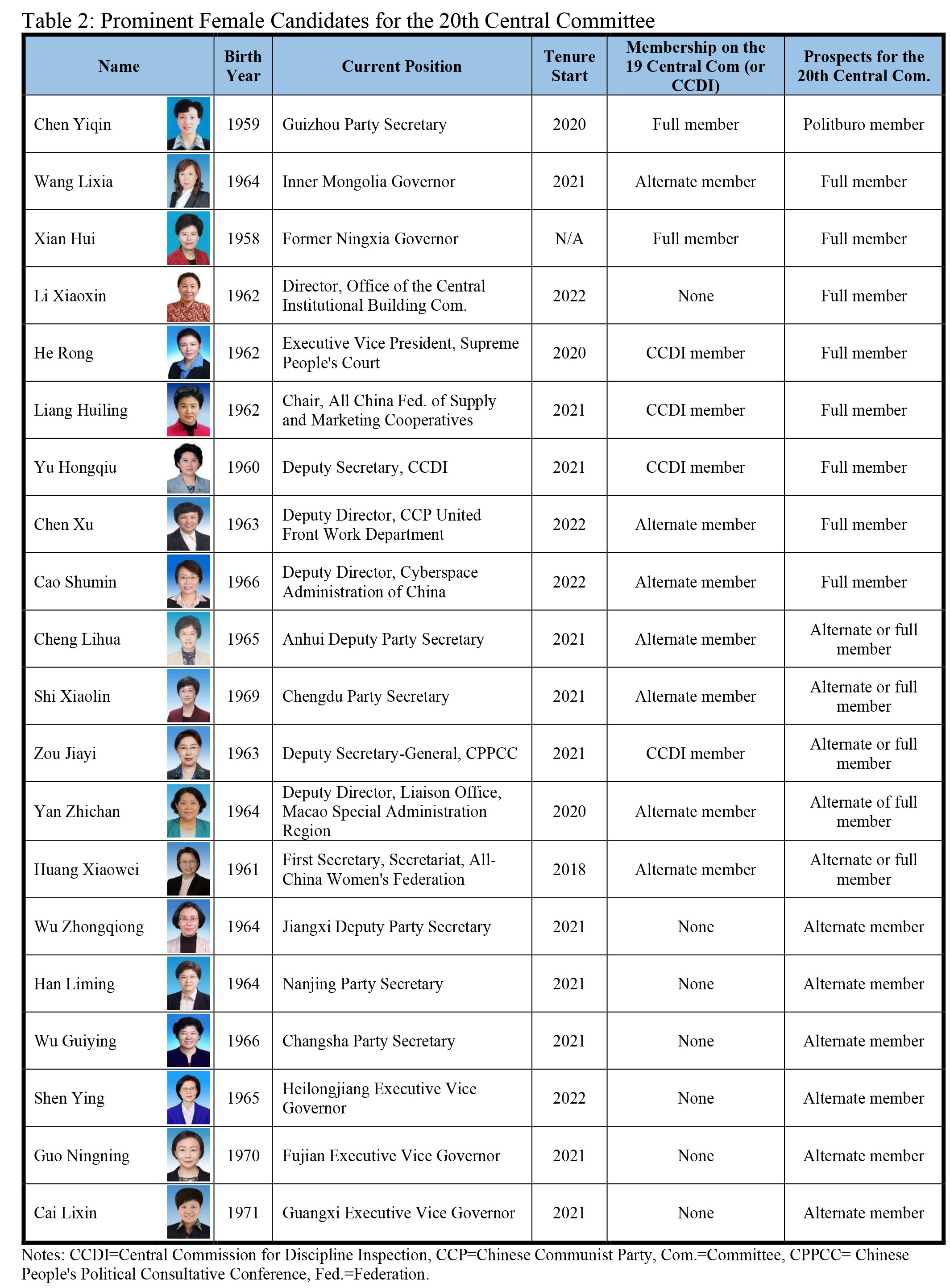 The newly appointed Deputy Director of the CCP United Front Work Department Chen Xu (1963) and the newly appointed Deputy Director of the Cyberspace Administration of China Cao Shumin (1966) are both rising stars in the Chinese national leadership. Both are alternate members of the 19th CC and both served until recently as Party secretaries of China's top universities. Chen served as a top leader at Tsinghua University, a highly prestigious and politically powerful university—and Xi Jinping's alma mater—for over two decades. Chen Xu is expected to succeed Chen Xiaojian (1962) soon to serve consecutively as executive deputy director of the CCP United Front Work Department and Minister of the State Ethnic Affairs Commission.
In addition to her previous position as Party secretary of Beijing University of Aeronautics and Astronautics, Cao Shumin also served as president of the China Information and Communication Research Institute, and mayor and Party secretary of Yingtan City, Jiangxi Province. Cao was instrumental in the establishment of China's fourth-generation mobile communication system (technically known as Time Division Long Term Evolution, or TD-LTE). At a highly publicized event in January 2017, Xi Jinping met with Cao and praised her contributions to China's cyberspace development. Cao is expected to become director of the Cyberspace Administration of China around the time of the 20th Party Congress. Both Chen Xu and Cao Shumin will likely obtain full membership on the CC this fall.
Among China's 40 deputy Party secretaries of province-level administrations (not including those who concurrently serve as governors or mayors), only two are women (5 percent) at present. They are Anhui Deputy Party Secretary Cheng Lihua (1965), and Jiangxi Deputy Party Secretary Wu Zhongqiong (1964), who has a strong background in the defense industry. To obtain full membership, they need to be promoted to be a provincial chief (Party secretary or governor) or minister prior to the Congress this fall. The same can be said about Deputy Director of the Liaison Office of the Macao Special Administrative Region Yan Zhichan (1964) and First Secretary of the All-China Women's Federation Huang Xiaowei (1961). In the case of Deputy Secretary-General of Chinese People's Political Consultative Conference (CPPCC) Zou Jiayi (1963), she needs to succeed Secretary-General Li Bin in order to obtain a full membership.
Among the current Party secretaries of the 15 sub-provincial cities (fushengji shi), there are two women, including Chengdu Party Secretary Shi Xiaolin (1969) and Nanjing Party Secretary Han Liming (1964). In addition, another female official, Wu Guiying (1966), serves as Party secretary of Changsha, the capital city of Hunan. They are all candidates for alternate membership on the 20th CC. Shi Xiaolin, who already serves as an alternate member on the 19th CC, was born and raised in Xinjiang. She advanced her political career in Shanghai by serving in many important leadership positions. She is expected to assume a more important position at the provincial and national levels of leadership in the years to come.
Three female leaders currently serve as executive vice governors, including newly appointed Heilongjiang Executive Vice Governor Shen Ying (1965), Fujian Executive Vice Governor Guo Ningning (1970), and Guangxi Executive Vice Governor Cai Lixin (1971). They are also well positioned for further promotion, especially the two 7G leaders. Altogether, these 20 female leaders will most likely constitute a small but well-connected and increasingly visible group in China's power circle.
At a time when male dominance in political leadership is being challenged in many parts of the world, both the Chinese public and the international community are likely to take greater notice of the gender imbalance within the Chinese political elite. Unless Zhongnanhai prioritizes vigorous institutional mechanisms to address this issue now, the inadequate representation of women leaders will remain a notable deficiency of the new leadership formed this fall, and more broadly, in the Chinese party-state system in the years to come.