At a time when the Chinese leadership urgently needs to recruit new blood––especially individuals with the administrative experience and skill sets to address new domestic and international economic challenges, observers of Chinese elite politics must pay greater attention to the career patterns of newly promoted young leaders. The previous essay in this series found that, among the 108 highest-ranking leaders who belong to the post-1970s generation (7G), 86 (79.6 percent) currently serve as vice governors and/or members of a provincial Party standing committee. This seems to follow the longstanding pattern that provincial administrative experience is the preferred stepping stone to the national leadership of the Chinese Communist Party (CCP).
A closer look at the backgrounds of those provincial leaders in the 7G age cohort, however, shows that 46 out of 86 (53.5 percent) have primarily advanced their careers from industrial enterprises or financial institutions rather than local administration. Most of them were only very recently appointed to provincial leadership positions. Prior to that, they had usually spent over two decades working as business executives in state-owned enterprises (SOEs) or state banks. According to a report released in July 2021 by Chinese official media, the 7G rising stars who serve as members of a provincial Party standing committee share a new trait in cadre selection; namely, they often have cross-region and cross-sector experience, and many have substantial leadership experience in SOEs. This interesting phenomenon reflects a major departure from previously predominant recruitment patterns of provincial leaders, which were characterized by the step-by-step promotion from county to prefecture/municipality to province.
Factors contributing to the rise of business executives in the CCP leadership
This new development is arguably driven by multiple factors. Former enterprise executives possess substantial technical experience with which they can improve the economic and financial administration of their respective provinces/cities and thus better implement policies to stimulate local economies. From Beijing's perspective, SOE executives are "outsiders" with respect to both localities and their provincial bureaucracies. These new provincial leaders are "less tainted by the political bureaucracy's interests and undesirable customs," and thus can undermine the force of localism.
For Xi Jinping, nurturing a new cohort of younger leaders from China's SOEs, especially those globally minded industrial experts and executives with strong international business backgrounds, allows him to diversify the composition of his power base. More broadly, they can better carry out his pronounced objectives to enhance China's economic presence on the world stage.
This recent trend may not only broaden the channels of political recruitment in the CCP, but also significantly change both the occupational composition of cadres and the rules of the game in Chinese elite politics. This can potentially generate some new fault lines in elite competition. The overlap between the business elite and the political elite will have immense consequences for the Chinese leadership, and it will profoundly influence the government's policy choices and decision-making.
Given the strong presence of business executives among the younger cohorts in provincial leadership today, some future top national leaders may come from this new pool. It should also be noted that several former CEOs and senior executives (mainly 6G members) currently already serve as provincial Party secretaries. They include Zhejiang Party Secretary Yuan Jiajun (1962), Xinjiang Party Secretary Ma Xingrui (1959), Liaoning Party Secretary Zhang Guoqing (1964), Hunan Party Secretary Zhang Qingwei (1961), and Shanxi Party Secretary Lin Wu (1962). Nevertheless, the rise of business executive-turned-provincial leaders is apparently even more salient among the 7G age cohort.
Recruitments favoring cross-region/sector and cross-government/enterprise backgrounds
In June 2021, in preparation for the 20th Party Congress, the Central Committee of the CCP issued the "Regulations on the Organizational Work of the Chinese Communist Party." This document provides important guidelines for elite recruitment prior to the Congress, specifically calling for broadening the channel for selection and promotion of Party leaders through more regular exchanges between central and local governments, between regions, between functional departments, and between Party and government organs, state-owned enterprises, and other social organizations.
Even earlier, the "2019-2023 National Party and Government Leadership Construction Plan Outline," which was released in December 2019 by the General Office of the CCP Central Committee, specified that high-ranking Party and government leaders could be increasingly chosen from the pool of business executives within China's flagship enterprises. As a Hong Kong-based analyst observed, strengthening the provincial leadership with business executives in batches in recent years, is the concrete measure for implementing the above guidelines by CCP authorities.
Chart 1 presents the pattern of promotion for the current 108 vice provincial-ministerial level leaders who belong to the 7G age cohort. Based on the leaders' most recent career advancement, the chart categorizes four patterns of promotion, namely, 1) being promoted from a different region (by province) and different sector (by bureaucracy); 2) from the same region and same sector; 3) from the same region and different sector; and 4) from a different region and same sector.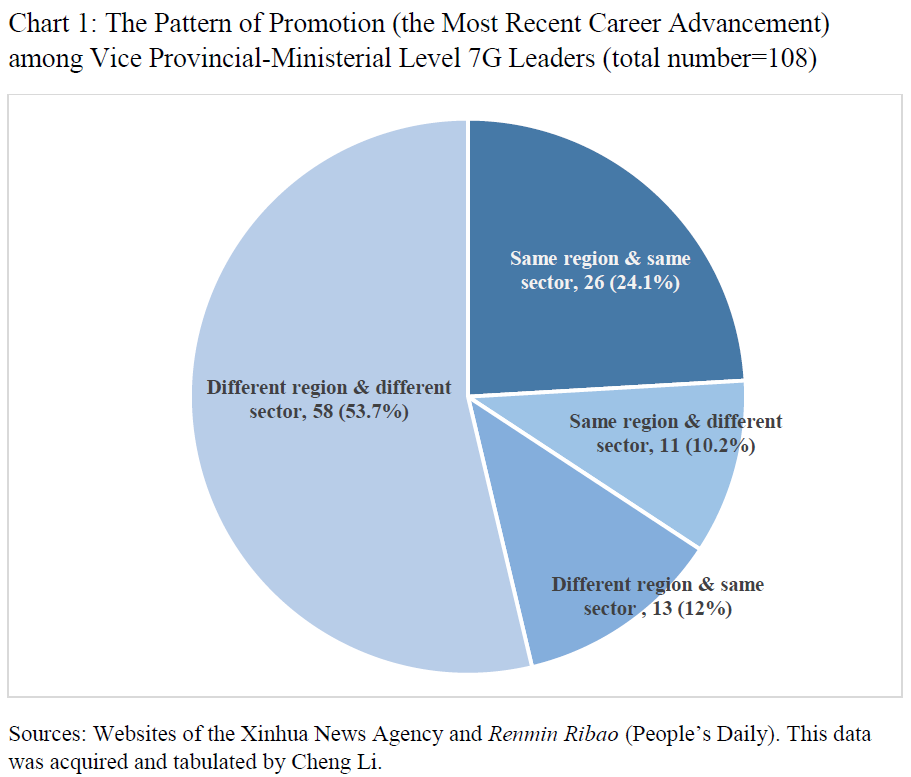 This study shows that less than a quarter (24.1 percent) of these rising stars were promoted from the same region and same sector. A majority of 7G vice provincial-ministerial level leaders (53.7 percent) were transferred not only from other regions, but also from different sectors. These different sectors refer to both bureaucratic functional areas (e.g., economic administration; financial institutions; industrial firms; foreign trade and investment organizations; foreign affairs, Party propaganda, Party organization, and discipline inspection and supervision agencies; universities and research institutions; and various industries (e.g., aerospace, petroleum, iron and steel, manufacturing, biotechnology, and telecommunications).
Many of these 7G rising stars have frequently been transferred to different functional areas of leadership and across regions. For example, Gansu Vice Governor Cheng Xiaobo (1972) was a head of a newspaper (China Reform News) from 2014 to 2016 and later served as director of the National Information Center from 2016 to 2019. He was promoted to be deputy secretary-general of the National Development and Reform Commission (NDRC), a vice-minister rank position, from 2019 to 2020. Since April 2020, Cheng has served as vice governor of Gansu and early this year became a member of the Gansu provincial Party standing committee.
CCP leaders with enterprise administrative experience: Past and present
The presence of provincial and national leaders with administrative experience in SOEs is not entirely new in the People's Republic of China (PRC). Some top leaders in prior generations served as general managers or directors in factories and companies earlier in their careers. Former president Jiang Zemin served as director of several large factories in Shanghai and Changchun in the 1950s and 1960s. Former premier Li Peng served first as director of a power plant in northeastern China and then as chief of the Beijing Electricity Authority before being appointed vice minister of the electric power industry in 1979. Current PRC Vice President Wang Qishan (1948) served as president of China Construction Bank from 1994 to 1997 and current Politburo member Guo Shengkun (1954) served as general manager of the Aluminum Corporation of China from 2001 to 2004.
There are, however, at least three main differences between the aforementioned senior leaders in the preceding generations and the current political leaders with business executive backgrounds in the 6G and 7G age cohorts. First, in the cases of preceding generations, leaders with strong business executive backgrounds like Jiang Zemin, Li Peng, Wang Qishan, and Guo Shengkun were often seen as the exception rather than the norm for their generations of leaders. In contrast, a significant number of 6G and especially 7G leaders have substantial leadership experience in industrial enterprises. The career paths of these younger leaders reveal an increasingly important channel for elite promotion.
Second, the defining experiences of the political careers of prior generations of leaders with business backgrounds were usually in provincial and ministerial leadership instead of corporate management. This also contrasts with 7G leaders whose leadership experience in the provincial and ministerial leadership is often much shorter compared to their work experience running businesses. For 7G enterprise-turned political leaders, their experience in the economic and financial sectors is likely to be seen as the most salient evidence of their leadership abilities, both at present and in the future.
And third, the business entities under the administration of preceding generations and the large companies led by 6G or 7G leaders are fundamentally different, both in size and type. Companies such as State Grid and the Commercial Aircraft Corporation of China in which 6G and 7G have served as senior executives are gigantic competitors in the global market. This gives their CEOs not only tremendous power to make financial and economic decisions but also an overwhelming sense of corporate responsibility given the high stakes of their decisions. Although all these firms are state-owned monopolies that enjoy preferential policies, their CEOs must have sharp business minds and global perspectives.
The rapid political ascent of a particular elite group in any given country is often linked to concurrent changes in the domestic and international environments. The recent emergence of business chief executives in the CCP leadership is no exception. This can be attributed to the meteoric rise and the ever-growing power of China's large SOEs on the world stage. If the economic success of a given country is measured by the number of companies on the Fortune Global 500 list, the PRC undoubtedly represents one of the greatest triumphs in the contemporary world. The number of Chinese companies on the Fortune Global 500 has dramatically increased, from three in 1995 to 15 in 2005, 46 in 2010, 106 in 2015, and 133 in 2020. In 2021, State Grid, China National Petroleum, and Sinopec Group were ranked second, fourth, and fifth, respectively. China has the largest number of companies (135) on the list.
All of these 7G leaders with business backgrounds have advanced their careers through SOEs. China's SOEs are divided into two main categories. The first includes enterprises that are under the direct administration of the central government, or more precisely, under the State-owned Assets Supervision and Administration Commission (SASAC). They are known as "SASAC companies." In 2021, China had a total of 97 SASAC companies. Most of these companies are listed on the Global Fortune 500. The second includes state enterprises that are governed by provincial or municipal governments, and some of these "local SOE companies" like SAIC MOTOR, which is run by the Shanghai municipal government, are also listed on the Global Fortune 500.
7G rising stars in the provinces with business executive experience
Table 1 lists a total of 18 current 7G vice provincial level leaders with substantial administrative experience in SOEs. All of them are men, reflecting the predominance of men among senior business executives of major Chinese corporations. All of them were appointed to their current provincial leadership positions within the past two years, reaffirming Zhongnanhai's plan to promote leaders with business executive backgrounds to important positions at this critical time leading up to the 20th Party Congress.Most of them previously served as CEOs or top business executives in the SASAC companies.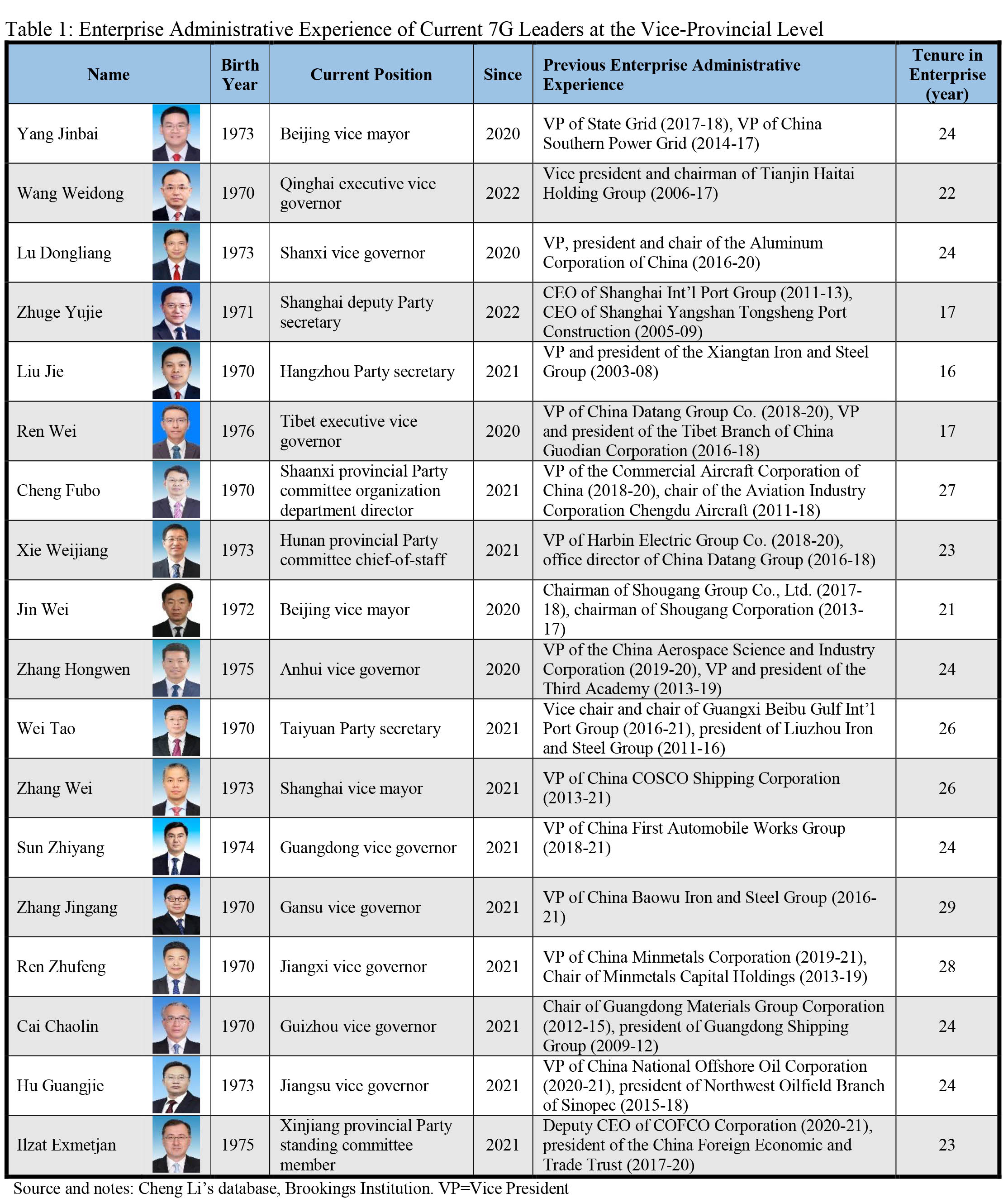 Perhaps most importantly, all of them spent a lengthy stretch of their careers in enterprise management. Most of them spent more than 20 years earlier in their career in business management. Gansu Vice Governor Zhang Jingang (1970) worked in the iron and steel industry for 29 years before becoming provincial leader in 2021. Similarly, Jiangxi Vice Governor Ren Zhufeng (1970) spent 28 years in the field of metal minerals including six years as a manager at an UK-based small nonferrous ferroalloys and minerals company.
The recent appointments of these leaders to vice provincial level leadership positions provide them with broader administrative experience, which is important for their further promotion. New paths to provincial and national leadership positions are beginning to form. The post-1970s generation of CEOs and senior business executives of state-owned enterprises, especially SASAC companies, are becoming more optimistic in their pursuit of party and state power. The country's future decision makers could bring with them a new set of backgrounds, experiences, and priorities, all of which could influence the party's agenda-setting and policy implementation processes.
Meanwhile, other 7G financial executives, who represent China's six state-run commercial banks and the three largest state-controlled insurance companies in the country, which are under the administrative supervision of the China Banking Regulatory Commission and the China Insurance Regulatory Commission, respectively, are also rapidly advancing their political careers. This is especially the case given that financial issues have become increasingly critical for economic growth and socio-political stability at home and foreign policy challenges persist abroad. The next essay in this series will focus on the rapid rise of 7G financial experts in China's provincial and national leadership on the eve of the 20th Party Congress.