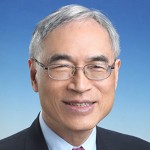 Lawrence Lau
Ralph and Claire Landau Professor of Economics, CUHK
Lawrence J. Lau is Ralph and Claire Landau Professor of Economics, The Chinese University of Hong Kong, and Kwoh-Ting Li Professor in Economic Development, Emeritus, Stanford University.
Sep 13 , 2017

In his view, there are two ways in which to reduce the trade imbalance: China reduces exports to the U.S. or the U.S. increases exports to China.

Sep 13 , 2017

Professor Lau discusses his research on the bilateral trade deficit and argues that the current deficit based on U.S. data of $367.4 billion is actually closer to $132.7 billion.

Sep 13 , 2017

Trump's rhetoric and campaign platform on trade has become a contentious issue. Professor Lau explains the significance of Sino-American trade.

Jul 25 , 2017

The first China-U.S. Comprehensive Economic Dialogue yielded no tangible results. But the two powers have plenty of room for agreement – if they can put their sense of exceptionalism aside.

Jul 06 , 2017

Despite all the predictions of doom by Western pundits in 1997, Hong Kong has done well since its reversion of sovereignty to China twenty years ago. 

Jun 27 , 2017

Moody's Investors Service recently downgraded China's sovereign credit rating, the first time since 1989, changing at the same time its outlook for the Chinese

Apr 05 , 2017

Lawrence J. Lau reviews the highlights of the nation's annual NPC and CPPCC meetings to check the health of its economy and society, and finds the progress in both areas encouraging, not least the successes in judicial reform.

Feb 22 , 2017

A more nuanced approach that includes additional perspectives shows that the true U.S. deficit may be as low as US$132.7 billion.

Mar 18 , 2016

The Renminbi surprised the world markets by its unexpected devaluations first in August 2015 and then in January 2016. The author argues that the Renminbi is unlikely to devalue abruptly and significantly going forward, even though there may be small fluctuations in the Renminbi exchange rate.

Sep 23 , 2015

In 1997, at the height of the East Asian currency crisis, I wrote an article, "The Sky is not Falling (天塌不下来)," basically saying that the Chinese economy would be able to emerge from the crisis more or less unscathed.