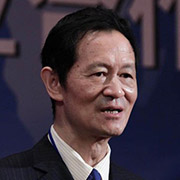 He Weiwen
Senior Fellow, Center for China and Globalization, CCG
He Weiwen is a senior fellow at the Center for China and Globalization, CCG.
Nov 03, 2020

Interwoven interests with the United States are a Gordian knot that cannot be cut without doing serious harm. Alarm bells are ringing in Washington.

Sep 04, 2020

The phase one trade deal between China and the United States got a new lease on life, at least temporarily, by an online dialogue of senior officials. Now, action is needed on both sides to prevent a new meltdown.

Jul 29, 2020

The V-shapes economic recovery is likely to continue and make a positive contribution to the world. Even with all the negative talk of decoupling, investment from the U.S. is increasing substantially.

Jul 13, 2020

The devil is in the details, and there are plenty of details suggesting that the United States will not be successful in punishing China for its new national security law as applied to Hong Kong. American businesses are likely to be hurt most.

May 10, 2020

Repeat a lie often enough and it becomes the truth, the saying goes. And that's precisely the objective of Republicans in the United States who seek to blame China for the coronavirus. The gambit won't work.

Apr 09, 2020

Global financial conditions, including heavy debt, are nearing a tipping point that could lead to protracted trouble. Protectionism and other factors risk disrupting the world's fragile supply chains and driving the world into a 1930s-grade catastrophe.

Feb 19, 2020

If China adopts the right policies and works successfully with the international community, there is a high chance that its economic growth will remain stable over the medium term, even with the coronavirus.

Jan 21, 2020

"The more fundamental, and more difficult, issues —including dropping all tariffs, and structural changes in China — are left to phase two."

Jan 17, 2020

Thorny, fundamental issues have been left to the next round, and nobody can predict how further talks will develop. Meanwhile, the U.S. presidential election season is heating up, and the world should be prepared for the worst.