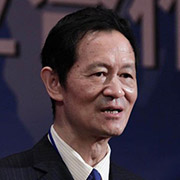 He Weiwen
Senior Fellow, Chongyang Institute for Financial Studies
He Weiwen is Senior fellow of Chongyang Institute for Financial Studies, Renmin University.
Apr 09, 2020

Global financial conditions, including heavy debt, are nearing a tipping point that could lead to protracted trouble. Protectionism and other factors risk disrupting the world's fragile supply chains and driving the world into a 1930s-grade catastrophe.

Feb 19, 2020

If China adopts the right policies and works successfully with the international community, there is a high chance that its economic growth will remain stable over the medium term, even with the coronavirus.

Jan 21, 2020

"The more fundamental, and more difficult, issues —including dropping all tariffs, and structural changes in China — are left to phase two."

Jan 17, 2020

Thorny, fundamental issues have been left to the next round, and nobody can predict how further talks will develop. Meanwhile, the U.S. presidential election season is heating up, and the world should be prepared for the worst.

Jan 15, 2020

When it comes to the way many in the U.S. view China, perception is far from reality. Irresponsible analysis can only mislead policymakers and harm bilateral trade relations.

Nov 28, 2019

Cutting ties would undoubtedly hurt both countries. But when wishful policies collide with the iron laws of economics, the latter are certain to prevail.

Oct 25, 2019

If current negative global trends continue, China is likely to step up efforts to keep growth above the line. It will continue to serve as the largest contributor to global output in any event.

Sep 20, 2019

"The trade war with the U.S. has had negative but limited effects so far on the Chinese economy. China is sure to weather a long trade war."

Sep 18, 2019

High pressure from the United States hurts, but it won't work in the long run. China doesn't want the dispute to continue because there's no good reason to damage two major economies and the world.

Aug 02, 2019

Trump's most recent memo to the WTO is the latest in a series of unilateral aggressions by the U.S. Given the relentless combativeness of the Trump Administration in global trade more broadly, the memo targeting WTO norms is unlikely to have any productive results.