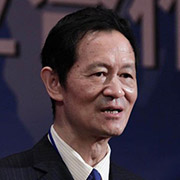 He Weiwen
Senior Fellow, Chongyang Institute for Financial Studies
He Weiwen is Senior fellow of Chongyang Institute for Financial Studies, Renmin University.
Mar 16, 2016

The years ahead offer parallel tracks for growth for both countries, and an "early harvest" for US enterprises, if opportunities are seized in areas such as innovation, Internet plus, reducing capacity, expanding the service sector – especially in healthcare -- and developing emerging industries.

Feb 01, 2016

China's economy will continue to slide for some time in 2016, and the overall growth rate will be even lower than in 2015. However, the economy's fundamental sectors portend a steady growth rate of 6.5-6.8%, depending on the progress of the reforms and restructuring, and on the developments of world economic situation. In any event, a major slump or "hard landing" seems out of the question.

Sep 24, 2015

China's stock-market correction was predictable after its wild rise, but it does not signal a sustained economic slump. However, "China shock" did influence the U.S. and European stock markets, despite the effect being psychological and temporary. During the first half of September, U.S. and European markets have been rising steadily, despite the lingering struggles for Chinese stocks. With an expected mild rebound by the end of the year and beyond, it is likely that China's imports will gradually pick up, thus contributing more to the world commodities demand recovery.

Aug 28, 2015

The shifting exchange rate reflects the strength of the dollar, not weakness of the RMB. The two nations and business communities should focus on identifying the complementary sectors and products of the two countries and seeking a sustainable pattern of stable growth based on mutual benefit.

Mar 06, 2015

Sudden cases of factory relocation and closures has caused China's foreign investment communities to worry about a "massive foreign capital flight." With further investigation, foreign direct investment in China is shifting from manufacturing to service sectors. The focus of concern about China's FDI situation should not be exaggerations of "massive foreign capital flight," but on the solid efforts to improve China's investment environment.

Jan 16, 2015

He Weiwen details the monetary values of China's relentless wave of foreign direct investment worldwide during 2014. China's structural changes in its economy, which will allow for further growth in 2015, especially between U.S. and Chinese companies, are also discussed.

Nov 18, 2014

He Weiwen dislodges the notion that the FTAAP is inherently in opposition to the TPP by discussing APEC plans to phase out regional free trade agreements in favor of creating a singular FTAAP; this more inclusive agreement which would serve as the "greatest common denominator" for standards and investment treaties in the Asian Pacific.

Sep 24, 2014

Alibaba's stellar NYSE IPO beat even the most optimistic expectations. The IPO is likely to forge close US-China economic and trade ties, and to further integrate the two economies, writes He Weiwen.

Aug 18, 2014

Can moderate growth in the United States economy lead to a boost in Sino-U.S. trade? As He Weiwen explains, the United States' rebounding economy provides greater opportunities to increase trade with China and could help the global economy as a whole.

Jul 24, 2014

After the 6th S&ED, both China and the Unites States are striving to intensify the Bilateral Investment Treaty negotiations. He Weiwen discusses the urgency for both sides to agree on the core issues and articles by the end of 2014 in order to promote consumer welfare and economic efficiency.