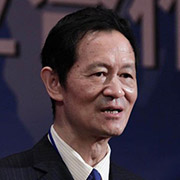 He Weiwen
Senior Fellow, Chongyang Institute for Financial Studies
He Weiwen is Senior fellow of Chongyang Institute for Financial Studies, Renmin University.
Nov 24, 2017

The trade deals signed during Trump's recent visit to China represent a step in the right direction, but they won't alter trade dynamics between the two countries.

Aug 18, 2017

President Donald Trump's decision to solve intellectual property disputes with China with unilateral action is a mistake. Instead, the US should go through the existing WTO framework.

Jul 27, 2017

The trade imbalance issue is not central to the mission of the CED. It should be left to the market, to the sector cooperation and to restructuring in the global supply chain.

May 18, 2017

The initial deals represent more intangible benefits than tangible ones, but high-tech, energy, steel and infrastructure financing all offer bankable opportunities for both countries beyond the 100-day action plan.

Mar 06, 2017

Since the 2008 global financial crisis, no linkages have been found between the changes in US trade deficits and exchange rates. Chinese exports have grown when global market conditions improve, even in years when the RMB was strong against the dollar.

Jan 10, 2017

While addressing the existing problems in the manufacturing sector at home, the in-coming Trump Administration needs to enhance collaboration with China, for more Chinese investment in America in general, and in the manufacturing sector and massive infrastructure development in particular.

Dec 13, 2016

In today's world trade, the production process — from product design, raw material procurement, financing, manufacturing, final assembly, marketing and logistics — normally stretches across many countries. Many products in international trade are known as "global products". Globalization has produced huge cost-savings on industrial and consumer goods at every level, and any effort to restrict American businesses to sourcing and production in the US will shrink the domestic economy instead of expanding it.

Sep 13, 2016

Despite the election-year rhetoric in the US, free-trade has been good for both countries and their people, and China and the US should both fight protectionism and support less-restricted trade to lead the global economy back to a path of strong, sustainable and balanced growth.

Aug 22, 2016

Strategies to stabilize world commodities and promote industrialization in Africa are key to achieving the goals of global governance and for sustainable growth. Giving less-developed nations outside the G20 an economic boost is a necessary commitment if any long-term global strategies are to be successful.

May 12, 2016

Increasing US technology and equipment exports to China would not only helping Chinese industrial upgrading, but also help US production in a time of sliding Chinese demand for US goods. Finalizing a bilateral investment treaty and closer collaboration between both governments and business to clinch more PPP projects in US infrastructure investments also would benefit both countries.