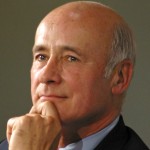 Joseph S. Nye
Professor, Harvard University
Joseph S. Nye, Jr. is a professor at Harvard and author most recently of "Do Morals Matter? Presidents and Foreign Policy from FDR to Trump".
Jan 18, 2019

American complacency is always a danger, but so too is lack of confidence and exaggerated fears that lead to over-reaction.

Dec 07, 2018

While the 90 day "truce of Bueno Aires" buys time for negotiations during the US-China trade war, it does little to address the real problems of the China-US relationship. Instead of succumbing to unnecessary hysteria, the US-China relationship should move towards a "cooperative rivalry."

Nov 07, 2018

While some may wish to focus on the narrative of a new Sino-American cold war, this concept is misleading.

Sep 05, 2018

The soft power of inspiration is not the only ethical tradition in American foreign policy. There is also an interventionist and crusading tradition.

Jul 06, 2018

The US must demonstrate that cyber attacks and manipulation of social media will incur costs.

Jun 19, 2018

The key characteristic of the current revolution is not the speed of communications; instantaneous communication by telegraph dates back to the mid-nineteenth century. The crucial change is the enormous reduction in the cost of transmitting and storing information. If the price of an automobile had declined as rapidly as the price of computing power, one could buy a car today for the same price as a cheap lunch.

May 10, 2018

But no one should be tempted by exaggerated projections of Chinese power. If the US maintains its alliances with democratic Japan and Australia and continues to develop good relations with India, it will hold the high cards in Asia. In the global military balance, China lags far behind, and in terms of demography, technology, the monetary system, and energy dependence, the US is better placed than China in the coming decade. In the Soft Power 30 index, China ranks 25th, while the US is third.