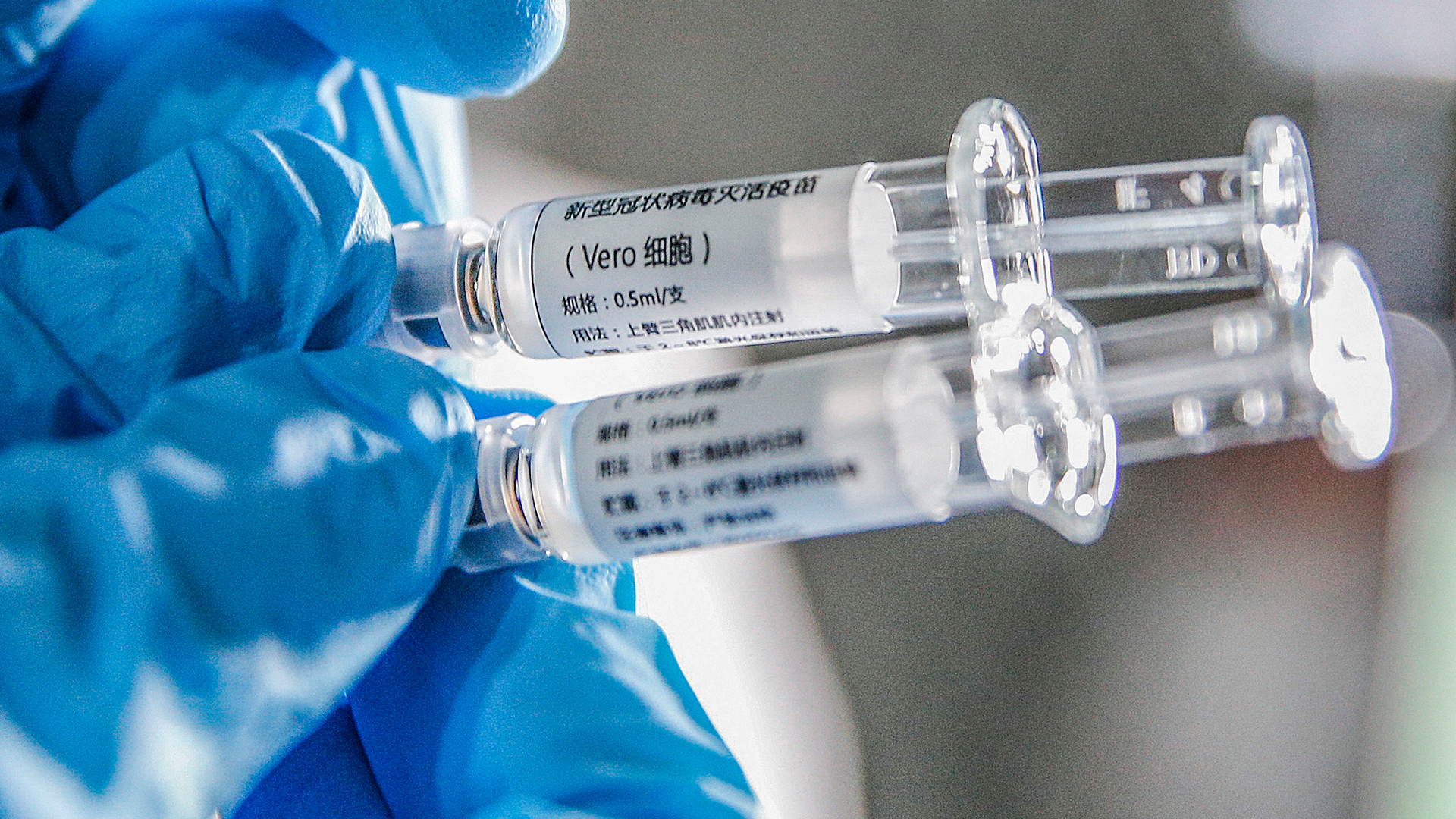 As the coronavirus pandemic continues to rage in much of the world, vaccines made in China are attracting more attention. In the West, with in the European Union to consider giving Chinese vaccines a green light, some politicians and mainstream media continue to question their efficacy and safety, and to discredit China's efforts to provide the inoculations to poor countries.
In the developing world, however, China's vaccines are quickly turning into a favorite. An increasing number of countries are signing supply deals with Chinese manufacturers, and Chinese vaccines are being shipped to places ranging from Asia to Africa, the Middle East to Central Europe. The drugs are playing a vital role in these countries' fight against the potentially deadly disease.
China has devoted substantial resources to developing vaccines, with 16 vaccine candidates currently undergoing clinical trials — the most in the world. Success in clinical trials has placed the country at the forefront of the global effort to develop vaccines. Six of China's 16 vaccines have entered Phase 3 trials globally, and two of the four vaccine candidates undergoing final evaluation by the World Health Organization are from China.
So far, China's drug regulator has approved two vaccines, one created by Sinopharm and the other by Sinovac Biotech. These two deactivated virus vaccines are based on mature vaccine technology and as such are generally thought to be safer and more stable than those created with new technology.
Late-stage trial results show that Sinopharm's vaccine had an efficacy of 79.43 percent, well above the threshold set by the WHO to consider a vaccine effective. The performance of the Sinovac vaccine in trials in various countries has been mixed. It had 91.25 percent efficacy in trials in Turkey.
But in Brazil — unlike the trials of other coronavirus vaccines globally — all the participants were front-line healthcare workers with high infection risk. In that trial, the vaccine had an overall efficacy rate of 50.65 percent.
Both vaccines were approved overseas before they were given the go-ahead in China. Since the pandemic had largely been brought under control in China last summer, Phase 3 trials of Chinese vaccines were all conducted outside China. Sinopharm's vaccine, for example, underwent late-stage trials in 10 countries and regions.
The participation of the host governments in trials have, together with their own trials, given them confidence in the Chinese vaccines. Up to now, a dozen countries have approved one or both of these vaccines.
In addition, an adenovirus vaccine is being developed by CanSino using the same technology the ones from AstraZeneca/Oxford and Johnson & Johnson. According to Pakistani health department, apart from having no serious safety concerns, the midterm Phase 3 clinical trials with 30,000 participants in the country places the efficacy of the vaccine at 74.8 percent, comparable to the 72 percent efficacy of Johnson & Johnson's vaccine, the only other single-dose vaccine to be created so far.
CanSino's single-dose vaccine would make it possible to inoculate more people more quickly than the two-dose types. Currently, it has completed midstage trials with more than 40,000 participants in five countries on three continents. It has been approved for emergency use in Mexico.
A sub-unit vaccine candidate by another Chinese company has also shown promise in Phase 3 trials in multiple countries, with late-stage trials to be launched in Pakistan soon.
To help other countries contain the pandemic, China pledged to designate its vaccines as global public goods. It began providing vaccines to the rest of the world when it first shipped Sinopharm doses to Indonesia in December. By Feb. 8, China had donated vaccines to 53 developing countries. It is exporting them to 22 countries.
By some estimates, China has thus far signed deals to provide a total of 1 billion doses to low- and middle-income countries — no small feat. Furthermore, to help poor countries finance vaccine purchases, China has set aside $2 billion for the African continent, while also offering Latin America and Caribbean countries $1 billion loans.
China is also taking an active part in multilateral vaccination programs. It has joined the WHO-led COVID-19 Vaccine Access Facility and was the first country in the world to respond to the WHO's call for help. It donated 10 million doses of vaccines when the West looked the other way.
China's efforts to contribute to vaccine availability and affordability in the developing world are, as it appears, being made at the expense of its domestic inoculation program. As of Feb. 9, nearly 41 million shots had been administered in the country. This represents an inoculation rate of only 2.82 percent, compared with 19.39 percent in the United Kingdom and 12.92 percent in the U.S.
China lags the EU domestically. As a result, while developed countries are set to complete their large-scale vaccination programs by the end of summer, with herd immunity achieved before the fourth quarter this year, China is highly unlikely to do so at home at the current rate of inoculation.
The country remains constantly exposed to "imported" virus — infected travelers entering the country. Sporadic outbursts of the virus have inflicted incalculable economic losses and restricted freedom of movement. For example, the surge of the virus in pockets of the country forced more than 100 million Chinese forego returning to their ancestral homes for family reunions during the Chinese Lunar New Year.
There are calls in the country to expedite its own mass vaccination program so that herd immunity can be realized sooner. Based on a 70 percent inoculation rate, China would need approximately 2 billion doses of vaccines, which is roughly the same level as the current planned annual production in the country. This presents a challenge for the Chinese government in balancing its efforts to contribute to the global welfare and its own domestic vaccine needs.
Many developing countries see Chinese vaccines as a lifeline. Chilean President Sebastian Pinera described Sinovac's product as "safe and effective" and "the hope of returning to normalcy" for his Latin American country. Chinese vaccines have been hailed by heads of state or governments at the airport upon arrival. And quite a number of foreign leaders have taken the lead in getting Chinese vaccine shots themselves to show their trust.
But demand for Chinese vaccines goes far beyond the developing world. In Europe, both Serbia and Hungary have placed orders for vaccines made in China. And politicians in Germany, Austria and France are reportedly calling on the European Medicine Agency to consider vetting them.
In stark contrast to China's contribution to equitable vaccine distribution throughout the world, the West has been engaged in a vaccine hoarding contest to the total neglect of the needs of poor nations. Some developed countries have pre-ordered doses of vaccines in amounts large enough to protect their populations several times over. The U.S., for example, has placed orders double the size of its entire population. In Canada, it's triple.
In so doing, they have left low- and middle-income countries with an inadequate number of doses — not even enough to cover groups with high infection risk — by the end of 2021. Vaccine nationalism has thus created a vaccine divide between the haves and the have-nots, a situation French President Macron described "embarrassing," although it would be more apt to call it morally indefensible.
In an attempt to deflect criticism over the egoism of developed countries, some media and politicians in the West continue to question the "transparency" of Chinese vaccines. But the fact is, according to Achal Prabhala and Chee Yoke Ling in their recent piece in the New York Times, "No Covid-19 vaccine has been developed or released as transparently as it should have been." Furthermore, they point out, "Not all the details or raw data for trials of the Pfizer-BioNTech and Moderna vaccines have been made available, not even to researchers." To single out Chinese companies on transparency reveals the bias of Western media toward Chinese vaccine manufacturers.
The mainstream Western media have made extensive use of Sinovac's overall efficacy data in the Brazilian trials to paint Chinese vaccines as shabby. They choose not to mention the skewed composition of the participants in the trials. As the former president of the China Chamber of Commerce for Import and Export of Medicine and Health Products, I know what a big difference the mix of volunteers can make in an efficacy rate. Moreover, they ignore the fact that the Brazilian government had placed an order for 100 million doses of the vaccine and is in talks with Sinovac for the purchase of another 20 million doses.
The Western media continue to brand China's altruism in the global fight against the plague as "vaccine diplomacy." Such an accusation, to put it mildly, amounts to measuring another farmer's corn by one's own bushel.
More important, given the yawning gap between global vaccine needs and the productive capacity in the West, China must step up as a crucial force in the global fight against the pandemic — at least if humanity wants to win. With multiple vaccines and an enormous productive capacity that can be expanded quickly, the country's role is anything but dispensable.
Smearing China's effort to help poor countries and discouraging them from getting Chinese vaccines will only serve to prolong the agony and suffering of people in need. Such an eventuality should not be allowed to happen.