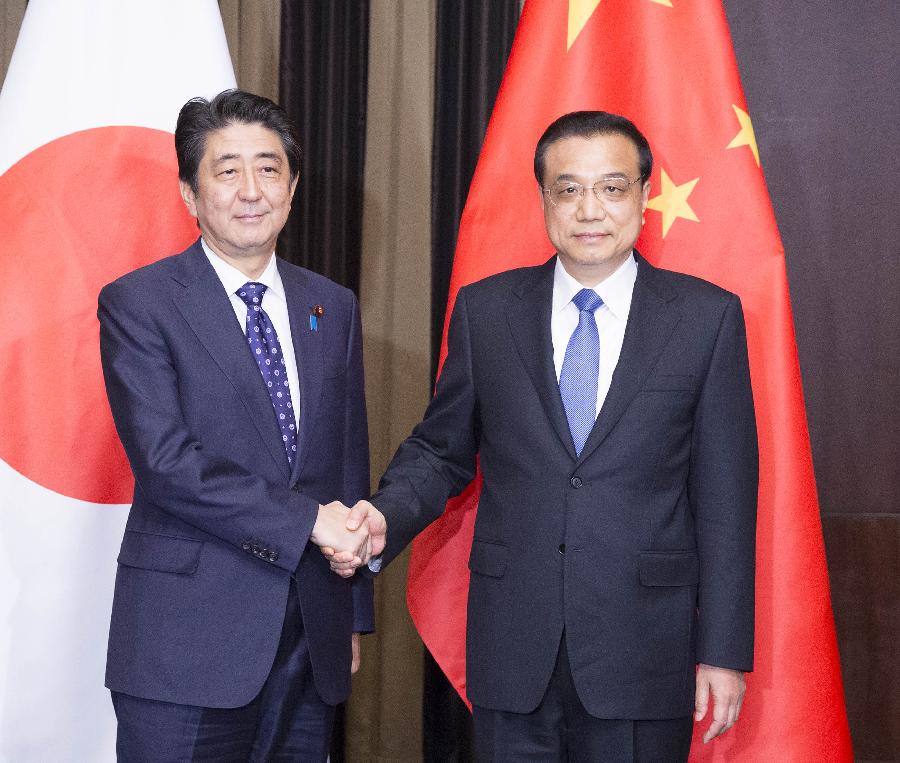 Chinese Premier Li Keqiang meets with Japanese Prime Minister Shinzo Abe in Seoul in 2015 (Picture Credit: Xinhua)
Chinese Premier Li Keqiang visited Japan on May 8-11, an important visit that saw bilateral ties "set sail" again, and "move on to a new level". With both sides agreeing to heed history lessons and shelving their differences, a new era for China Japan cooperation defined by comprehensive cooperation has begun.
During the visit, China and Japan agreed to build stable and healthy relations. Agreements and MOUs were reached. On the security front, a sea-air communication mechanism has been set. Inter-governmental and people to people exchange mechanisms have been established, and new efforts were made to advance joint development in other markets. In particular, as part of broader efforts to shore up financial security, Japanese investors will be allowed to invest in mainland China's bond and equity markets. Both sides explored and exchanged views on social welfare, improving people's living standards, social security, and technological cooperation, with a view to leveraging each other's strengths for closer cooperation in the future.
What are the driving forces of these developments? What will be the implications?
The improvement in China Japan relations is not a flash in the pan. Rather, it is backed by long cherished goodwill and concrete actions from both parties. Over the last 5 years, leaders from both countries maintained good and frequent communications, including on the sidelines of 2014 APEC meeting in Beijing, after which four-point principles were developed to guide the development of China-Japan ties. In 2015, President Xi Jinping met with the Japanese delegation at the Great Hall of the People in Beijing and stressed that people to people exchanges are at the heart of state to state relations. During the G20 Summit in Hangzhou, China-Japan exchanges gathered momentum, and Japan began to recognize China's efforts to be a responsible major power. In May 2017, the Abe government sent a delegation to participate in the Belt and Road Forum for International Cooperation, and showed a readiness to promote China-Japan cooperation, including with regard to other countries. To mark the 45th anniversary of China-Japan relations, arrangements were made on both sides to celebrate the occasion. Cooperation programs between business communities, think tanks and citizens were launched. The goodwill of the people and closer economic ties will boost political ties and shore up cooperation.
According to statistics by the Japanese Ministry of Finance, China has again become Japan's biggest export market,overtaking the US. Bilateral trade ties remain sound and sustainable with China running some surplus over Japan. In the meanwhile, Japan has intensified trading with the rest of Asia, and increased FDI into China and ASEAN. Now Japanese companies derive 45% or more of their overseas income from China and ASEAN, overtaking revenues from Europe and the US. Advanced economies are no longer the main source of revenues for Japan. Asia is the market to watch for Japanese companies.
In the wake of the 2008 financial crisis, the US, Europe, and Asia have dominated the world economically. The US dollar, the Euro, and the Yuan have become the three dominant currencies. However Asia's rise is threatened by certain risks. These risks come from capital flows, and new technologies such as automated vehicles, new energy vehicles, the IT based economy, and the green economy. The WTO cannot regulate these new trends and risks effectively, and, combined with anti-globalization sentiment, they pose new risks to Asian countries. No country can address these risks alone. Their common interests will bind them together to rise above the challenge collectively.
Every decade counts as an era. Every era carries its own defining technologies, and it reflects economic trends. According to an Asian Development Bank forecast, infrastructure financing needs in Asia will reach $26 trillion by 2030. That means $1.7 trillion for each year between now and then. Inadequate infrastructure is a common challenge for Asian countries. This is the common denominator for Asian development. The Abe government has prioritized infrastructure projects abroad. China has launched the Belt and Road initiative. China and Japan are close neighbors, and the second and the third largest economies in the world. Cooperation between China and Japan will significantly impact Asia and the world.

During Premier Li Keqiang's visit, both sides jointly spelt out the roadmap for future cooperation between China and Japan. This will be a new era for the global economy.