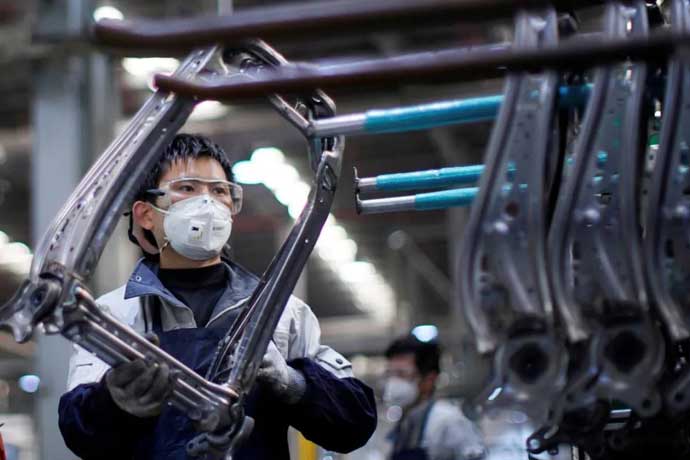 Even as COVID-19 has forced large swaths of the world to come to a screeching halt, we must come to terms with a sobering realization: the mounting death toll and widespread unemployment are only two of its most visible features. As America and Europe deploy a wide range of interventions to resuscitate their economies, the aftershocks of COVID-19 will come into sharper relief. For a glimpse of what the future may portend, governments worldwide can look to China for direction but only up to a point.
In the United States, coronavirus shockwaves will serve up a volley of bad news – mortgage delinquencies and foreclosures, credit downgrades, defaults, and bankruptcies. These aftershocks herald widespread economic fallout that, absent supplementary fiscal and monetary stimulus, will dampen the recovery. Federal Reserve Chairman Jerome Powell expects an economic rebound so lethargic that there is a danger that liquidity issues may turn into solvency issues.
Small businesses are a struggling lot that require additional support, without which a quarter of them may shut down by the end of the year. Open Table estimates that restaurant reservations on its network are down by 95% compared to last year and up to 25% of restaurants will not reopen. Consumer demand has suffered an epic collapse and will not snap back like a rubber band. There will be no big bang pent up release to spark a sustained national buying spree. With livelihoods shattered, consumers will buy cautiously minding their finances ever so prudently.
As the economy lurches forward, to think that customers will embrace their previous spending habits would be foolhardy. The national psyche will suffer from scarring, as some will cite personal health concerns and fear of infection to keep away from stores. Others who discovered the joy of shopping online will accelerate e-commerce's inexorable expansion at the expense of their brick and mortar brethren. And companies that survive will re-emerge in a somnambulant state with business models disrupted and balance sheets in tatters as they grapple with the realities of a battered economic landscape.
In China, the short-term outlook has noticeably improved but long-term remains tenuous. The recovery has been unpredictable and unbalanced across industry sectors and locations. The manufacturing base is 80% back online and credit growth remains healthy thanks to easing monetary policy. Yet, the retail sector, which saw a cliff-like plummet, is still limping along. According to Bloomberg, 60% of China's publicly-traded restaurant firms could face a cash crunch within six months. Consumer confidence teeters between cautious optimism and recurring pessimism, as concerns of a second wave of infections are ever-present.
In my home city of Guangzhou, an hour north of Hong Kong, a quick jaunt to Tai Koo Hui, one of several high-end malls, the change is noticeable in its absence of shoppers. On an average weekend in May, the mall saw 50% normal foot traffic. With summer weather firmly ensconced, Tai Koo should offer a tempting refuge from the searing heat and humidity. But the lack of consumer buzz is a telling sign of a retail sector that is trying to regain its footing.
Despite the uneven recovery, China can offer the world valuable, hard-won lessons but no identical blueprint to execute. First, in the fog of a crisis, consistency in tone and purpose is paramount for an orderly reopening of the economy. In America, the stark contrast between government officials' self-accolades for a supposed job well done and health experts who are at pains to convey a somber reality breeds more than a patina of confusion. It sows chaos and adds to a lingering fear factor, which acts like a self-inflicted drag on the recovery.
Second, while America distributed stimulus checks to induce spending, China doled out vouchers to entice its shoppers. Most vouchers were not spent on big-ticket discretionary items but on life's basic necessities. Even when applied to small scale purchases, the use of coupons had severable desirable effects. It drew those reluctant to leave their homes out to local shops, demonstrating that it was safe to move about. As more people ventured outdoors, others followed. Furthermore, vouchers accelerate spending that would normally occur at a slower pace. Cash tends to get hoarded and saved – delaying purchases. Coupons make its owners act with expediency, particularly if attached with an expiration date – it's use it or lose it. Moreover, vouchers with minimum spending requirements force people to kick in their own money, which boosts consumer spending, providing a robust economic multiplier.
Third, China's leading role in mobile payments made splashing out coupons a cinch. Electronic vouchers distributed to the public via Alipay and WeChat Pay meant that consumers received them immediately, ready to be used on all types of household purchases. By comparison, America's stimulus checks issued by the IRS experienced glitches from the start. Though millions of Americans received checks within thirty days, some will have to wait up to five months for physical checks to arrive, diluting a much-needed consumption effect.
Lastly, America's retail sector has already been shut down longer than China's. Do not expect retailers to rebound anytime soon. Amidst collapsed discretionary spending, iconic brands including JC Penney, J Crew, and Neiman Marcus have filed for bankruptcy. The retail sector is facing hurricane-force headwinds pushing observers to predict the death of the department store as we know it.
Fraught with a myriad of unknowns, governments are seeking to carve out some semblance of order in all this chaos. The fast-changing nature of COVID-19 makes the scaling of economic interventions difficult to predict. Nations are naturally looking to China for direction for how their economies may respond. But the prospect of mimicking China's actions while tempting for countries would be ill-suited. In America, the fifty laboratories known as states, allow governors the space to maneuver with novel programs that draw on the collective talent of private industry and public sector. China's hard-earned lessons offer nations an appealing case study that serves as a general roadmap, but not as an identical playbook. The innate rhythm that joins what a political system makes feasible to what the citizenry are willing to accept, beckons countries to formulate their own unique response.