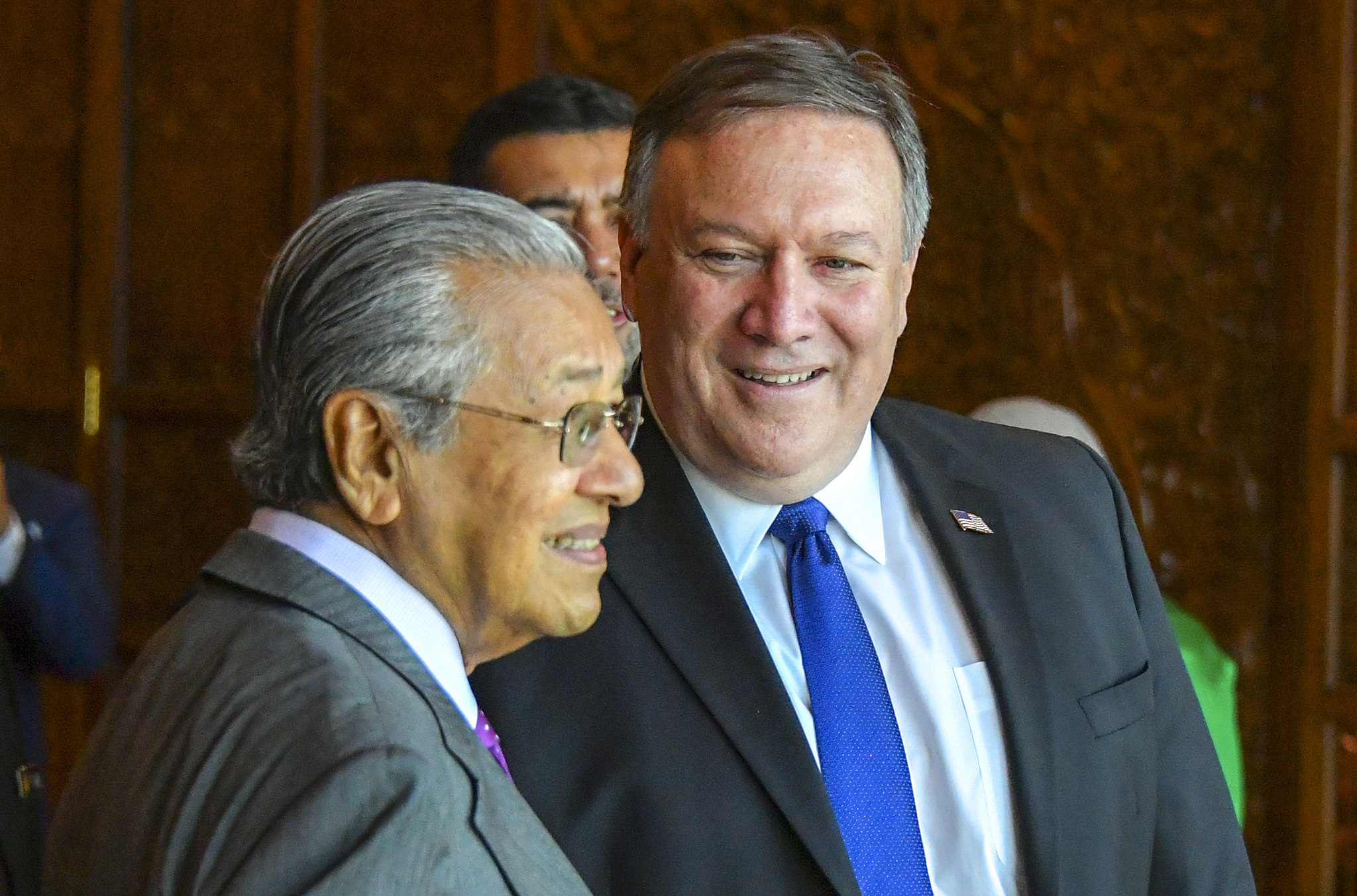 Secretary of State Michael R. Pompeo meets with Malaysian Prime Minister Tun Dr. Mahathir Mohamad at the Prime Minister's Office in Putrajaya, Malaysia, on August 3, 2018.
Only a few months since his return to office, Prime Minister Mohammad Mahathir is radically reshaping Malaysia's traditionally friendly relationship with China. Though committed to maintaining robust strategic and economic ties with Beijing, the new government in Putrajaya is intent on changing the overall quality of bilateral relations.
A senior Malaysian official told me that deepening concerns over the viability and transparency of Chinese infrastructure deals signed under the previous administration could see the cancellation of up to $40 billion in big-ticket projects under the Belt and Road Initiative (BRI) umbrella.
In a strange twist of events, Malaysia has emerged as a new vortex of resistance against China's economic hegemony in Southeast Asia. Given the centrality of the country to regional politics, and Mahathir's unparalleled stature as an Asian elder statesman, Putrajaya's new approach may eventually inspire other neighbors to take a tougher and more critical stance on Beijing's BRI investments.
A New Dawn
There is growing pressure on the new Malaysian leadership, which largely won on the promise of bringing about clean and efficient governance, to address ballooning debt (close to $250 billion), cancel questionable Chinese deals with the previous administration, and hold former Prime Minister Najib Razak and his associates accountable for the 1MDB scandal.
China's intimate ties with the Razak government, which heavily relied on Beijing's financial assistance over the years, have only reinforced the new government's efforts to revisit bilateral relations. "The time has come for the world to know that this is a new Malaysia that you are seeing," said Finance Minister Lim Guan Eng shortly after the new government was sworn in.
Underscoring the necessity to get to the bottom of corruption scandals under the previous administration, he promised that the new government would do its best "to restore our finance and also restore our country's reputation in international financial circles."
At first, many thought that Mahathir's tough language over Chinese investments was part of election sloganeering against China-friendly Najib government which would set the stage for renegotiation of existing deals on more favorable terms to Malaysia.
After all, a month into office the Malaysian leader began to sing a different tune, seemingly extending an olive branch to China. "I have always regarded China as a good neighbor, and also as a very big market for whatever it is that we produce," Mr. Mahathir said in a high-profile interview with the Hong Kong-based South China Morning Post in June. "Malaysia is a trading nation. We need markets, so we can't quarrel with such a big market [like China's]," he said.
Yet, during Mahathir's visit to Beijing in August, he made it clear that his earlier critical statements were far from empty rhetoric, but instead a reflection of a fundamental shift in Malaysia's strategic thinking. "You don't want a situation where there's a new version of colonialism happening because poor countries are unable to compete with rich countries in terms of just open, free trade. It must also be fair trade," the tough-talking Malaysian leader said at the Great Hall of the People, in Beijing, during his visit to China in August.
Mahathir reflected growing frustration among Southeast Asian countries, which bemoan increasingly unfavorable trade terms with China. Over the past two decades, industrializing Southeast Asian states such as Malaysia and Indonesia have been largely demoted to raw materials exporters and sources of low-value-added products in exchange for Chinese capital goods and technology.
Small Asian countries such as Sri Lanka and Laos have fallen into 'debt traps' after years of unsustainable borrowing from China, which has resorted to debt-for-equity arrangements when beneficiaries are unable to cover debt servicing.
Though overseeing a medium-sized and relatively developed country, the Malaysian authorities have openly expressed their determination to avoid a similar fate and improve overall terms of trade with China.
As Finance Minister Lim told The New York Times, "We don't want a situation like Sri Lanka where they couldn't pay and the Chinese ended up taking over the project." If China were to challenge the cancellation of the mega-projects, a senior Malaysian official told me that they are willing to take the case to international arbitration if necessary.
Rebooting Relations with China
On the top of the list of projects under reconsideration is the China Communications Construction Company's East Coast Rail Link project, originally pegged at $13.4 billion, but estimated to cost the government close to $20 billion once in operation.
The Mahathir government has raised concerns over the lack of transparency during the bidding procedure, which was closed to other potential bidders. They believe that a local Malaysian company could have built the project at half the cost.
Malaysian government is also considering the cancellation of a $2.5 billion natural gas pipeline project led by a subsidiary of China National Petroleum Corporation. The previous administration reportedly disbursed up to $2 billion for the project even if there was no actual construction on the ground. In both cases, there are suspicions over the possibility that huge kickbacks jacked up the bidding price at the expense of taxpayers.
The government is also reconsidering the expansion of the $10 billion Melaka Gateway mega-project, jointly developed by the Najib-friendly Malaysian KAJ Development group and several Chinese counterparts, including the PowerChina International.
They have also imposed restrictions on the development of real estate mega-deals, particularly the $100 billion Forest City project, which was disproportionately marketed to Chinese and foreign buyers. Yet, Senator and Deputy Defense Minister Liew Chin Tong told the author that Malaysia remains open to Chinese investments, provided that they are negotiated in an open and transparent manner, generate quality employment, enhance the country's productive capacity, and facilitate trade in more symmetrical high-value-added products.
"If investment into [a country] doesn't bring jobs, you will eventually see a domestic political problem," Mr. Liew said, emphasizing the necessity for China to bring in investments that create quality jobs for locals. "To solve the employment question, to create decent jobs, should be the number one objective of any state," he continued.
The Mahathir government isn't against robust economic relations with China per se, but instead seeks to upgrade ties in ways that are mutually beneficial and sustainable. The new Malaysian government has been heavily critical of investments that crowd out locals, whether it's the ordinary consumers, laborers, or companies.
Given the centrality of Malaysia to regional politics, it could eventually inspire, if not lead, a greater effort to rebalance increasingly asymmetrical relations between Beijing and Southeast Asian nations. China will have to get Malaysia right if it wants its growing economic influence across the region to be welcomed with open arms.