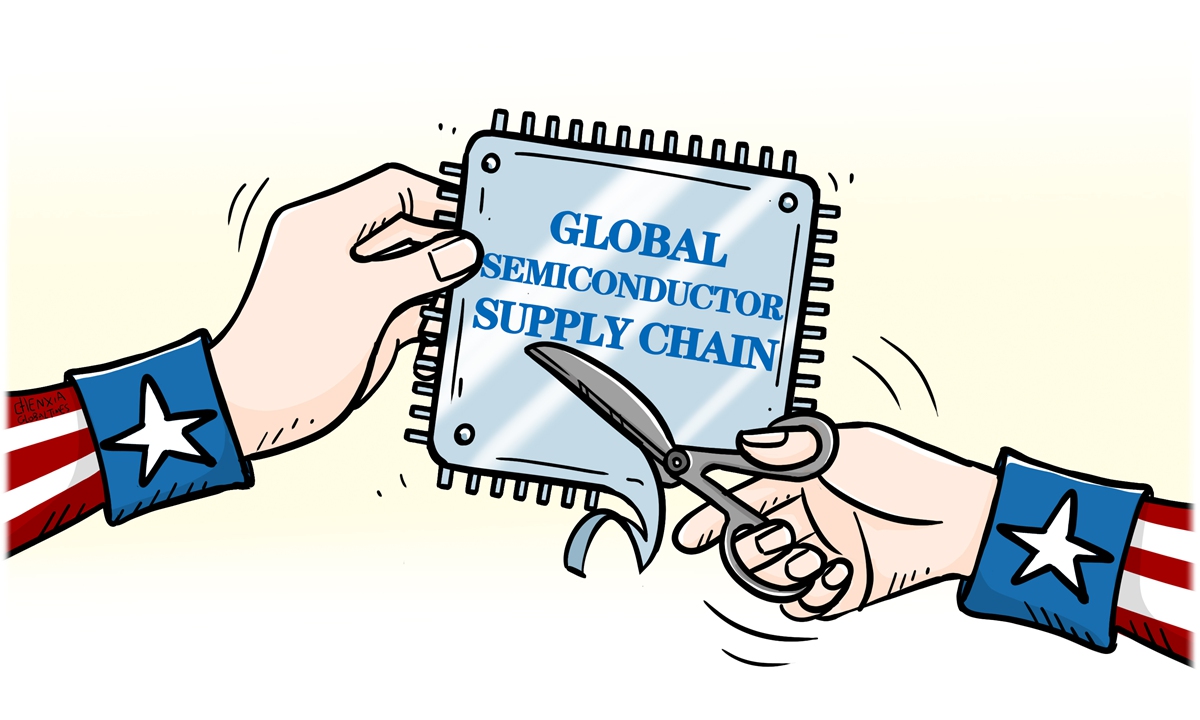 (Illustration: Chen Xia)
U.S. President Joe Biden signed the CHIPS and Science Act into law on Tuesday with the aim of stimulating the country's semiconductor industry and maintaining its technological supremacy. The act is actually an upgraded version of the Senate's 2021 U.S. Innovation and Competition Act (USICA), which had been moribund for a year as Republicans and Democrats were constantly at odds and Congress never ceased trying to stuff in anti-China provisions.
The Biden administration encountered roadblocks in pushing through its big social spending package, which is intended to tackle climate change, health insurance and other social safety issues. Democrats ended up with a slimmed-down plan, called the Inflation Reduction Act, passed via a difficult budget reconciliation process. The $740 billion package covers policy strategies for health care, climate and taxation.
Now that Republicans succeeded in scaling back the big social spending package, they no longer needed to foil the CHIPS Act. Instead, they have turned to support investment in the semiconductor industry as written in the USICA. Under these circumstances, Democrats — anxious to do something to boost voter approval with the midterms approaching— rushed to slash and otherwise adjust the USICA's content in their dispute with Republicans. They want to make sure the CHIPS act would pass before the midterms.
The act extends the core spirit of the USICA, which aims to speed up decoupling from China in the semiconductor industry, establish a semiconductor industrial chain that excludes China, crack down on China's semiconductor industry and maintain America's technological hegemony in this arena — all based on a Cold War-era technological confrontation mentality.
Back in July, in an effort to push the CHIPS and Science Act through the Senate, Biden sent Secretary of Commerce Gina Raimondo and other officials responsible for China intelligence to the Senate to deliver a message about stalled legislation. According to U.S. media reports, Raimondo said China would "eat our lunch" without the act. After intense lobbying, the Senate voted 64-32 to pass the long-awaited $280 billion "CHIPS-Plus" bill. In addition, the Senate chopped the clauses the House would likely oppose, revise or adjust so that the act was swiftly passed by the House and sent to Biden for his signature.
Although the act ultimately gave up the content that bans American companies from investing in China and provisions that crack down on trade, it suggests between the lines that Washington plans to handicap China's semiconductor development. For instance, under the act the U.S. government must give tax credits and grants on conditions that square with the stipulations in all legislation concerning China's technological development.
If a semiconductor company that has a chip manufacturing factory in the United States builds a plant in China, then it is barred from receiving any tax breaks or grants from the U.S. government. This means companies cooperating with the Chinese semiconductor industry or Chinese companies that are on the U.S. Commerce Department's Entity List — in supply chains, investment in research or technological development — won't be subsidized. Any company considering building chip manufacturing facilities in the U.S. has to choose sides, either U.S. government incentives or China's semiconductor sector.
It is fair to say that Washington is coercing and luring global semiconductor leaders to decouple from China and align with the U.S. by means of the sheer bulk of government subsidies. Such details, which betray a palpable Cold War and camp confrontation mentality, have revealed the U.S. attempt to use the CHIPS and Science Act to intensify what experts call a "small yard, high fence" approach.
Nonetheless, the act is bound to fail. All one need do is look at the inherent laws of high-tech industrial development in a worldwide economy. The emergence and development of the semiconductor industry shows perfectly how the inherent laws of globalization work. Hence, any industrial policy going against those laws is doomed. So it is with the CHIPS and Science Act.
The semiconductor industry has emerged as a result of sophisticated, effective combinations of labor, knowledge, capital and raw materials, not something built solely by the U.S.-led developed Western world. For instance, Intel and Nvidia have a technological edge, but China, Europe and some other developing countries play an essential role in mining raw materials, making semi-finished products and fabricating wafers, among many manufacturing links.
Now, Washington is attempting to break the coordination of production factors and build a "small chip world" that is decoupled from global supply chains, challenging the laws of globalization in a fanciful way. The CHIPS Act can neither help the U.S. achieve a secure chip supply chain nor rejuvenate the country's domestic chip manufacturing sector. Moreover, it won't pose a material barrier slowing the development of China's semiconductor industry, which has been deeply involved globally.
Instead, the United States will only hurt itself with its "CHIPS-Plus act. Boston Consulting Group once forecast that "the U.S. semiconductor companies could lose 8 percentage points of global share and 16 percent of their revenue if the U.S. maintains the restrictions that are already in force on access by Chinese companies to products containing U.S. technology that's included on the current Entity List." On top of that, the management consultancy predicted that U.S. semiconductor companies could lose 37 percent of their revenue and up to 40,000 jobs.
Shrinking market share and a slump in chip revenues will put U.S. companies in dire straits when it comes to investing in the research and development next-generation chips, which will gradually erode the country's competitiveness in the semiconductor industry. Likewise, the act requires recipients of U.S. government subsidies to cut off ties with Chinese companies in chip manufacturing and supply, which will worsen the already severe crises in the chip supply chain, not to mention inflation.
Now Washington is roping in Taiwan Semiconductor Manufacturing Company and Samsung to build domestic chipmaking facilities, but it usually takes up to a decade for such a facility to begin operations. Thus, before chips are mass produced on U.S. soil, the industries that rely heavily on chips will suffer perennial shortages. Prolonged chip shortages, in turn, will restrict U.S. industrial output and aggravate the current supply chain and inflation crisis that has been plaguing the Biden administration for quite some time.
Unfortunately, Biden and his cabinet have failed to take action to address the global chip shortage, together with China. Rather they have pushed through the CHIPS-Plus act to decouple from the Chinese and global semiconductor industry. This chip policy will ultimately drown the U.S. semiconductor industry and the American economy amid Biden's sinking approval ratings.