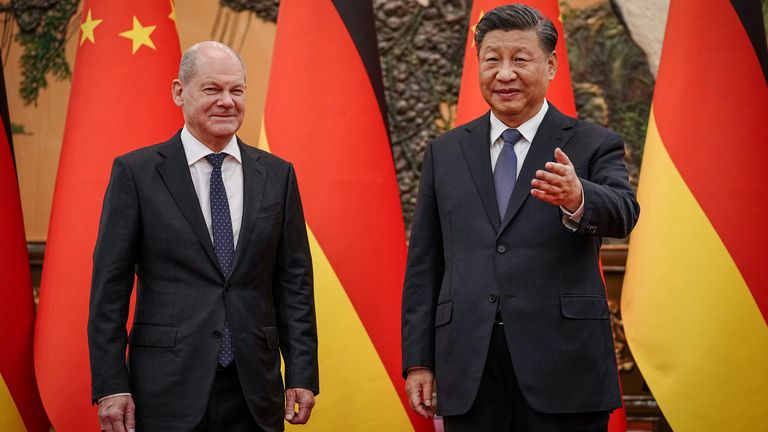 On Nov. 4, Olaf Scholz made his first visit to China as Chancellor of Germany. The trip was brief and a bit belated, considering the importance of China-Germany relations. Nonetheless, the candid, in-depth exchanges between Chinese and German leaders reflected the mainstream consensus about differences, cooperation and competition in bilateral relations.
Against a more complex and volatile international landscape, the good-faith attempts by China and Germany to meet each other halfway may not immediately steer China-EU relations in the same direction. But as long as China and Germany are engaged in sustainable and positive interaction, there is hope for a warm wave in China-EU relations despite the intensified great power rivalry and the cold current of anti-globalization.
Spurred by its concerns over major power rivalries and the EU's own declining global competitiveness, Europe has adopted a policy off "trichotomy" toward China since 2019, trying to take the initiative in its relations by creating a unified voice against China internally and shifting from a soft-power-driven foreign policy to external hardball in a bid to foster a new geopolitical identity. These misguided policies have resulted in the EU's unilateral suspension of the China-EU investment agreement, provocations of a few countries on the Taiwan question and affairs related to Hong Kong and Xinjiang, throwing sand into the wheels of the China-EU wagon.
China and the EU face a mix of negative factors in developing bilateral ties, including a lack of consensus on perceptions of each other and patterns of interaction, communication hindered by pandemic and the divergent positions in the Ukraine crisis. All of these conspire against bilateral ties. Some European countries have attempted to make a far-fetched association between the notion of being "taken hostage by over-reliance on China's supply chains" and the idea that "China will follow Russia's example and weaponize its economic and trade relations."
With political suspicions about China heightened, the policy impulse to reduce dependence on China is manifested in an over-sensitivity to the security of the supply chain. Misguided by the American-style democracy vs. autocracy narrative, some European countries have hyped "systemic confrontation" with China and seek to nudge the EU to develop a unified position of increasing pressure on China. The strategic trust between China and Europe has been severely tested as a result.
The increasingly persistent populist political atmosphere, entrenched internal contradictions and conservative policy leanings form the underlying logic and political motivation behind Europe's hardened policy toward China. In recent years, European suspicions and accusations against China have often made their way first into the media or into parliamentary discussions. Under the guise of public opinion, these arguments heap pressure on government decisions. Against the backdrop of intense political competition, some governments and a few politicians have deliberately obscured the positive and cooperative aspects of relations with China for grandstanding effects or to seek personal gain, and have unilaterally adopted a tough, or even confrontational, stance toward China to cater to alleged public opinion. This creates a vicious circle in which public opinion is bound to be misinterpreted and used to exert pressure on governments, while governments cater to public opinion and pursue the wrong policy course, thus fueling populist sentiment.
But what speaks most eloquently about China-EU relations and true public opinion is the strong economic and trade cooperation that bucked the trend against an unfavorable political environment. The German business delegation accompanying Chancellor Scholz to China was both a participant and a witness that both sides stand to gain. Trade and investment are thriving despite the pandemic and the Russia-Ukraine crisis.
What Europe should now seriously consider and reflect upon in depth is not whether to "reduce dependence on China" or "mount pressure on China" but whether the consequences of doing so will do a service or disservice to globalization and multilateralism, which Europe also advocates, and whether it will work in favor or against the economic well-being of Europe. If Europe follows the tune of the U.S. "China threat" and even goes for decoupling — severing supply and industrial chains and suspending cooperation with China — it will bear the brunt as there will be more internal division and its own interests will be at stake.
The report of the 20th National Congress of the Communist Party of China asserts that "China works to enhance coordination and positive interaction with other major countries to build major-country relations featuring peaceful coexistence, overall stability and balanced development," thus releasing positive signals to the world. More and more European countries have come to reckon that if they continue to shrink the pie of cooperation with China and provoke confrontation, they will only be reduced to strategic pawns of the United States. It will cost them dearly should they deviate from strategic autonomy.
The U.S. still has a great deal of leverage to enable it to call the shots in Europe, where the political atmosphere remains very conservative. So Chancellor Scholz needs to work hard to maintain an objective, pragmatic and balanced policy toward China within the German government after his successful visit.
The current rifts in Europe may stand in the way of healthy interaction between China and Germany in the short term, but the two countries reaching out to each other will provide a sobering moment for some European countries that are still indulging in confrontational thinking. It's like a warm current for China-Europe relations amid a cold wave. As long as we stick to the right direction of promoting common interests and upholding multilateralism, China-Europe relations will see a warm spring, with more high-level interactions and in-depth exchanges across the board, along with high-quality pragmatic cooperation.