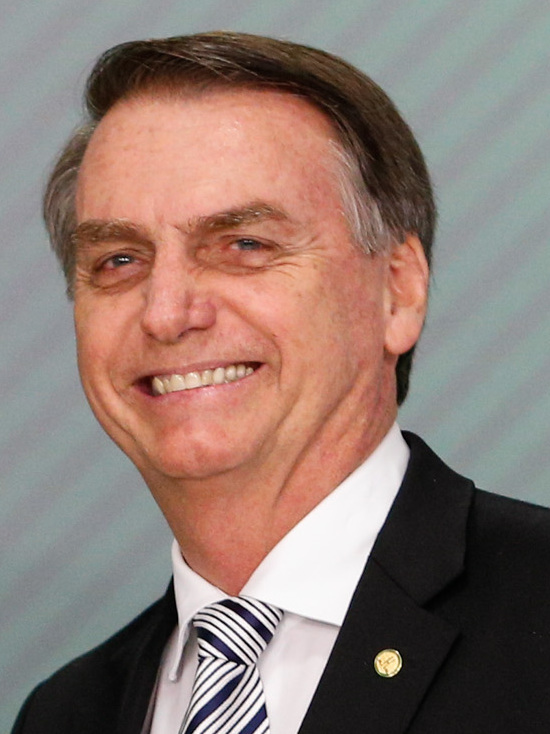 Jair Bolsanoro
Brazil's new president, Jair Bolsonaro, has been described as a South American Donald Trump, with his rhetorical flourishes parsed by financial and other markets for signs of a new economic strategy. During an interview on October 9, 2018, in which Bolsonaro discussed privatization plans, he declared, "China isn't buying in Brazil — China is buying Brazil," unleashing concern and speculation that he would adopt nationalist economic policies with the country's biggest foreign investor and top trade partner. Of concern is whether Bolsonaro, like his U.S. counterpart, will take a more hostile view of economic relations with China. Only time will tell, but a number of critical domestic factors will work to shape his future orientation to the People's Republic of China (PRC).
China surpassed the United States as Brazil's largest trading partner a decade ago. Between 2002 and 2012, China's trade with Brazil increased by 2,550%, and economic relations went from $6.5 billion in 2003 to over $77 billion in 2011. By 2017, 21.8% of Brazil's exports ($47.5 billion) went to China, with the United States coming in second at 12.4% ($27 billion). China's penetration of the Brazilian market is underscored by its role as the primary source of Brazil's imports — at 18.1%, ahead of the United States' 16.7%. Chinese foreign direct investment in the Amazonian nation is upwards of $20 billion and continues to grow.
Bolsonaro's predecessors, Luiz Ignacio "Lula" da Silva and Dilma Rousseff, welcomed the expansion of trade, loans, and investments from China. Brazil is Latin America's largest economy, with a work force of over 100 million and a population of 208 million. No longer viewed as the "country of the future," a term that postpones Brazil's economic takeoff to some distant tomorrow, the country's relations with China were lauded as the key to modernizing and placing Brazil on firm footing, as long as China's economy grew and created demand for its exports. This relationship with China, however, has also generated significant tensions among Brazilian producers and may hold the key to Bolsonaro's future economic orientation towards the PRC.
China's industrial boom created enormous global demand and opportunities for exporters of raw materials and other commodities. Brazil, for example, is the largest exporter of soybean and soybean oil to China. Seeking to feed its vast population, China also buys large quantities of Brazilian beef, coffee, and other agricultural products. Brazil has become a significant exporter of the iron ore needed to produce Chinese steel, and Chinese manufacturers have sought to invest in Brazilian iron and steel production to secure future supplies. Petrobras, the state-owned Brazilian petroleum monopoly, has also benefitted from sales to China, especially as the world price soared, making Brazil China's fifth supplier of petroleum. The robust Chinese demand for commodities helped Brazil weather the global economic downturn of 2007–2009, as the U.S. and European markets experienced recessions and Brazil faced export limits.
Clearly, Brazil's agribusiness, petroleum, and mining export sectors have benefited greatly from trade with China. Similarly, the state sector under Lula and Rousseff welcomed loans and credits on easy terms from China's development banks, which helped pay for public works and infrastructure projects.
As a developing country, however, Brazil's manufacturing sector depends both on domestic and foreign markets, and it is there that serious challenges have developed. One case is Brazil's steel industry. China's demand for iron ore has increased the price of that primary resource for Brazilian steel producers, while the import of cheaper Chinese steel has cut into their market share. China produces about half of the world's steel (49.2%), with an output estimated to reach 900 million tons in 2018. This has generated global steel overcapacity and worked to lower prices. That most Chinese steel companies are state-owned and have access to cheap credit tends to depress prices further, making Chinese steel cheaper, especially in developing countries such as Brazil. To make matters worse, Brazilian semi-finished steel production is exported to third parties, notably to the United States, which is currently imposing tariffs on steel imports.
Brazil's steel manufacturers and the sector's trade unions will work to pressure Bolsonaro to raise tariffs on Chinese steel and to ask for help competing in what appears to be a distorted market. Chinese firms attempting to set up joint ventures, such as a steelmaking plant in Maranhão state, are likely to feel pressure from a protectionist government that must appease domestic producers.
Protectionist sentiment is also felt by Brazil's automobile manufacturing sector, which fears competition from China's cheaper automobiles. Brazilian law stipulates that 65% of a car's content must originate in the Mercosur (Common Market of the South) region to be considered locally produced. Chinese manufacturers, such as Chery, have tried to establish automobile production facilities in Brazil but have met with strong resistance. Chery, however, has recently started a joint venture to produce a compact car known as the Tiggo 2, manufactured in Jacarei, Sao Paolo.
It is as yet unclear whether Bolsonaro's new government will side with the interests of the agrobusiness/commodity export sector or the struggling domestic manufacturing sector of Brazil's economy when it comes to China. If he takes a page from Trump's script, the rhetoric of nationalism and protectionism may result in tariffs on Chinese goods and input imports. As he scales down the state sector of the economy, Bolsonaro may also curtail loans and investments, which could potentially grow Brazil's already substantial debt.
In an article for the Council on Foreign Relations, author Andrew Chatzky points out that despite advocacy for privatizing much state-owned property, Bolsonaro continues to raise objections to further penetration:
Anti-China sentiment may be the biggest complicating factor. Bolsonaro and his military supporters see state-owned companies as a national security matter, and worry that selling them will allow China to buy up critical infrastructure. Brazil's president-elect has already rebuffed [economic adviser] Guedes's plan to privatize Electrobras, for example, and he has echoed Trump's China-bashing rhetoric, accusing Chinese investors of "buying Brazil itself.
While Balsonaro's advocacy of lower taxes and privatization of state-owned enterprises (which would likely involve some Chinese buyers) has been described as market-friendly and gained support following an equity market rally after his election, it remains to be seen which of the different economic actors will have their interests protected when the new president crafts his policy towards Brazil's largest trading partner.