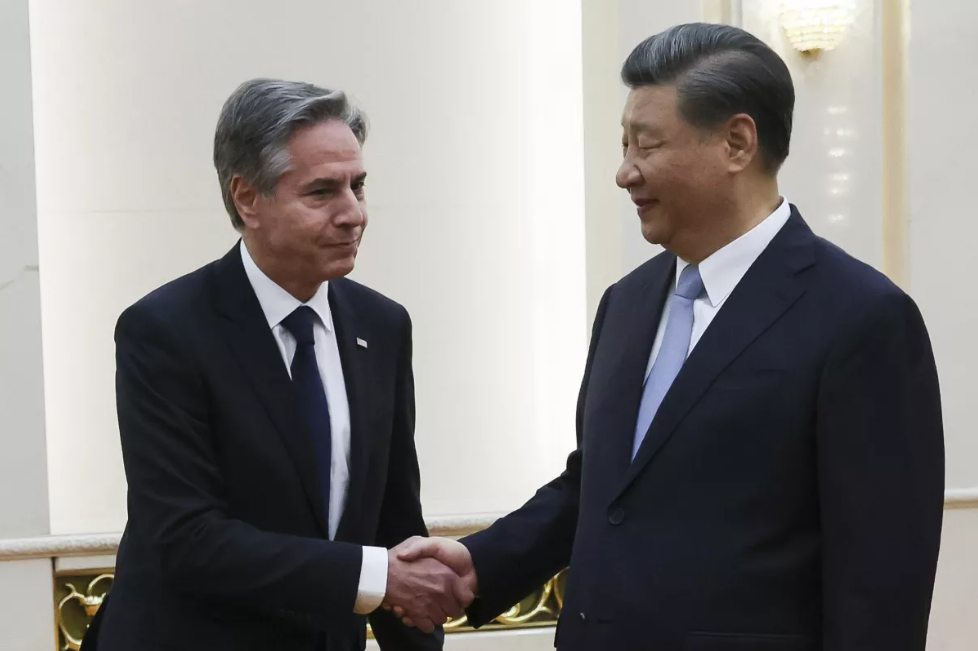 U.S. Secretary of State Antony J. Blinken meeting with Chinese President Xi Jinping in Beijing on June 19, 2023.(Leah Millis / Associated Press)
Such is the state of US-China relations that having a high-level meeting, regardless of the immediate outcome, is a win for both countries. Thus, US Secretary of State Antony Blinken could return to Washington with confidence that his 35-minute interaction with President Xi Jinping provided the two governments with matter and momentum.
This was the highest-level meeting in Beijing since the start of the Covid-19 pandemic and a conversation of substance. If you examine Blinken's remarks to the press, he makes three important points.
First, the United States stands by the "one China" policy and does not support Taiwan independence. Second, it would be "disastrous" for the world's two largest economies to decouple, ending trade and investment. Third, the number of educational exchanges and direct flights between the two countries must be accelerated.
On that last point, here is a statistic to consider: in April 2023, there were only 85 flights across 10 routes from the US to mainland China, compared to April 2019 when there were 1,506 across 50 routes. The lack of flights has not only kept families apart, it has also created space for fear, suspicion and misunderstanding to flourish.
While Blinken only briefly mentioned educational exchanges, he evoked a happier era when people-to-people contacts thrived with the encouragement of US president Jimmy Carter and Chinese leader Deng Xiaoping. All three points – Taiwan, no decoupling and more exchanges – are aligned with broader Chinese thinking and, I believe, are in the interests of the longer-term well-being of humanity.0
That said, China has three points of its own. First, both countries must act with a sense of responsibility for the good of history, people and the world. Second, major country competition should be put aside for peace, development and win-win cooperation. Third, and I think most importantly, positive statements must be turned into action.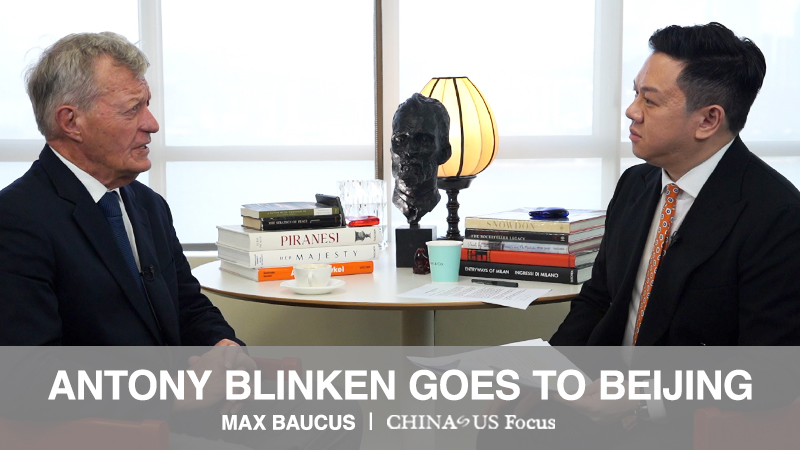 James Chau speaks in this special interview with U.S. senator and ambassador Max Baucus, June 20, 2023.
Words are important, and keeping words in check will be critical to ensuring these first signals of goodwill stay on track. Last week, I had the great pleasure of welcoming to Hong Kong former US senator and ambassador Max Baucus, who served in Beijing during the Obama administration. He said neither side should publicly criticise the other: "Don't do anything that upsets the nice-sounding agreements that came out of those meetings." Clearly, this is going to take discipline.
Growing up in London, I had two piano teachers who taught me the importance of practising slowly. With any new piece of music, you need to practise slowly to learn the notes. Even when you are comfortable technically, you sometimes still practise slowly to ensure you convey what the composer had in mind.
Every musical note and phrase is there for a good reason. Likewise, every word should be spoken with intent and purpose. In the US-China relationship, there have been instances of rough rhetoric, sometimes in moments of frustration and disappointment.
I am concerned that once the demands of domestic politics take over, speaking and acting with respect will take a back seat once again. Baucus said of the US and China: "We don't love each other, but we have to accommodate each other … and there's no divorce because we can't leave this planet, neither country can."
We spoke at length about the consequences and opportunities ahead. He smiled when I asked him about the significance of Blinken's statements on Taiwan ("Oh, he had to say that, there was no question [about that]") and offered his promising assessment that there is now a "decent chance" that both countries will push to keep the relationship moving forward.
We also wondered why more was not said publicly about collaboration on climate change given that mitigation, adaptation and finance as laid out in the Paris Agreement is one of the few areas on which Beijing and Washington have expressed a commitment to working together.
As Blinken and Xi met in Beijing, Baucus and the Baucus Institute were in Hong Kong with young people from his home state of Montana. Invited by the China-United States Exchange Foundation, the students were the first university delegation to visit China since the start of the pandemic, travelling through Hong Kong, Beijing and Shanghai. Throughout our interactions, the students spoke and acted with thought, nuance and deep concern for the human condition.
The Montana delegation flew across the world because they understand that political grandstanding will not solve the shared challenges facing the planet. Words are a good start, discipline is an excellent way to continue and practising slowly is more valuable than we think.
(Reprinted from the South China Morning Post)