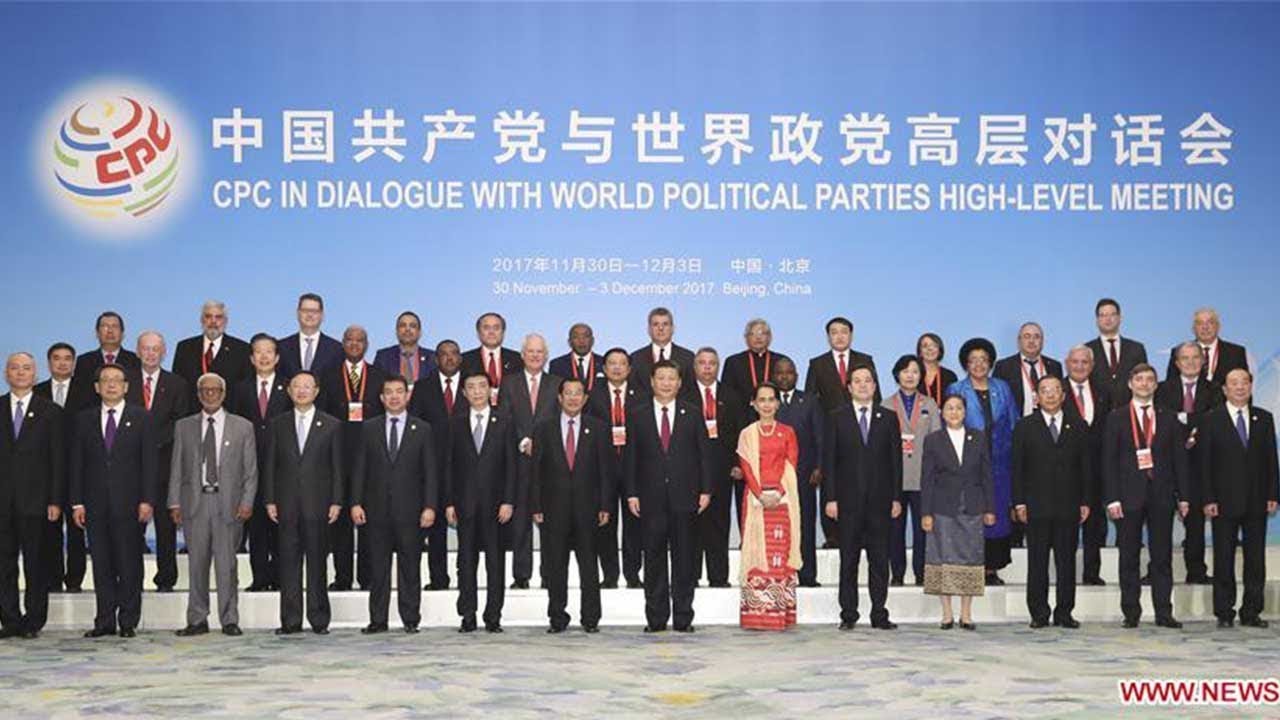 The CPC in Dialogue with World Political Parties High-Level Meeting was held in Beijing from November 30 to December 3. More than 600 delegates, representing about 300 political parties and organizations from more than 120 countries, attended this conference, which adopted the Beijing Initiative. This was an unprecedented meeting in the history of relations between the Communist Party of China and world political parties.
The theme for the dialogue was "Working Together Towards a Community with a Shared Future for Humanity and a Better World: Responsibilities of Political Parties". It conveyed the CPC's intention to build a shared community for mankind by tapping the role of political parties.
In the history of world political parties, there were international and regional meetings of the communist parties, labor parties, socialist parties, and nationalist parties, but not any meeting for the communist party with other different political parties. The Beijing dialogue was unprecedented because political parties with different ideologies sat together at the same table to discuss the shared future of mankind.
The CPC has put forward and adhered to four principles for building a new type of relations between political parties. They are independence, equality, mutual respect, and non-interference in each other's internal affairs. The four principles are free from the shackles of ideological factors, and therefore could help remove conventional obstacles in the exchanges between parties.
The four principles form a complete system. By independence, it means that parties from different countries are accountable for their own peoples, can choose their own path of development, and have their own stances and attitudes on international affairs. But independence doesn't mean excluding support and voluntary exchanges of views. Equality means that all parties, big or small, strong or weak, new or old, ruling or opposition, are equal, and no party should be privileged over others. Mutual respect means that all parties have their own characteristics, and should understand, respect, and learn from one another. The parties may have different views and missions, but this should not restrain them from seeking common ground and developing good relations. The principle of non-interference can help guarantee the accomplishment of independence, equality, and mutual respect.
The four principles for parties' relations and the five principles of peaceful coexistence for state-to-state relations are two approaches to handle international relations, which support and complement one another.
Ideological differences and the differences in the natures of political parties often come from a diversity of civilizations. General-Secretary Xi Jinping pledged in his keynote speech at the meeting that the CPC has always been active in learning from other civilizations, and is ready to embrace other civilizations with an open vision and broad mind. The dialogue surmounted ideological differences. The Beijing Initiative stresses the need to promote exchange and cooperation by transcending differences in social systems, ideologies, and cultural traditions.
It is worth mentioning that the reason behind the popularity of the dialogue meeting is the strong charisma of its mission to build a community with a shared future for the mankind.
In the face of numerous grave challenges, inter-dependency among countries is deepening. Just as President Xi said, no country can address alone the many challenges facing mankind, and no country can afford to retreat into isolation. This is the common ground of the international community, including all political parties, which prompted them to respond to the call to build a community with a shared future for mankind. China has set an example. The CPC is a big party that strives for the wellbeing of the Chinese people and human progress.
The Chinese civilization is known for its inclusiveness, its emphasis on harmony, and its love of peace. Peace, development, cooperation, and win-win outcomes are the principles China resolutely sticks to, and are also the core principles for a community with a shared future for mankind. But defending peace does not mean practicing appeasement, and national sovereignty allows no room for compromise. Promoting development does not mean endlessly offering alms. Advocating cooperation does not mean begging for it. Sincerity is needed in seeking win-win cooperation.
The adoption of the Beijing Initiative was clear evidence of the success of this dialogue. The meeting showed that political parties and politicians should be devoted to building a community with a shared future for mankind, and should contribute to world peace, global development, and the international order. They should also work harder to increase common understanding and interests between the CPC and political parties from other nations. This would help upgrade the status of political parties in international relations and promote the healthy development of world political parties.