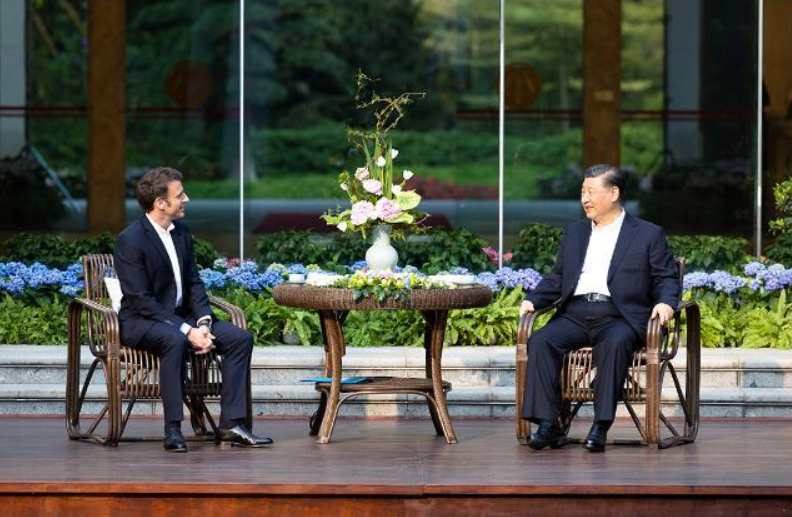 In an interview with reporters after concluding a three-day visit to Beijing, French President Emmanuel Macron, said, "Strategic autonomy must be Europe's struggle. We don't want to depend on others for critical topics." He added that Europe must resist pressure to become "America's followers" and should reduce its dependence on the United States to avoid getting dragged into a confrontation between China and the U.S. over Taiwan. The remarks caused a stir in both the United States and Europe.
In fact, Macron's speech was nothing new but a reaffirmation of his call for independence and autonomy during the Donald Trump administration — opposing its unilateralism and protectionism and further elaborating on the new situation.
After taking office, U.S. President Joe Biden and his administration changed Trump's approach, vowing to strengthen the unity of allies and ensure that the United States functions as a force multiplier. Biden announced that "America is back." European allies were relieved and downplayed the discussion of European autonomy, believing that the transatlantic alliance would enter a new phase of prosperity and development.
However, actions speak louder than words. Over time, what the Biden administration did has only made the allies aware of its fundamental nature — saying one thing and doing another — and that its policies toward them are no different from those of the Trump administration. Both administrations followed the "America first" principle in defense of American interests, with allies being tools of American domestic and foreign policy.
The United States hastily withdrew from Afghanistan without notifying its European allies, leaving countries like France and Germany unprepared and embarrassed. The U.S., together with Britain and Australia, created the AUKUS security pact, and the U.S. and Britain joined forces to help Australia build nuclear submarines, stealing the military trade deal of the century, which had been signed between France and Australia, to build 12 conventional submarines valued at $65.9 billion, sparking outrage in France.
After the Ukraine crisis broke out, the United States used its assistance to Ukraine against Russia to kill two birds with one stone. It used a proxy war to consume and weaken Russia while also pressuring its European allies to impose energy sanctions on Russia. It blew up the Nord Stream natural gas pipeline, thus cutting off Russia's supply of cheap energy to Europe, subverting the European industrial production model at the source and undermining the competitiveness of European industrial products.
Europe shifted its dependence on Russian energy to the United States, allowing the U.S. to occupy the European energy market and sell American energy to Europe at several times the market price and make exorbitant profits. In addition, Germany and other European countries have increased their defense spending and purchased more weapons from the United States, further enhancing Europe's dependence. Clearly, the United States is the biggest winner of the Ukraine war.
The U.S. Inflation Reduction Act of 2022, which is being implemented this year, will shake the foundation of the European economy. The act provides substantial subsidies for production and investment in electric vehicles, critical minerals, clean energy and power facilities — on condition that they are produced and sold in the United States or North America. It will significantly reduce the competitiveness of EU products exported to the United States, creating obstacles for European companies to access the U.S. market and directly harming European companies.
This not only undermines the level playing field for business in the U.S. and Europe but also violates the rules of the World Trade Organization. In addition, with the joint promotion of the act's subsidy measures and the decline in local energy costs, European companies have continued to leave for the United States, and the risk of deindustrialization in Europe has intensified. Therefore, the Act will directly damage the foundation of the European economy, triggering dissatisfaction and worry in Europe.
Biden's practice of using alliance relationships to blackmail friendly countries and harm European interests has prompted Europe to rethink the transatlantic alliance relationship. Macron's advocacy shows Europe's political clarity and Europe's reassessment.
Macron's visit to China is a vivid example of his advocacy. He said, "France and China share similar qualities of character and the same deep understanding. They respect each other and do not preach to each other. They will reach the desired results of cooperation despite their differences." The similar character of China and France is the fundamental reason for the success of Macron's visit.
The Sino-French Joint Statement has five parts on cooperation and exchanges between the two countries in enhancing mutual political trust, promoting world security and stability, increasing economic exchanges, restarting cultural exchanges and jointly responding to global challenges. The 51-article statement has both policy declarations and detailed and practical implementation measures. The statement reaffirmed that Sino-French relations are a "close and lasting comprehensive strategic partnership," and China is not simultaneously "a partner, a competitor, and a rival." This is a heavy blow to the U.S. attempt to form a unified front to contain and isolate China.
Macron's advocacy has been recognized by Charles Michel, president of the European Council, along with Dutch Prime Minister Mark Rutte and German Foreign Minister Annalena Baerbock, as meaning that Europe must strengthen itself and not be a vassal of the United States. The European Council on Foreign Relations has pointed out that developed European countries have increasingly come to understand the risks of continuing to rely on the United States. European strategic autonomy is the trend, and it is irrevocable.
However, we should also be aware that achieving strategic autonomy in Europe is a long-term struggle and cannot be achieved overnight.
First, Europe needs to turn strategic autonomy from a slogan into an action plan. It should be said that after dealing with Democratic and Republican administrations in the U.S., Europe has further realized the necessity and importance of achieving strategic autonomy. But strategic autonomy, which Europe has been shouting about for many years, has been mostly words. It has only been applied in individual cases. Europe does not have a comprehensive and systematic elaboration of this principle, or a program of action for its implementation in domestic and foreign affairs. This is one of the reasons that implementation is difficult.
Second, Europe needs to be self-reliant. Since the 2008 global financial crisis, the United States has become increasingly powerful compared with its European allies. According to reports, in 2008, the EU economy was slightly bigger than the United States economy. But by 2022, the U.S. economy had grown by nearly one-third to become bigger than the post-Brexit EU economy by more than 50 percent. Because of the imbalance of power, the contradictions between dominance and being dominated and between extortion and being extorted are increasingly prominent. To reverse this situation, Europe must comprehensively improve its strength in fields such as economy, technology, finance and defense, so as to stand on equal footing with the United States politically and remain a meaningful pole in a multipolar world.
Finally, Europe needs to bridge internal differences. Because of historical grievances, different stages of development, differences in wealth and different ideas, European allies have varying views and lack the mutual trust needed to reach compromises.
The financial crisis divided northern and southern Europe; the immigration crisis divided eastern and western Europe; and the Ukraine war changed Europe's political landscape. Poland, the Czech Republic and the Baltic States have shown their "moral" leadership in the Ukrainian crisis. They believe that their evaluation of Russia is correct, but that Western European countries do not listen to their opinions and only the United States can guarantee their security. Therefore, they are encouraging the United States to increase its participation and leadership in Europe and increase its permanent troops in Eastern Europe. They also helped Sweden and Finland join NATO. Obviously, the demands of Poland, the Czech Republic and the Baltic States contradict Macron's advocacy, and coordinating the two sides' understanding will be extremely difficult.