Independence-variant littoral combat ship USS Charleston (LCS 18) sails alongside Japan Maritime Self-Defense Force (JMSDF) Takanami-class destroyer JS Makinami (DD 112) during combined operations in the South China Sea, Feb. 5, 2023.
Relations between China and the United States over the past decade has continuously deteriorated overall, a downward spiral that shows no signs of stopping. The overwhelming trend seems irreversible.
In his 2023 State of the Union Address, U.S. President Joe Biden reiterated his administration's policy of seeking "managed competition with China." Recently, the U.S., with the support of its allies, has accelerated its efforts to blockade China — for example, in high-tech industries such as microchips and lithography machines. The U.S. has also begun to establish a procurement network of alliances for important mineral resources and has been intensifying its all-around preparations, including military options, in the event of a possible conflict in the Taiwan Strait.
To prevent China-U.S. relations from spiraling out of control and bringing disastrous consequences, both sides have increased the number of high-level diplomatic contacts following the consensus reached during the November meeting of the two countries' leaders in Bali. This was expected to create a window of time for stabilizing and easing tensions.
However, an unexpected setback arose when the balloon incident disrupted the pace of high-level diplomatic communication. A proposed visit to China by U.S. Secretary of State Antony J. Blinken was postponed — though Blinken expressed his desire to visit China as soon as possible. But with a new round of military attacks expected to be waged in Ukraine this spring and both China and the U.S. having important domestic agendas to address, it may be difficult to find another window in which to reschedule the visit before summer.
Blinken's informal talk with China's top diplomat in Munich, Germany, managed to keep bilateral channels of communication open. Mutual concerns were exchanged, but both sides remained firm in their respective positions. No mutual understanding seems to have been reached.
It follows that in the short run there is little possibility for any significant turnaround or sustained improvement in the overall direction of China-U.S. relations. Worse still, they are likely to be exposed to major risks, given the heightened struggles emerging from various fields.
The most daunting risk is the potential escalation of the already deteriorating situation in the Taiwan Strait. Kevin McCarthy, the newly elected speaker of the U.S. House of Representatives, had signaled that his first order of business would be to visit Taiwan. There had been recent reports that he is likely to visit in March or April. The balloon incident temporarily alleviated this risk, and McCarthy himself stated in response to reporters that he currently has no plans to visit Taiwan. Even so, this does not necessarily guarantee that the visit has been cancelled. It could still be scheduled for later this year. If this were to happen, could the fragile relationship between China and the U.S. — and the tense situation in the Taiwan Strait — withstand another storm?
Behind the issue of a possible provocative visit of this high-ranking U.S. Congressman to Taiwan lies the growing trend of militarization in U.S. policy toward Taiwan. The U.S. government assumes that Chinese mainland already has a timetable for reunification, explaining its intensifying endeavors to gather military resources and allies under its Indo-Pacific Strategy in preparation for a potential conflict in the Taiwan Strait. This provocative assumption has led to heated discussions on security and diplomacy issues between the U.S. and Taiwan. Meanwhile, the U.S. continues to test China's bottom line by regularly selling arms to Taiwan, introducing legislation related to Taiwan, sending congressional delegations there, and helping Taiwan expand its international presence.
Despite these acts of provocation, the Biden administration has not taken any substantive measures to restrict these activities, gradually eroding the core principles of the one-China policy. Along with the rhetoric of "Ukraine today, Taiwan tomorrow" being spread in the international community, it appears that the U.S. is forcing China into a war trap of its own accord.
The second major risk is the increased potential for accidental collisions, sinkings and shoot-downs of military ships and aircraft as they approach each other. No matter how the balloon incident is ultimately interpreted, and regardless of diplomatic efforts to defuse the crisis, approaching encounters between offshore and high-altitude surveillance equipment will continue to be a common manifestation of the strategic tensions in China-U.S. relations.
This will involve multidimensional strategic confrontations at high-altitude, as well as above and below water and in virtual space. Compared with the deployment of ships and aircraft by the U.S. for conducting close-in China reconnaissance missions, such confrontations will be more intricate and harder to regulate, potentially resulting in an escalating cycle of countermeasures. After the balloon incident, the U.S. Navy immediately conducted a new round of joint military exercises with its allies in the western Pacific. Moreover, American aircraft carrier groups have spent longer periods on patrol in the area.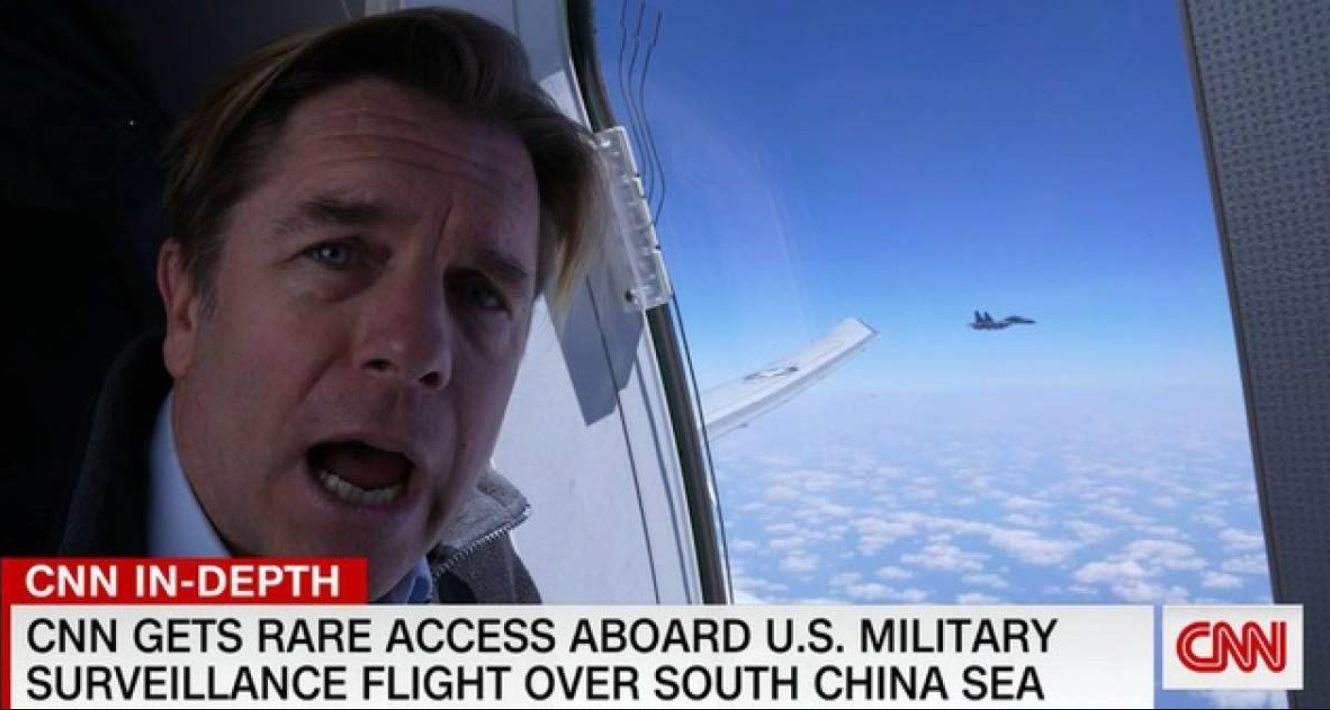 A U.S. Navy plane carrying a CNN team came into close contact with a Chinese fighter jet over the South China Sea on Feb 25, 2023.
The changing situation demands that China and the U.S. better manage their military rivalry with advanced technical measures. However, while technical management is necessary, it cannot resolve strategic conflicts and may even become a strategic burden for both countries.
The third major risk resides in the potential for spillover effects from the Ukraine crisis that directly impact China-U.S. relations. The war in Europe has now entered its second year, and the situation on the battlefield has become increasingly deadlocked, evolving into a war of attrition between Russia and Ukraine, between Russia and the U.S. and between Russia and the broader West.
As a result, support for Ukraine has become more politically intertwined with domestic politics. This will lead to a gradual changes in the willpower and state of mind of the U.S. and other Western countries, making them more sensitive to the development of the China-Russia comprehensive strategic partnership. The Ukraine crisis has not deterred the U.S. from intensifying and accelerating its strategic deployment in competition with China. While Russia remains the most pressing security concern for the U.S., China poses the primary, but not the most urgent, strategic challenge.
To create a more tightly knit opposition bloc against China, Russia, North Korea and Iran, the U.S. needs to solidify its relationships with Europe, Japan, South Korea, Australia and even India in the Indo-Pacific region. Currently, a narrative has taken shape in the U.S. and other Western countries that a fight between the liberal world and an authoritarian alliance is underway. The West appears to be building a system to strategically suppress both China and Russia.
The fourth major risk is the possible escalation of trouble in Northeast Asia. North Korea is once again emphasizing military-first politics to ensure its own security, frequently conducting missile tests and military drills aimed at developing the capability to strike the continental U.S. and its bases in the western Pacific. Additionally, North Korea has clearly aligned itself with Russia in the Ukraine crisis, in response to the security policy of South Korean President Yoon Suk-yeol, which leans toward the U.S. Indo-Pacific Strategy.
Once more, the Korean Peninsula is on the brink of conflict. However, the current state of relations — China-U.S., Russia-U.S., China-Japan and Russia-Japan — are unlike any previous time, significantly decreasing controllability. In the event of a major incident on the Korean Peninsula, the major countries supporting North Korea and South Korea are unlikely to coordinate the situation as they did during previous crises. The world will witness the direct involvement of relevant parties in Northeast Asia in the form of opposing blocs.
The most daunting challenge facing China-U.S. relations is the precise implementation of the U.S. plan to create a supply chain alliance and decouple from China in high-tech industries. This trend appears to be unstoppable and will have far-reaching consequences, affecting both countries' political, economic and social operations at the macro level, as well as business and people's livelihoods at the micro level, along with their respective circles of foreign relations. Furthermore, it will expose the world economic system to the danger of division, forming a new cold war structure that has more extensive and profound implications than military confrontations, thereby reshaping the trajectory of human civilization.
The above-mentioned five risks are no longer limited to a single field of great-power relationships but represent concrete manifestations of a huge systemic crisis that is accelerating. China and the United States are now navigating a high-density minefield that could detonate at any moment.
In the foreseeable future, China and the U.S. are projected to engage in a mix of dialogue, contact, confrontation and competition, with managing the bilateral relationship and exercising restraint being their ongoing and ever-present tasks. Thus, there will no longer be any time window in which to stabilize or improve bilateral relations. It is crucial that we prepare ourselves for an all-out China-U.S. competition.
Wisdom, willpower and courage are the critical factors in dialogue, contact and competition. The country that can best demonstrate these three qualities will gain an advantage over time in the competition. The way people habitually predict the outcome of competition in terms of "winning" or "losing" is both simplistic and narrow. The core dynamics that will be generated by the all-out China-U.S. competition involve institutional and social vitality, as well as the awareness and ability of major powers to fulfill their international responsibilities. This will redefine the governance and cooperation models advocated by different factions in the world to such an extent that it could alter the trajectory of history and serve as a warning to future generations.