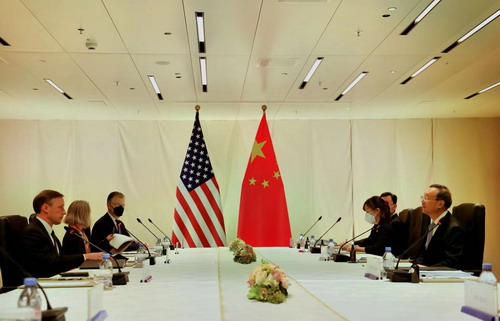 The high-level Zurich talks between China and the United States have attracted global attention.
Yang Jiechi, the Politburo member and Communist Party of China Central Committee Foreign Affairs Office director, met with U.S. National Security Adviser Jake Sullivan for comprehensive, candid, in-depth consultations on international and regional issues of common concern.
International media reports said the meeting was low-profile, pragmatic and constructive, and that it will have a positive impact at the next-stage in the development of China-U.S. relations. During the talks, the Chinese side explicitly opposed defining the bilateral relationship with "competition." In the view of a Chinese scholar of international studies, there were at least three reasons:
First, the importance of China-U.S. relations reaches far beyond the relationship itself. It influences the nature and orientation of major-country relations — how the world's largest developing country and its largest developed country handle such an important relationship concerns not only their own people but also sets an example for others.
The word "competition" actually defines China and the U.S. as being rivals and carries the unmistakable color of realist theories. It directly influences countries' perceptions of the international order and major-country relations, and it structures the international community's mainstream security culture. This is UN Secretary-General Antonio Guterres is worried China-U.S. relations could become dysfunctional and trigger a new cold war.
Facing the COVID-19 pandemic, various disasters triggered by climate change and all kinds of governance conundrums concerning non-traditional security, one question that China and the U.S. need to answer is this: Is this the best time for major-country competition or one for major-country cooperation to cope with global risks? China has already given its answer with such proposals as "a community of shared future for mankind," common global security and shared development. Obviously the U.S. answer — its theory of major-country competition — contradicts the trend of history and the international community's common aspirations.
Second, competition may make the two countries deviate from their development goals and drag China into the so-called Thucydides trap against its will. China's development is mainly for its 1.4 billion people to live better lives and to accomplish national rejuvenation, not to compete with other countries, let alone seek global hegemony.
To China, a country's development ultimately depends on endogenous dynamism, and it and the U.S. should concentrate on their own development. They should constantly improve their own capabilities, make up for weaknesses, address their own contradictions and better upgrade their own people's sense of happiness and security. They should not sink in the logic of the Thucydides' trap by fixating on every move of the other, believing the other's gain is its own loss and exaggerating threats. Nor should they try to fathom the other side's motivations based on suspicions, falling into a sort of "prisoner's dilemma."
China and the U.S. exist in a multipolar world and face plural threats. Choosing bipolar confrontation in a multi-polar world will only lead to a lose-lose outcome. The real contradiction and threat won't receive due attention or be resolved. One's own process of development will be delayed or discontinued by security crises of its own making until it finally becomes a loser in the process of global development.
Third, although the word "competition" may be neutral in meaning, during the Trump presidency, the U.S. practiced a policy of "America first" under the banner of major power competition. It scrapped international treaties, shifted responsibilities and sought its selfish interests, resulting in dramatic retrogression in global governance and an international political culture degraded toward the law of the jungle.
On relations with China, the U.S. mobilized all-of-government, society wide resources to suppress China in the name of China-U.S. competition, churning out endless extremist claims and policies and creating numerous negative legacies for the relationship. Such moves have completely changed the implications of the word in official U.S. rhetoric.
An imperative for the Biden administration is to bid farewell to Trumpism and thoroughly clean up such negative legacies, rather than sustaining the last administration's strategic thinking of major power competition, and selectively ignoring a relationship badly in need of correction. The slogan of "competition" does not just fail to reflect the reality that Chinese and U.S. interests are deeply interwoven. It reveals no intention to push for positive development in bilateral ties, nor is it able to define future China-U.S. relations. At the same time, it will make it harder for the Biden administration to rethink its China strategy and will provide a core theoretical base point for anti-China forces in the U.S. to continue preaching about a China threat and to advocate its containment. Under such a definition, the two major political parties in the U.S. very likely will sink into a vicious circle in which they compete to be harsher and more extreme that the other on China policy, gradually dragging bilateral ties into the abyss of conflict and confrontation.
To answer the inescapable question about how to handle China-U.S. relations well, the two countries need to return to the track of cooperation, draw lessons from the five decades of bilateral ties since the advent of ping-pong diplomacy and find new answers to the old question from the official positioning of the relationship in different stages. They can choose a positive, cooperative, comprehensive China-U.S. relationship oriented toward the 21st century; a partnership of mutual respect, mutual benefit and win-win cooperation; and a new type of major-country relationship featuring no conflict, no confrontation, mutual respect and win-win cooperation.
The two countries need to reconsider China-U.S. relations from a strategic perspective, seek common ground and shelve differences, amass consensus and reduce their differences. They need to take advantage of their leaders' diplomacy, as well as mechanisms for strategic communication to manage crises, clarify bottom lines and reduce misunderstandings and misjudgments. They need to restart exchanges in such fields as economy and trade, culture, people-to-people relations, science and technology to repair the foundation of relations in the public mind through governmental and non-governmental efforts. They need to join hands to cope with global risks and challenges, actively lead global governance, carry forward the Olympic spirit and jointly promote the healthy and safe development of the relationship.