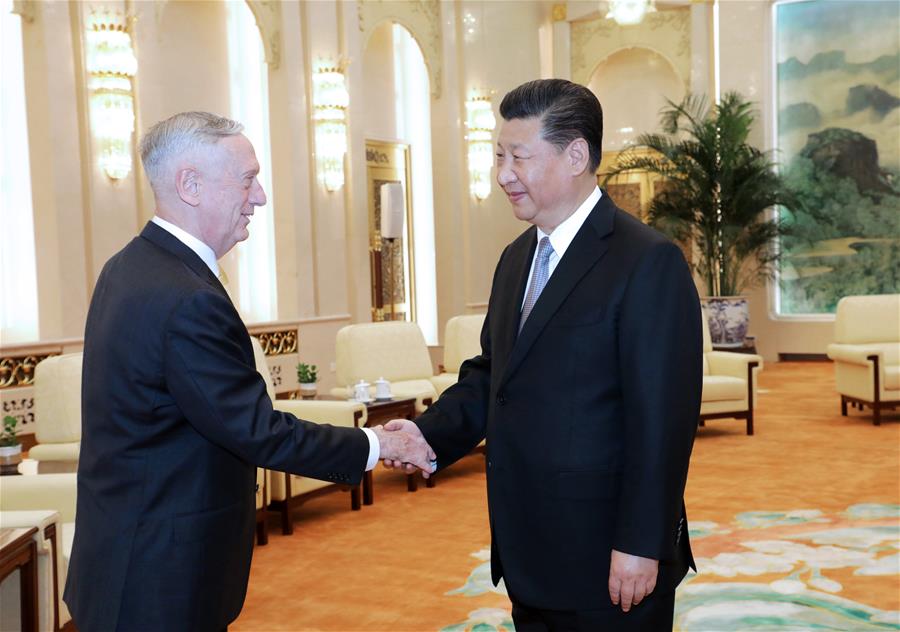 Picture Credit: Xinhua
At the invitation of Senior General Wei Fenghe, State Councilor and China's Minister of National Defense, United States Secretary of Defense James Mattis has made a 3-day visit to China from June 26 to 28, 2018. It is his first visit to China as defense secretary, and also the first visit to China in 4 years by a US defense secretary. The visit is significant for the following reasons.
First, words have been translated into actions. The US defense secretary's visit to China has been discussed quite a few times at high level, and both sides have expressed their desire for it to happen. However, Defense Secretary Ash Carter of the Obama administration never followed through on his plans to visit China publically before he left office. Then, at the first China-US Diplomatic and Security Dialogue (D&SD) in June, 2017, both sides agreed to "realize the exchange of visits between the two defense ministers at an early date this year". But again, the planned visit failed to materialize last year. During US President Trump's state visit to China in November, 2017, the Chinese side again expressed a desire for Defense Secretary Mattis to visit China in the first half of 2018, and the US side expressed a desire for a Chinese senior military delegation to visit the US in the second half of 2018. Now the plan to visit China by Defense Secretary Mattis has been fulfilled, and has been successful. China's sincerity and patience in promoting bilateral military relations are truly admirable.
Second, dialogue is better than confrontation. During the past 4 years, exchanges between the two militaries have been going on all the time according to the plans mapped out by the two sides despite certain disruptions. Exchanges have been conducted regularly in joint military exercises, visits, humanitarian assistance, disaster management, fighting piracy, and medical science. No breach by either side of its commitments in implementing the Memoranda of Understanding on Confidence Building Measures including Notification of Major Military Activities and Rules of Behavior for Safety of Air and Maritime Encounters has been reported. The two militaries have made new progress in strengthening dialogues between their joint chiefs of staff in August 2017 when they signed a document on the dialogue framework, and held their first dialogue.
But on the other hand, differences and disputes between the two countries on such issues as Taiwan and the South China Sea (SCS) have disrupted the normal development of friendly relations between the two militaries. There is a dangerous recent tendency for the US to strengthen relations with China's territory, Taiwan, and to infringe upon Chinese territories in the SCS. As a result, incidents of close encounters between the two countries' naval vessels in the SCS are on the rise, and the fundamental political basis of bilateral relations is being eroded. The war of words on the two issues sometimes becomes emotional. Such a situation is unhelpful and unnecessary. In fact, the two issues seem to be highly complicated, but there is a very simple and easy solution to them, i.e. the US truly respects China's sovereignty and territorial integrity in words and in deeds. It is an indisputable fact that all the troubles and complications surrounding the two issues come from the US encroachment on China's sovereignty and territorial integrity. During his meeting with Defense Secretary Mattis, President Xi said that "any inch of territory passed down from ancestors cannot be lost while we want nothing from others". President Xi's words are very helpful for the US to understand China's position.
Third, the visit was made at a very special moment in the evolution of Sino-US relations. It is known to all that trade disputes are escalating. There are only a few days to go before July 6, 2018 when the two sides will levy additional 25% of tariffs on $68 billion worth of imports, with each side imposing tariffs on $34 billion worth of imports from the other side. Another coincidence is the delay of the second round of China-US Diplomatic and Security Dialogue, originally scheduled for the first half of 2018. Though Secretary of State Mike Pompeo visited China a few days ago, no public announcement on the dialogue was made by either side. Therefore, some pessimists are concluding that the current strains demonstrate that China and the US have fallen into the Thucydides trap.
Fourth, Mattis' visit tells the world that China and the US have many things in common. Both sides hold that good Sino-US relations are crucial for world peace and prosperity. Neither side wants to see Sino-US relations get worse. The two militaries are ready to cooperate on areas of mutual benefit, and make bilateral military relations a stabilizer of the Sino-US relations. With regard to the differences and disputes, they have expressed their desire to manage and control them so as to avoid misjudgment and accidents.