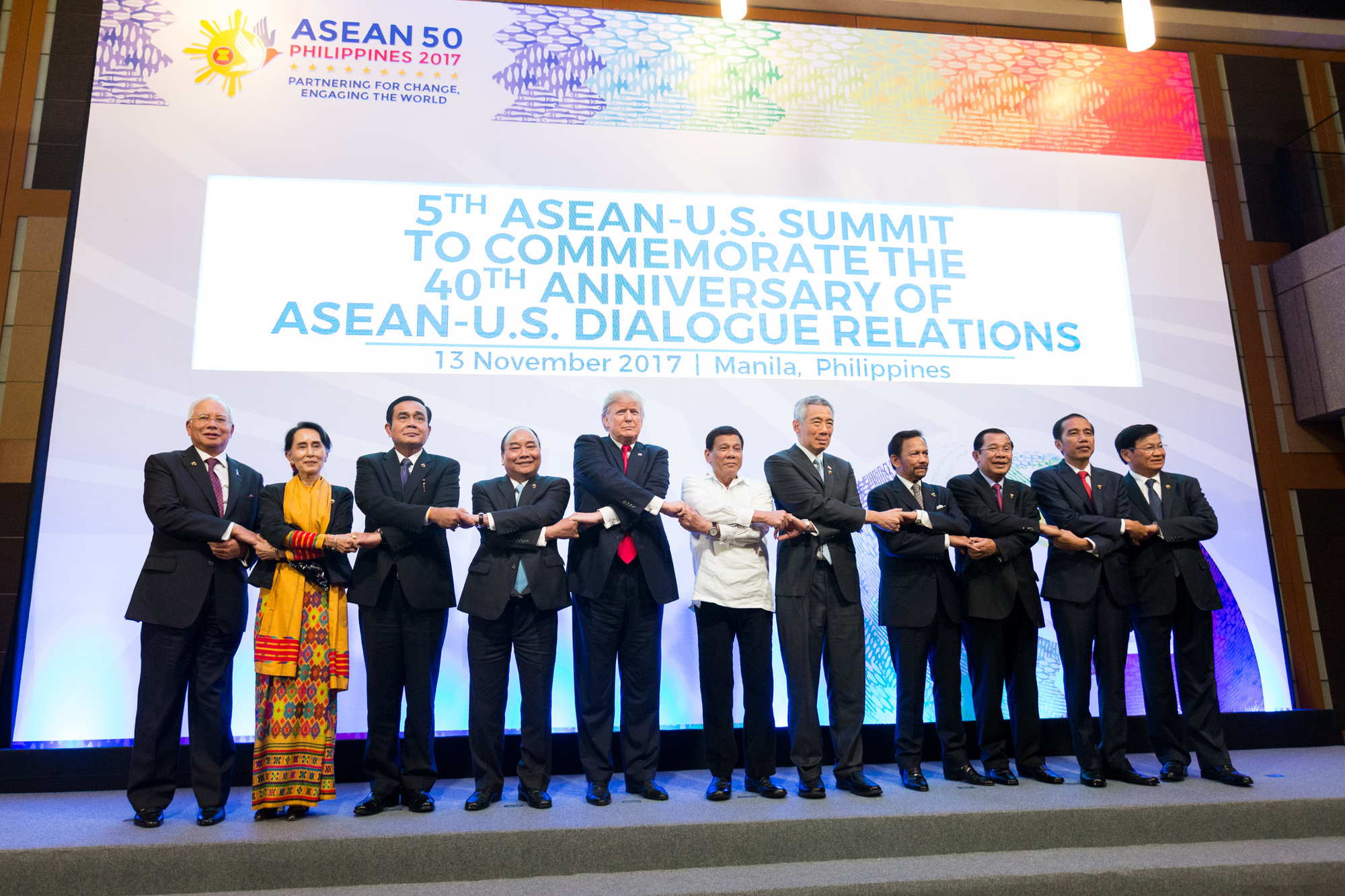 President Donald J. Trump and ASEAN Leaders pose for a family photo prior to participating in the 40th U.S.-ASEAN Summit at the Philippine International Convention Center, Monday, November 13, 2017, in Manila, Philippines. (Official White House Photo by Shealah Craighead)
Over the past few weeks, both the United States and China have been engaged in a high-velocity diplomatic campaign to effectively box each other out of Southeast Asia. The U.S. Secretary of State Mike Pompeo embarked on weeklong visit to key members of the Association of Southeast Asian Nations (ASEAN), namely Indonesia, Malaysia and Singapore. He proposed a series of defense and economic initiatives aimed at reasserting America's commitment to the 'Free and Open Indo-Pacific' (FOIP), a new geopolitical paradigm that aims to undercut China's growing influence in the region.
Chinese Foreign Minister and State Councilor Wang Yi, meanwhile, promoted China's trillion-dollar Belt and Road Initiative (BRI), with Southeast Asia as a key target market. Crucially, the Chinese chief diplomat celebrated a new 'milestone' in ongoing negotiations over a Code of Conduct (COC) in the South China Sea, which could serve as a mechanism to exclude America from the region.
As Sino-American competition in Southeast Asia heats up, smaller powers are increasingly worried about the prospect of an all-out conflict that could end decades of stability and prosperity. Instead, they prefer a healthy rivalry, which provides Southeast Asian states alternative sources of investments, defense assistance, and, above all, greater strategic space.
An Ascendant China
During the recently concluded ASEAN Foreign Ministers Meeting (AFMM) in Singapore, China and Southeast Asian countries triumphantly announced the completion of a "Single Draft COC Negotiating Text." The draft will serve as the basis for negotiation of a final document, which will operationalize the basic rules of engagement among competing claimant states in the South China Sea – namely China, the Philippines, Brunei, Vietnam, and Malaysia.
Taiwan, which China treats as a renegade province, is not officially part of the negotiations, but it's expected to abide by any final document, since it occupies the biggest naturally formed island in the area (Itu Aba). The COC negotiations have been going on for almost two decades, but China and the ASEAN contend that they are finally seeing the light at the end of the long tunnel.
As the outgoing ASEAN-China Coordinator, Singapore's Foreign Affairs Minister Vivian Balakrishnan triumphantly described the draft as the "living document and the basis of future code of conduct negotiations." In their joint statement, Southeast Asian ministers were pleased with the outcome of the negotiations and the direction of bilateral relations with China. The ASEAN foreign ministers "warmly welcomed the continued improving cooperation" with Beijing, celebrating the recent strides in negotiating a "substantive" COC and expanding their cooperation in the realm of maritime security.
Just days later, Chinese and ASEAN navies held their first-ever joint naval exercises in Singapore's Changi Naval Base. The highly symbolic event saw both sides enhancing their mutual confidence and inter-operability vis-à-vis threats such as terrorism and piracy. Both sides are looking at institutionalized Confidence-Building Measures (CBMs) such as regular joint naval exercises as well as joint oil and gas exploration activities in the South China Sea.
What's crucial, however, is that China wants not just to improve relations with ASEAN, but to do it at the expense of the U.S.
According to the most recent draft of the COC, China, under the section Duty to Cooperate, encouraged "military activities in the region," which "shall be conducive to enhancing mutual trust." They have proposed "mutual port calls of military vessels and joint patrols on a regular basis" as well as "undertaking joint military exercises among China and ASEAN Member States on a regular basis."
Yet, China also proposed for all parties to the agreement to: "establish a notification mechanism on military activities, and to notify each other of major military activities if deemed necessary. The Parties shall not hold joint military exercises with countries from outside the region [author's emphasis], unless the parties concerned are notified beforehand and express no objection."
As Australian analyst Carl Thayer, who obtained the copy of the COC draft, accurately observes, China "aims to bind ASEAN members states in the COC and limit if not exclude the involvement of third parties." Confident with its growing influence in Southeast Asia, China is brazenly calling on the ASEAN countries to push the U.S. out of the South China Sea. This is a particularly controversial position, since multiple ASEAN countries either have treaty alliances (Thailand and the Philippines) or close strategic partnerships (Singapore and Vietnam) with the U.S. Navy. In fact, even historically 'non-aligned' countries such as Malaysia and Indonesia have stepped up their defense cooperation with the U.S. in recent years.
The American Pushback
It's not clear whether the ASEAN countries will accede to China's demand, but Beijing is openly confident about cajoling Southeast Asian countries into its sphere of influence. Without the U.S. military presence, China will be in a fully ascendant military position vis-à-vis its smaller neighbors.
Aware of Beijing's exclusionary strategy, Washington and its allies have struck back. During the Australia-U.S. Ministerial Consultations (AUSMIN) in Stanford, California, in late-July, U.S. Secretary of State Mike Pompeo and Secretary of Defense James Mattis underscored China's growing threat to regional security.
In their joint statement, the American and Australian defense and foreign ministers, "emphasized that militarization of disputed features in the South China Sea is contrary to the region's desire for peaceful development." They called for a COC, which is "consistent with existing international law," while calling on China – albeit indirectly – to "cease actions that complicate disputes and not to prejudice the interests of third parties or the rights of all states under international law."
During his visit to the ASEAN, Pompeo unveiled two initiatives, namely a $113 million investment fund to mobilize private American capital for high technology and high-quality investments in the ASEAN, and a $300 million package of security assistance to enhance the maritime security capabilities of Southeast Asian nations. The U.S. Congress is considering a larger defense package, the multibillion-dollar Asia Reassurance Initiative (ARA), which is designed to bolster the American naval footprint and network of alliances in the Asia-Pacific.
Pompeo also reiterated the importance of the $60 billion U.S. government-led investment promotion fund, the Better Utilization of Investments Leading to Development (BUILD) Act, which aims to strengthen America's investment in strategic regions like Southeast Asia. The Trump administration has emphasized risks embedded in China's BRI in juxtaposition to Western and Japanese investments, which comply with world-class standards of good governance, debt sustainability, and environmental protection. Washington may not be in a position to match China's offers dollar-by-dollar, but it's expected to solicit support from other key allies such as Japan and Australia, which have supported America's vision of quality and sustainable infrastructure in the region.
Japan has in place its own multi-billion-dollar Connectivity Initiative, which covers a plethora of infrastructure projects across much of Southeast Asia, while Australia and ASEAN recently agreed to developing a joint infrastructure project, which "will develop a pipeline of high-quality infrastructure projects, to attract private and public investment."
Economically, Southeast Asian countries have welcomed intensified competition between China on one hand and the U.S. and its allies on the other. After all, this means more capital, technology and investment options, which are crucial for the region's continued economic prosperity. Yet, there is lingering concern that economic rivalries are just a prelude to all-out trade wars and naval confrontation among great powers in the high seas. The last thing ASEAN countries want is a zero-sum scramble among great powers in their region.
Which of the following American presidents did not make an official visit to China during his presid

1. Ronald Reagan

2. Bill Clinton

3. Jimmy Carter

Presidents Ronald Reagan and Bill Clinton had both visited China in 1984 and 1998, respectively. Jimmy Carter, however, never made a visit to China while he was President of the United States.