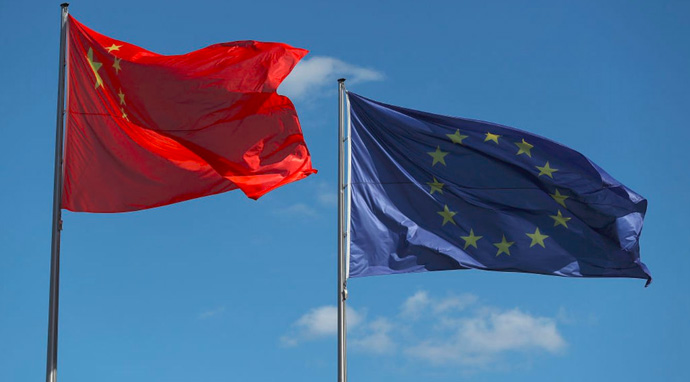 China has restarted offline diplomacy, beginning with European cooperation. Its first post-pandemic foreign guest was the foreign minister of Hungary, and Chinese State Councilor and Foreign Minister Wang Yi's went to Europe for his first overseas visit after the pandemic eased. Politburo member Yang Jiechi visited Portugal, Spain and Greece.
Why the European blitz? Is it because China-EU relations are expected to change in the wake of tensions with the United States?
The EU has been highlighting strategic independence and sovereignty in recent years. EU-U.S. relations can't return to where they used to be. This is where China's hopes lie after China-U.S. relations passed their point of no return. Ever since the U.S. declared the failure of its engagement-based China policy, the Trump administration has been pursuing decoupling and a new cold war. What will happen to globalization now? Europe's position is of critical significance.
After the coronavirus outbreak, Europe vowed to do whatever it takes to diversify supply chains and reduce reliance on the Chinese market. However, Europe can't accomplish localization of supply chains, and won't embrace "Cold War 2.0" or American-style de-coupling. The present catchword is diversification.
Dwindling dividends from the Chinese market appear to justify it. It was against such a backdrop that Germany came up with its own Indo-Pacific strategy, echoing the U.S. strategy on one hand while hedging risks in the Chinese market on the other. Its emergence indicates that Germany is making important strategic adjustments. The strategy aims to strengthen trade and interconnectivity with Japan, Australia and India, and to balance China's influence without confrontation, which fits well with the diversification strategy. What's important is that this strategy covers security, and Germany is expected to increase its maritime presence in the region in the future.
Germany's issuance of an Indo-Pacific strategy is a signal of cross-Atlantic coordination. Europe is waiting anxiously for Joe Biden to assume the U.S. presidency and begin promoting a new liberal international order. It is also calling for cross-Atlantic coordination on China policies. The EU is even promoting the reform of diplomatic balloting mechanisms, turning from unanimous consensus to majority consensus, to formulate a uniform stance on China. This is also why Germany will preside over a China-EU summit during its rotating EU presidency.
Dividends from European engagement with China have dropped, and worries have grown: Will there be variables in the engagement policy that powerful traditional European leaders such as Angela Merkel have been following? Expectations for China-Europe economic cooperation have induced the EU to adopt an inclusive China policy. An internal EU study summed this up as a China policy of "unconditional engagement."
Things have changed, even as China remains attractive to European companies. A survey by the EU Chamber of Commerce in China found about 60 percent of respondents believed China is still one of the best destinations for investing now and in the future. But half the respondents worried that the regulatory environment may worsen in China over the next five years. European direct investment in China has dropped since 2013. Chinese investment in the EU has increased since 2012, but distrust is evident. European think tanks have called on decision-makers to pay attention to the long-term challenges posed by China's state-driven economic model, claiming that as China's scale — and proportion of global growth — rises, once-tolerable market distortions and policy defects have become existential challenges for European companies.
Human rights are another snag. The Gui Minhai case resulted in the deterioration of China-Sweden relations. With parliaments of the Czech Republic, Sweden, Lithuania and France expressing pro-Tibet sentiments, Tibet-related issues have again come to the fore.
At present, the EU and its member countries are unlikely to restart a cold war in league with the U.S. The EU and its individual members continue to consider China an important partner on both bilateral cooperation and such global issues as climate change. And Europe is pluralist, as Greece, Italy and Hungary are still quite positive when it comes to attitudes toward China. But China-EU ties are indeed on a slippery slope.
For China, this means that although Wang Yi and Yang Jiechi have brought diplomatic charisma to bear, this alone won't reverse the downward spiral of China-EU relations. For the U.S. this means U.S.-EU coordination has fertile soil. But a precondition is that the next U.S. administration (assuming Biden wins) must be less antagonistic toward Europe.
Under Merkel, the German government's China policy has been relatively coolheaded, insisting that being friendly to China and maintaining close economic ties serves Germany's national interests best. Next year Merkel's 16-year tenure as prime minister will end. An upsurge of problems regarding both China-Germany relations and the broader China-EU relationship seems inevitable in the post-Merkel era. Merkel's pro-China policy has invited criticism at home. But thanks to her strong political credentials all this can be resolved. The next prime minister, however — no matter who it is — may have to make compromises under pressure.
Hopes are high in the German political circles, and even across Europe, that Biden will win the U.S. presidential election in November, thereby beginning a thaw in cross-Atlantic relations. Germany will no doubt be inspired to get tough on China after it cements a the cross-Atlantic relationship. In addition, the composition of a new coalition government in Germany will influence relations with China. Judging from present conditions, while the probability is high for victory by the CDU-CSU in next year's German general elections, they may have to form a ruling coalition with the Green Party or some other group because of seats restrictions. The latter's insistence on tough China policies will certainly affect the German government's approach to China.
Chinese and EU leaders will have a video meeting in September, but hopes are slim that the two parties will break the impasse over negotiations on the China-EU investment agreement, or on partnership-building on climate change or Africa. The only ray of hope for rescuing China-EU relations and ensuring that no damaging changes occur in bilateral ties rests on whether the two parties can reach a comprehensive, high-quality and balanced agreement on bilateral investment.
Meanwhile, it is still possible for China and Europe to collaborate on securing global supply chains, preserving globalization and multilateralism. For instance, China is willing to dovetail the Belt and Road Initiative with Dutch development programs and jointly build a maritime express channel between the ports of Rotterdam and Shanghai. Also, opening a green express channel for goods and personnel between China and Europe is an important part of China-EU cooperation, and a practical move that would promote the stability of the supply and value chains of global industry.
Completing negotiations on the China-EU investment agreement and deepening dialogue and cooperation in such fields as economy and trade, climate change, green development, digitization and the coronavirus have been the main threads of this year's Chinese diplomacy. They have run through meetings between Chinese and European leaders, the 17+1 summit and the China-EU summit.
At the end of the day, Europe is waiting for the outcome of U.S. election, but it doesn't seem to have much confidence in Biden. Europe worries the U.S. is no longer the center of gravity on the world stage. Therefore, China will strive to keep it from joining the U.S. in a new cold war. Since China and the EU both emphasize strategic autonomy, their interests will converge at such points as refusing a new cold war and refusing to sacrifice their own legitimate interests for the sake of restoring U.S. leadership.