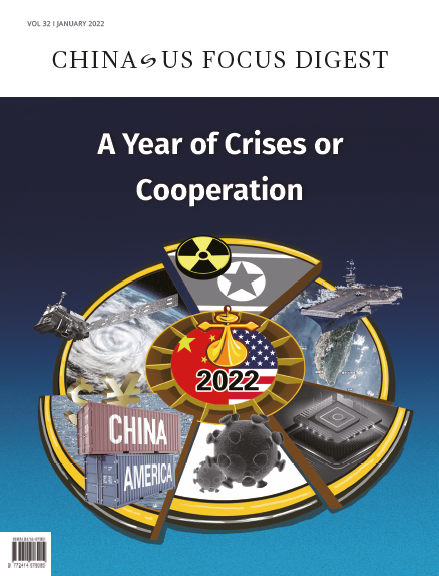 Click to read the latest China-US Focus Digest
On Jan. 4, Chinese Foreign Minister Wang Yi kicked off his first trip overseas after the New Year, visiting Eritrea, Kenya and Comoros in Africa, and Maldives and Sri Lanka in Asia. These five countries, spanning two continents, highlight China's determination to strengthen relations in the new year and break the U.S. attempt — with its Indo-Pacific Strategy — to contain China.
In the first place, the choice of countries to visit was meaningful. It has been a Chinese diplomatic practice for 32 years that the destination for the Chinese foreign minister's annual New Year's visit should be Africa. But this year's first trip also included Asian countries — something of a rarity that reflects the importance China attaches to the vast group of developing countries in both Asia and Africa, and was designed to coordinate China's diplomacy in Africa and South Asia.
In fact, Maldives and Sri Lanka in South Asia are not the only ones covered by the expanded version of the U.S. strategy. The East African countries of Eritrea and Kenya, as well as the Indian Ocean island nation of Comoros, are as well. Since U.S. President Joe Biden took office, the U.S. government has not only intervened in and escalated the crisis in the Taiwan Strait and South China Sea but also has upgraded and strengthened the Asian edition of NATO formed jointly by the United States, India, Australia and Japan under the framework of the Indo-Pacific Strategy.
A few months ago the U.S. put together the AUKUS group, a security alliance with Britain and Australia that includes providing Australia with the highest level of nuclear submarine weaponry.
Although Biden claimed at the United Nations General Assembly in September that the U.S. had no intention of pursuing a new cold war, he organized the so-called World Summit for Democracy in December, provocatively inviting Taiwan, which is not a sovereign state, to participate, while excluding Chinese and, Russian officials, as well as those of other major powers.
This division of the world into "two camps" based on ideology is tantamount to starting a new cold war in practice. Therefore, China needs to break the containment effort being mounted by use of an Asian version of NATO and the U.S. Indo-Pacific Strategy.
Second, China uses its Belt and Road Initiative for development to integrate China with Asian and African countries. China has always held that development is the key to solving security problems.
In recent years, Sudan, Ethiopia and other countries in the Horn of Africa have not been at peace, which not only means domestic instability but also implicates Kenya, Eritrea and other neighboring countries. Eritrea is even involved in the internal conflict in Ethiopia. The United States and other extraterritorial powers are also deeply involved in the internal disputes in these countries and recently imposed sanctions on the government of Ethiopia.
The Belt and Road Initiative, launched in 2013, has received a positive response from virtually all African countries with which China has diplomatic ties. Kenya, Ethiopia and other countries are actively pursuing the initiative, as well as pilot projects for China-Africa production capacity cooperation. In these countries, both Chinese investment and construction personnel are a significant factor. Therefore, maintaining peace and stability in the Horn of Africa and continuing to promote the initiative is naturally part of the objectives of Foreign Minister Wang's New Year's visit.
In fact, during his visit to Kenya, Wang proposed the "Concept of Peaceful Development in the Horn of Africa" and suggested that the countries of the region should convene a peace conference. He argued that "the countries and people of the Horn of Africa should break away from the geopolitical rivalries of major powers and take the fate of the region into their own hands."
Wang also announced China's willingness to appoint a special envoy from the Ministry of Foreign Affairs to focus on the Horn of Africa and provide the necessary support for the peace process in the region.
The proposal to appoint a special envoy specifically for African regional affairs was also a first in China's Africa diplomacy, fully demonstrating that it is now more proactive and dynamic than ever.
Eritrea, the first leg of Wang's visit, signed a memorandum of understanding with China in November to pursue the Belt and Road Initiative together. During Wang's visit, Eritrean President Isaias Afwerki said his country had drawn up a road map for cooperation and looks forward to learning from China's development experience as it carries out more dynamic cooperation, especially in infrastructure, minerals, agriculture and human resources.
Therefore, it can be expected that China will increase its infrastructure investment in Eritrea, which is the gateway to the Red Sea and the Indian Ocean, including the Red Sea ports of Massawa and Assab, both of which are expected to further enhance their port capacity.
It is also worth mentioning that after Wang returned from his trip, the foreign ministers of six Middle Eastern countries — Saudi Arabia, Kuwait, Oman, Bahrain, Turkey and Iran — visited China from Jan. 10 to 14. Thus, China's developing-country diplomacy at the beginning of the New Year 2022 can be said to cover a wide area of Asia, Africa and the Middle East.