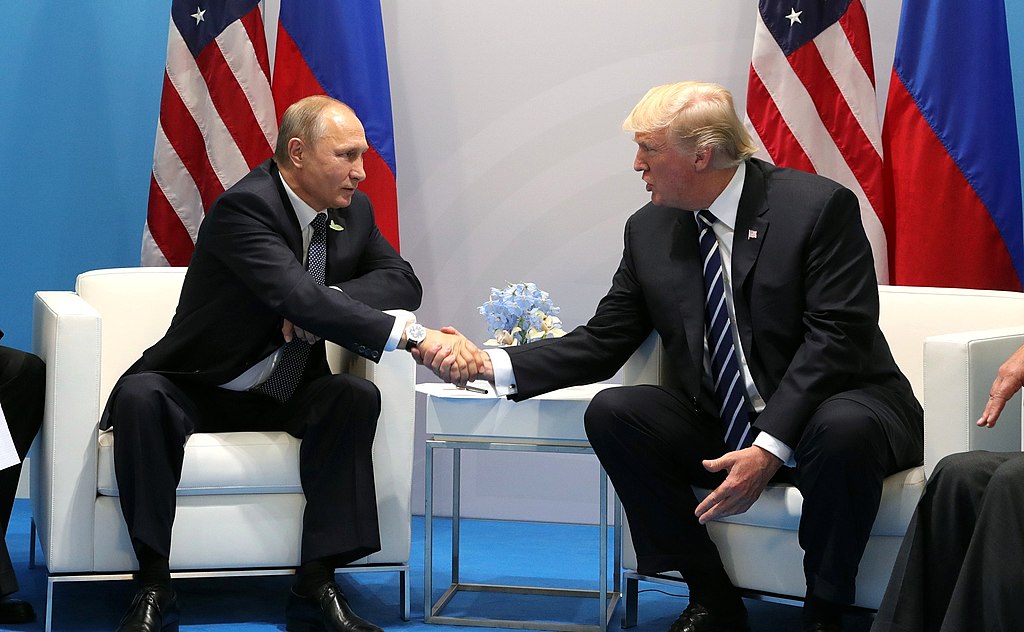 The July 16 summit meeting between US President Donald Trump and Russian President Vladimir Putin drew global attention and inspired divergent reactions.
It certainly is not bad for the world's two largest nuclear powers to meet and discuss global issues and attempt to improve bilateral relations. People should appreciate it.
Since the end of the Cold War, US-Russia ties have been fraught with complications. Cooperation has been marred by mistrust and competition. Friction has intensified over the past few years, with the two finding themselves on the brink of a showdown at some points, from the Ukraine crisis to the disputes surrounding the Assad regime in Syria.
Acknowledging that US-Russia relations have never been so bad, Trump said the two countries should not be obsessed with the past if they want a bright future. Putin stated that now is the time for them to engage in thorough discussions on various international affairs and sensitive issues. Obviously, these were encouraging signs.
Though both parties had prepared for the summit, neither seemed sufficiently confident. While insisting his meeting with Putin won't be bad and good things may happen, Trump conceded that he went into it with "low expectations". A Russian Foreign Ministry spokesperson expressed similar sentiments, warning people against anticipating too much from the meeting.
Both parties had explained their goals in advance. Russian Foreign Minister Sergey Lavrov said on July 14 he expected the meeting to produce an agreement to reestablish severed liaison channels. Achieving this would be the ideal outcome. US State Secretary Mike Pompeo said on July 15 that improving relations would benefit both sides.
The meeting bore fruit, some intangible, others tangible. On the intangible side, both parties confirmed willingness to cooperate, expressing "satisfaction" with the meeting and calling it "candid" and "constructive". Russia's success in hosting the World Cup greatly improved its international image and added a certain atmosphere of harmony to the summit.
On the tangible side, the two parties exchanged ideas on such key issues as bilateral ties, "Russian meddling", nuclear disarmament, the Korean Peninsula, Syria, Israel, Iran, and Crimea. Due to the lack of a joint declaration, the meeting has been considered by some as devoid of any substantial outcome. Lessons from US-Russia relations have repeatedly shown that, even with a joint communiqué, what has been reached at the negotiating table may not count in the real world.
Comments on the summit, therefore, have been diverse.
Some say it's just a meeting. But this may be underestimating it. Both leaders expressed hope that it would lead to future improvements in relations. Trump had described that it may be "the beginning of a longer process", while Putin said, "though one meeting can't resolve all the problems between the two countries, it is a first step taken in a correct direction". If this is the case, then its positive significance and international value should not be ignored.
Some say the meeting's results were reached under pressure. Indeed, they were. But sometimes pressure may become motivation. As a Reuters report pointed out, the summit was full of domestic political risks for Trump, who has been pestered by the "Russian meddling" scandal. Yet Trump explained that the meeting was not only for the interests of the two countries, but for the entire world.
Some say the meeting was a win on Putin's part. Such an argument reveals a strong antipathy. Some in the US are criticizing Trump for "treason" or "surrendering to Putin". But what US interests have been compromised through the meeting? None. Of course, the Russian side may gain breathing room following the summit in its attempt to get rid of Western sanctions.
Some say the summit was intended to jointly resist China. Some media outlets in the US have already spoken of a coming US-Russia resistance against China. But the Chinese are confident of the strength of the China-Russia partnership.
As to some Europeans' concern about Trump's rapport with Putin and fears that the former will leave the EU in the dark while striking a deal with Putin, that's a reaction to Trump's harsh words about the EU.
To sum up, the Trump-Putin summit was significant. On the macro level, it means the world is in a period of great changes, great adjustments, and great development. All disputes between countries, especially major powers, can only be resolved through consultation on an equal footing, instead of via the use or threat of force. While Trump wants to "Make America Great Again", and Putin wants to restore Russia's status as a first-rate world power, both are aware it can't be accomplished through mutual confrontation. Due to the deep-rooted structural contradictions between the US and Russia, as well as their continuous competition, the road toward better bilateral relations will be long and tortuous. But finally they will have to choose to co-exist peacefully in the same global community. This reminds us of what Putin said in an interview with Voice of China: "I believe ultimately reason will prevail…we'll normalize relations with all cooperation partners, including with the US".