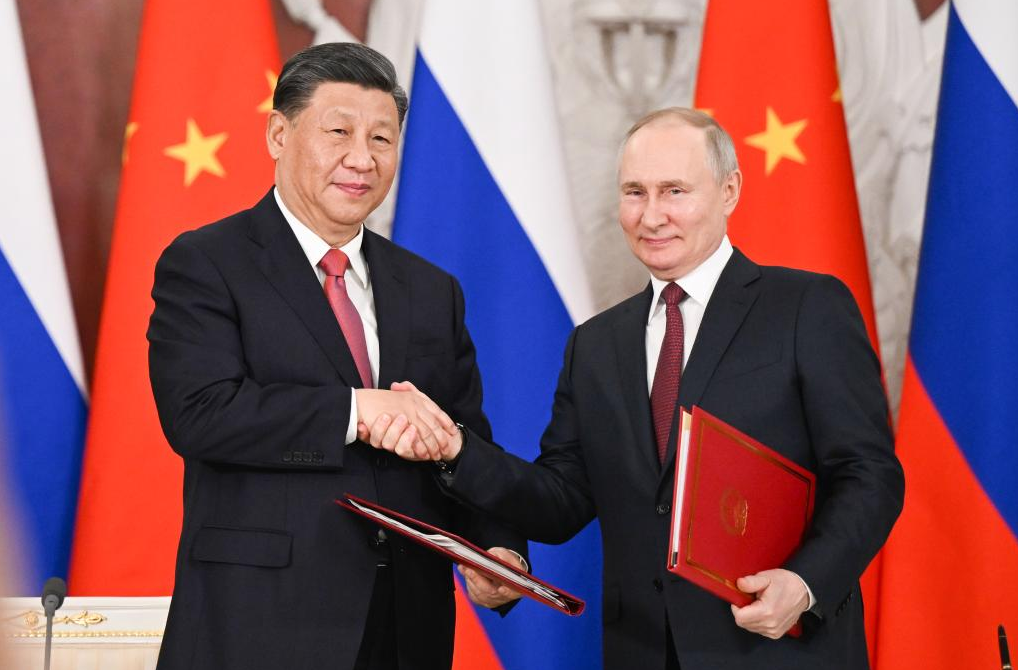 Chinese President Xi Jinping and Russian President Vladimir Putin shake hands after signing a Joint Statement on Deepening the Comprehensive Strategic Partnership of Coordination for the New Era and a Joint Statement on Pre-2030 Development Plan on Priorities in China-Russia Economic Cooperation in Moscow, Russia, March 21, 2023.
Chinese President Xi Jinping's state visit to Russia attracted great international attention. It was an important diplomatic event against a backdrop of stalemate and mounting risk of escalation in the Ukraine conflict. The visit will not only promote the healthy development of the strategic partnership between China and Russia but will also play an irreplaceable and pivotal role in promoting a political solution to the crisis, fostering sound interaction among major powers and maintaining global strategic stability.
It has been more than a year since the Ukraine crisis escalated significantly — in February 2022. The crisis was the result of the continued eastward expansion of the NATO bloc and the European Union after the Cold War, as well as the significant imbalance of power in the European region and the breakneck geopolitical competition in the western Commonwealth of Independent States region. The hot war that came not only created a new fault line in Europe but was also a huge shock to the international system and to global strategic stability.
The crisis has a triple structural contradiction:
First, NATO's insistence on eastward expansion has created a classic security dilemma between its member countries and Russia. All have found themselves trapped in a vicious circle of lost trust and the mutual perception of security threats.
Second is the competitive integration of an enlarged EU and the Russian-led Eurasian integration, plus the unwinding of institutional ties between the CIS countries resulting from external disruptions.
Third, the United States and Europe are upholding a dichotomy of competing values, demonizing Russia as a pariah state, maximizing their own geopolitical interests and denying Russia's legitimate concerns and interests. These stifle the space for compromise. Against the backdrop of the deepening confrontation between Russia and the West, Ukraine's domestic ethnic rivalries and the strategic competition between the major powers intertwine. Thus, the crisis in Ukraine is aggravated in a zero-sum game, with mounting tensions and escalating confrontation.
Because of the deep-rooted contradictions between the U.S., Europe, Russia and Ukraine and their diametrically opposing positions, the Russia-Ukraine conflict is now mired in prolonged conflict and strategic stalemate. Western countries have been ramping up their aid to Ukraine, as sober-minded and rational policy considerations have given way to anti-Russia political correctness in tandem with worsening relations between the parties to the conflict. As a result, negotiations and dialogue are nowhere in sight.
The international community is wary about the continued escalation of armed conflicts in Europe and the risk of spillover. China, as a responsible power, does not seek to influence security affairs in Europe, nor is it a party to the conflict. But it is not immune from the potential impact of the escalation, as are many countries outside Europe. Guided by its independent and peaceful foreign policy, China has always maintained an objective and impartial position, actively promoted peace talks and played a constructive role to fend off the emergence of a new cold war.
In February, China issued a document entitled "China's position on a political settlement of the Ukraine crisis," which embodies the "four common positions," the "four should-dos" and the "three observations" put forward by President Xi. It incorporates the legitimate concerns of all parties to reflect the maximum common ground of the international community. Xi's visit to Moscow illustrated the leading role of head-of-state diplomacy. It initiated communication and coordination around a peaceful resolution and exerted a multifaceted positive influence to prevent further escalation. It helped ease tensions as Xi advocated a political settlement.
First, the visit promoted the sound development of China-Russia relations and helped maintain a global strategic balance. China-Russia relations are of great importance as a guarantee for the democratization and multipolarization of world politics, as well as a cornerstone of global strategic stability.
Founded on the principles of non-alignment, non-confrontation and non-targeting of third parties, and being free from external influence and coercion, China-Russia relations are a model of a new type of international relations. During the visit to Russia, the two heads of state signed a joint statement on deepening the China-Russia comprehensive strategic cooperative partnership and a development plan for key areas of economic cooperation, making a top-level design for strengthening the comprehensive strategic coordination and practical cooperation between the two countries in various fields in new circumstances.
The two sides also had an in-depth exchange of views on the Ukraine issue and jointly emphasized the resolution of the crisis through peace talks. The Russian side reiterated its commitment to restarting peace talks as soon as possible; the Ukrainian side also positively evaluated the Chinese effort to promote a cease-fire and halt hostilities.
Second, Xi's visit also intends to improve China-EU relations and promote the rebuilding of mutual trust between Europe and Russia. China and Europe are two civilizations engaged in partnerships and dialogues. They do not pose a security threat to each other, and they share a wide range of common interests. Stable, pragmatic, mutually beneficial and win-win China-EU relations are an important pillar of global strategic stability.
The Russia-Ukraine conflict, which has its roots in the spiraling contradictions as the post-Cold War European order was reshuffled. This should not become an obstacle to improved relations between China and Europe. Ultimately, Europe and Russia will always depend on peaceful coexistence. It is inconceivable to establish a European regional order without Russia.
If the EU is to achieve strategic autonomy and rely on its own strength to fundamentally solve European security problems, it must rebuild its partnership with Russia and establish an inclusive pan-European security order, rather than dancing to the tune of others and tying itself to someone else's chariot. China's mediation and coordination with respect to Ukraine will help break the strategic stalemate between Europe and Russia and bring the conflict to a soft landing as soon as possible — to the benefit of people in the region and beyond.
Third, we should promote constructive mediation to resolve regional security conflicts in Europe and oppose the Cold War mentality in international relations. Behind the current global security hot spots — from the crisis in Ukraine to geopolitical cliques in East Asia, which aim to encircle China — there is invariably the influence of the United States, which is keen to manipulate global geopolitical fault lines to counterbalance another power.
The U.S. strategic anxiety over the loss of its hegemony, exacerbated by irrational hegemonic patronage, is a source of instability in current international politics. This could lead to conflict and the escalation of confrontations between major powers and the emergence of a new confrontation between major power blocs under the influence of a Cold War mentality. It certainly deserves a high degree of alarm.
President Xi's trip to Moscow — a positive diplomatic effort to defuse the crisis in Ukraine — also aims to effectively hedge against the tendency toward bloc confrontations in international politics. China wants to maintain international peace and stability, and to open up broad new prospects for sound interactions between major powers.