Eager to diversify his country's strategic relations amid an intensifying Sino-American rivalry in Asia, Philippine President Ferdinand Marcos Jr. is seeking new regional strategic partnerships. And in the Association of Southeast Asian Nations (ASEAN), a primary strategic focus for the Filipino president, Vietnam has emerged as a promising ally, both on the economic front but also in the increasingly-contested South China Sea.
In his first year in office, Marcos Jr. held at least three meetings with high-level Vietnamese officials, the latest of which was with Vietnamese Prime Minister Pham Minh Chinh on the sidelines of the ASEAN summit in Indonesia. Although bilateral trade and tourism is relatively modest, Hanoi is an extremely crucial partner for Manila's food security. In fact, Vietnam alone is responsible for a whopping 90 percent of total rice imports by the Philippines, the world's largest importer of the staple food. As the acting agriculture secretary zeroed in on food security, Marcos Jr. views Vietnam as an indispensable partner.
Crucially, Vietnam is also emerging as a vital partner in the South China Sea, where the two ASEAN countries are locked into festering maritime disputes with China. Shortly after the Marcos-Pham meeting, Manila hosted the Philippine-Vietnam Joint Permanent Working Group on Maritime and Ocean Concerns (JWG-MOC), where they discussed a whole range of maritime security cooperation initiatives. Underscoring the importance of the meeting, senior Filipino officials from the National Security Council, the Department of National Defense, and the Philippine Coast Guard were also in attendance.
Officials from Vietnam and the Philippinesagreed to "to work together to protect their rights and legitimate interests under the United Nations Convention on the Law of the Sea (UNCLOS), and enhance confidence-building measures between relevant agencies." This is particularly important, since Vietnam has largely supported a 2016 arbitral tribunal ruling at The Hague, which questioned the legal basis of Beijing's expansive claims in adjacent waters. China refused to participate in the legal proceedings and dismissed the ruling as a 'piece of waste paper,' however. By all indications, the two ASEAN states are quietly exploring a de facto alliance amid shared concerns over the rise of China and due to their instinctive unwillingness to fully rely on the West.
A Rollercoaster Relationship
Throughout the Cold War period, the Philippines and Vietnam were on the opposite sides of a de facto iron curtain in Southeast Asia. As a staunch U.S. ally, Manila played a critical role in providing logistical support for Pentagon operations during the Indo-China war. In fact, the U.S.' largest overseas military bases were located in Subic and Clark in the Philippines. Then-Philippine president Ferdinand Marcos Jr. was also a key partner of the pro-U.S. South Vietnam government in Saigon. When Vietnam invaded neighboring Cambodia to eject the Khmer Rouge regime, the Philippines backed efforts by fellow U.S. allies in ASEAN, including Thailand and Singapore, to diplomatically isolate the pro-Hanoi regime in Phnom Penh.
The end of the Cold War, however, completely transformed bilateral relations. In fact, Philippine President Fidel Ramos (1992-1998) supported Vietnam's inclusion into ASEAN as a means to socialize the communist regime into a larger community of like-minded nations. Following the Mischief Reef crisis in the mid-1990s, the Philippines counted on Vietnam's support to push for a regional maritime peace initiative, which culminated in the 2002 Declaration on the Conduct of Parties in the South China Sea (DOC).
Bilateral relations gained further momentum under President Gloria Macapagal-Arroyo (2001-2010), who negotiated a trilateral Joint Maritime Seismic Undertaking (JMSU) agreement with Hanoi and Beijing. The aim was to explore potential joint development agreements in areas of overlapping claims in the South China Sea.
When Vietnam took over ASEAN chairmanship in 2010, it helped the Philippines' cause by encouraging Washington to take a more active role in checking China's ambitions in the South China Sea. The effort, backed by Singapore and other key ASEAN states, was highly successful, culminating in the Obama administration's clarification that freedom of navigation in the disputed areas is a matter of "national interest." The upshot was the elevation of the South China Sea issue into a core element of Washington's newly-announced 'Pivot to Asia' strategy the following year.
The election of reformist President Benigno Aquino (2010-2016), however, injected a new momentum into bilateral relations, especially after the months-long naval standoff in 2012 between Manila and Beijing over the Scarborough Shoal. Not only did the Aquino administration welcome closer strategic ties with the U.S., but it also reached out to Vietnam, which began to deploy warships for good will visits to Manila and actively seek the latter's advice for a potential legal warfare strategy against China.
By 2014, the two countries engaged in high-profile 'sports diplomacy,' when their naval officers held volleyball and football events in the contested Spratly group of islands. The Philippine Navy celebrated the initiative as "a proof that disputes do not hinder development of practical and tangible cooperation between the two navies."
Crucially, Philippine President Benigno Aquino and Vietnamese Prime Minister Nguyen Tan Dung held a "productive" meeting that year to discuss the parameters of a closer strategic partnership. As Manila's arbitration case against Beijing gained momentum, with the Pentagon poised to expand military presence across the Philippines' under the Enhanced Defense Cooperation Agreement (EDCA), the two sides sought to institutionalize closer strategic ties amid rising tensions in the region.
The election of the Beijing-friendly Rodrigo Duterte scuttled the burgeoning Philippine-Vietnam alliance. Not only did the new administration seek closer ties with China, but top Philippine officials and thought leaders also began to portray Vietnam as a major rival and threat in the South China Sea. Bilateral ties reached a new nadir when a violent encounter in the disputed waters led to the death of two Vietnamese fishermen.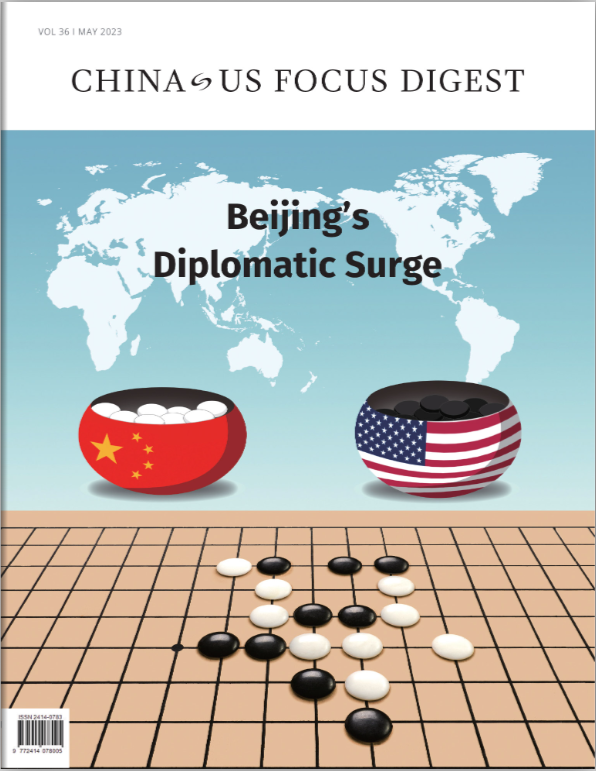 Click to read the latest issue of China-US Focus Digest
Strategic Revival
Throughout his six-year term in office, Duterte visited China on at least five occasions, while hosting Chinese President Xi Jinping in Manila in late-2018. Yet, he never hosted his Vietnamese counterparts, who were eager to rekindle bilateral strategic ties. Towards the end of Duterte's reign, however, there were signs of diplomatic recovery, particularly after Vietnamese fishermen rescued dozens of Filipinos, who almost drowned in the Reed Bank area after a collision with a suspected Chinese militia vessel.
When China and Vietnam were involved in a similar incident in the Paracel group of islands the following year, the Philippines Department of Foreign Affairs (DFA) expressed solidarity with and gratitude with Vietnam. Bilateral ties picked up momentum immediately after Duterte's departure, especially as Marcos Jr. began courting closer strategic cooperation with key ASEAN nations.
In many ways, the Filipino president was following in his father's footsteps, since Marcos Sr. (1965-1986) was a co-founder of ASEAN and a tough advocate for regional solidarity. This explains why Marcos Jr. tried to maximize his first foreign trips, which brought him to Indonesia and Singapore last year, by focusing on cultivating ASEAN cooperation on South China Sea disputes in addition to closer trade and investment ties.
Although Marcos Jr. has welcomed stronger defense ties with the U.S. and other traditional partners, he is instinctively, similar to his father, eager to pursue a more "independent" foreign policy to reduce dependence on any single external power. Of all ASEAN countries, however, Vietnam is a top candidate for growing cooperation on the South China Sea disputes, given their shared views on China and the need for a tougher stance on the maritime spats.
In his first six months in office, Marcos Jr. held two high-level meetings with Vietnamese counterparts, beginning with Prime Minister Pham Minh Chinh and, days later, followed by Vietnam National Assembly Chairman Vuong Dinh Hue. Although food security and trade have been a prominent component of bilateral discussions, the two sides are clearly eager to revive close strategic ties for three reasons.
First, Manila is intent on preventing accidental clashes and tragic encounters with Vietnamese vessels in the contested areas, while negotiating resource-sharing arrangements. Moreover, the two sides seek to jointly push for a more robust Code of Conduct (COC) in the South China Sea in order to constrain China's expanding strategic footprint in the area. Finally, the two sides are also exploring institutionalized maritime security cooperation, including intelligence-sharing and joint naval drills in the South China Sea. After years of dithering and distrust, the two ASEAN nations may finally have the opportunity to establish a truly consequential strategic partnership amid rising geopolitical uncertainty in the region.