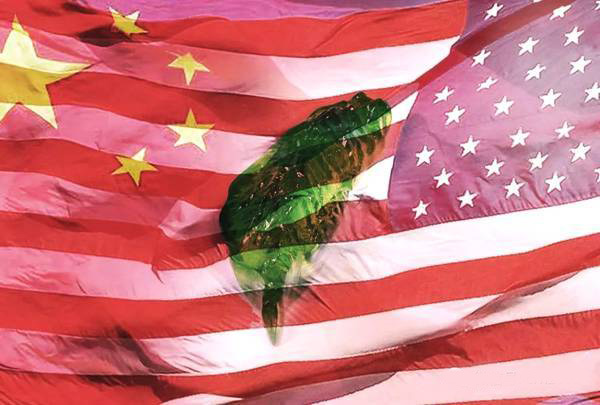 As fighting between Russia and Ukraine intensifies in the Donbas region, the United States is playing the Taiwan card, giving rise to tensions and raising the possibility of a major adjustment in the Asia-Pacific strategic architecture. In the wake of the Russia-Ukraine conflict, how to manage the crisis enveloping the Taiwan Strait is a shared challenge for China, the U.S. and other regional stakeholders.
The Biden administration had clarified that the U.S. will not send troops to interfere in Russia's military operations in Ukraine, which startled Taiwan authorities. To allay their agitation, Washington enhanced its political support for them. In early March the White House sent a delegation led by the former chairman of the Joint Chiefs of Staff, Mike Mullen, to Taiwan. He was joined by other former national security officials, including Michele Flournoy, an undersecretary of defense in the Obama administration, and Evan Medeiros, a former senior director for Asia on the National Security Council. They later visited Japan and discussed U.S.-Japan-Taiwan trilateral military cooperation.
In April, U.S. House Speaker Nancy Pelosi delayed her planned Taiwan trip after testing positive for COVID-19. But another U.S. congressional delegation, a six-member group led by Lindsey Graham, the top Republican on the Senate Budget Committee, and Bob Menendez, chairman of the Senate Foreign Relations Committee, arrived in Taiwan.
The American politicians frequently referred to Taiwan as a "country," with blithe disregard for the one-China principle, incessantly eroding the political foundation of Sino-U.S. ties.
Taiwan is a "country of global significance," Menendez said in a meeting with Taiwan leader Tsai Ing-wen. He had proposed earlier that the Taipei Economic and Cultural Representative Office in Washington be renamed as the Taiwan Representative Office.
In addition, Mike Pompeo, former U.S. secretary of state, urged Washington to recognize Taiwan as a "free and sovereign country" during his stay in the region early last month.
With a "one China, one Taiwan" trend emerging, the idea of "strategic clarity" is gaining ground against the backdrop of the Ukraine crisis. The U.S. government hasn't taken a clear position the issue of Taiwan's status until now, nor has it promised military help. This has long been seen as a kind of strategic ambiguity.
Some American strategists think one of the lessons from the unfolding Russia-Ukraine conflict is that strategic ambiguity is no longer feasible and that the U.S. hasn't prepared for a conventional war directed at Taiwan by Beijing. John Bolton, the former U.S. national security adviser, has called for re-stationing troops in Taiwan to prevent the Chinese mainland from unifying with the region by force.
It's noteworthy that the call for replacing strategic ambiguity with strategic clarity is not just increasingly heard across the U.S. but also among Japanese and Australian politicians.
"The human tragedy that has befallen Ukraine has taught us a bitter lesson. … Washington's calculated ambiguity on Taiwan is not a credible strategy. … It only encourages China's ambitions and regional instability," former Japanese prime minister Shinzo Abe wrote recently. Though Abe is not a spokesman for the incumbent Fumio Kishida cabinet, the view that "Taiwan's business is Japan's business" enjoys wide popularity in Japan's political circles.
Moreover, Australian Minister for Defense Peter Dutton and other politicians in Canberra have expressed worries that the Russia-Ukraine conflict might have distracted Washington, taking attention away from Asia and focusing on Europe so that Beijing would probably ramp up its pressure on Taiwan.
It should be noted that Biden, to avoid the risk of a showdown with Beijing, won't make an official statement offering military help to Taiwan. However, he will lean toward strategic clarity on the Taiwan question. Lately senior U.S. officials have frequently used the Russia-Ukraine conflict to draw parallels with Taiwan, warning Beijing against taking Taiwan by force. U.S. National Security Adviser Jake Sullivan said the White House believes that China is carefully monitoring the situation in Ukraine to learn lessons from the conflict, including how those could be applied to Taiwan. He also reiterated Washington's commitment to the region. Treasury Secretary Janet Yellen said the U.S. will use all its sanctions against China if Beijing moves aggressively on Taiwan.
The U.S. State Department in early April approved a new round of arms sales to Taiwan, the third of its kind since Biden took office early last year. Worth $95 million, the sale includes the deployment of Patriot air defense systems and associated equipment. According to U.S. Deputy Secretary of State Wendy Sherman, American arms sales to Taiwan has exceeded $30 billion since 2009, and the State Department, the Department of Defense and other government agencies will continue improving the efficiency of such sales to speed delivery.
In the wake of the battles of the Russia-Ukraine conflict, the U.S. will probably provide Harpoon coastal defense systems and high-mobility artillery rocket systems, along with armed drones and a slew of advanced weapons to increase Taiwan's asymmetric defense capacity.
In addition, revving up military personnel exchanges will be part of Biden's Taiwan policy. It's reported that U.S. Army Special Forces soldiers have been training troops in Taiwan for the past couple of years. And Taiwan authorities sent troops to Guam for training and joint exercises. As the Russia-Ukraine conflict reveals the significance of special operations like urban warfare, Joint Chiefs of Staff Chairman Mark Milley urged Taiwan to learn tactics from Ukraine and to train people of conscription age.
Taiwan's defense department has plans to send non-commissioned officers to the U.S. later this year, showing that military exchanges are going beyond senior officers and becoming front-line combatants.
The Biden administration's tilt toward strategic clarity on Taiwan also manifests in its enhanced Asia-Pacific military alliance. As the Financial Times revealed, the U.S. and Japan have made a joint operation plan for Taiwan. The U.S. will support Japan in planning a base against possible attacks, as well as in deploying missiles — ground-based, short-range and intermediate-range. The two allies have also included Expeditionary Advanced Base Operations, or EABO, in their joint exercises. On March 15, U.S. and Japanese Marines held their first airborne landing and combat drill.
All in all, the Russia-Ukraine conflict is having an increasingly negative impact on Taiwan. By bundling China and Russia together, the U.S. is hyping the possibility of the Chinese mainland unifying Taiwan by force, hence reinforcing the "China threat" narrative in other Asia-Pacific nations.
Washington might believe that Russia's poor performance in Ukraine would make China think twice about using force, and that the Communist Party of China's 20th National Congress will lead Beijing to stay put to avoid any trouble. If it holds onto such misunderstandings and continues provoking Beijing on the Taiwan question, it will only lead China-U.S. ties further astray, in addition to putting Asia-Pacific security in jeopardy.