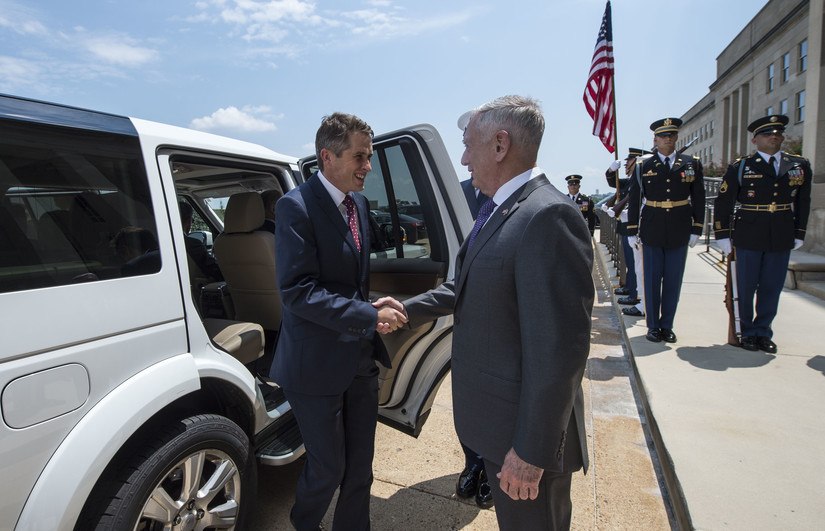 Defense Secretary James N. Mattis greets British Defense Secretary Gavin Williamson at the Pentagon, Aug. 7, 2018.
On the first day of 2019, British Defense Minister Gavin Williamson indicated his country would build two military bases in Singapore and Brunei. Internationally there have been various comments on his statement. Not a few international media outlets and analysts believe such a move is aimed at checking China's expansionist moves in the South China Sea. But some have raised doubts about its capability to execute such a plan.
On the strategic level, the British Conservative Party proposed the new goal of becoming a "Global UK" after assuming leadership. It plans for Britain to expand its military presence in all corners of the world, including Southeast Asia. At the tactical level, pushed by Japan and the US, the UK has expressed worries and concerns about freedom of navigation in the SCS in G7 statements. In June 2018, at the Shangri-La Dialogue in Singapore, Williamson for the first time disclosed an intention to dispatch military vessels to the SCS to carry out freedom of navigation operations. In September 2018, the UK formally put the idea into practice, dispatching the HMS Albion into Chinese territorial waters around the Xisha Archipelago. Therefore, the UK has sufficient political will to expand its SCS military presence.
Internationally there have been plenty of suspicions about whether the UK has enough money to implement such a policy. Yet judging from present conditions, there is a very solid foundation for it to add two military bases in Southeast Asia and increase military activities. The UK not only already has two training and logistics stations in Brunei and Singapore, but also can count on the Five Power Defense Agreements with Singapore, Malaysia, New Zealand, and Australia, as well as behind-the-scenes US support.
Even from the perspective of military expenditure, as the world's fifth largest economy, the UK had a defense budget that was only 1.8% of its GDP in 2017, much lower than those of the US and France. From a historical perspective, Britain's military budget reached $583 million in 2009, and has since stayed at $500 million; its proportion in GDP dropped below 2% in 2014 from the post-Cold War peak of 9.8%. In this sense, there still is tremendous potential room for its economic strength to be transformed into military might, and it will be fully capable of expanding overseas military bases.
Britain is capable of adding two military bases in Southeast Asia. What are the considerations and motivations behind this move?
Just as many analysts observed, such a move can't exclude guarding against China. Obviously the UK has noticed that the rise of China is resulting in drastic changes in East Asia's regional order. But it is inappropriate to simply read this as targeting at China. Instead, it calls for more comprehensive and in-depth analysis.
First, the SCS is not a priority in British strategy. Though the Conservative Party minority government under Theresa May has occasionally expressed concern that competition among countries in the SCS may lead to conflict, it clearly stated the priority of British defense strategy remains preventing security threats from Russia and the Middle East. Second, Britain does not compete with China globally. Recently, Britain has actually put the SCS area under the macro framework of building a "global UK" and safeguarding the rules-based international system. Increasing military bases and carrying out so-called freedom of navigation operations are merely concrete actions to show its readiness to participate more in security affairs in the Asia-Pacific, and to accomplish the goal of building a "global UK". Third, Britain's fear of China is influenced by the US. Taking the US as the most important partner country in its global strategy, the UK needs to coordinate with US military moves in the SCS via freedom of navigation operations, and help the latter stabilize and consolidate its role in dominating the Asia-Pacific region. Britain by itself would not seek to contain China's maritime moves if it risked military confrontation.
The SCS has entered an era of major power competition. British policy adjustments will to some extent worsen such momentum, but won't exert decisive or significant influence. The British military presence in the SCS area will yield two consequences: one is British SCS freedom of navigation operations may become a regular practice, which will raise the probability of encounters and conflicts between Chinese and British maritime forces, and result in fluctuations in maritime security; second, it will further encourage the US to engage in strategic competition with China, worsening maritime security conditions.
In general, as long as the UK does not intervene in related SCS disputes, compete for command of the sea, countries in the region, including China, may all adopt an objective, tolerant, and open stance.