A community space to discuss the China-U.S. relationship and beyond.
Dear Focus Reader,
In the latest of a series of high-level dialogues between Washington and Beijing, U.S. Commerce Secretary Gina Raimondo concluded her recent trip to China where she met with some key Chinese officials, including Li Qiang and Wang Wentao. In their talks, Raimondo called for collaboration with China on AI, climate change, and the fentanyl crisis, and expressed American firms' desire to do business in China, as well as some of their concerns over potential risks. She also discussed her hopes for further engagement with Chinese officials on market access.
Overall, the trip was viewed as successful and productive by both countries and produced some tangible outcomes, including the establishment of the first U.S.-China commercial, trade, and investment working group of Joe Biden's presidency.
A Chinese readout from the meeting stated that China is ready to engage, work, and cooperate with the U.S. on trade and investment, and that failure to do so would have a "disastrous impact on the global economy." Beijing also noted that it hopes "the United States will meet China halfway."
This week, Chinese President Xi Jinping also praised former American General Joseph Stilwell in a letter to his grandson, John Easterbrook, in response to a note Easterbrook recently sent Xi. He called Stillwell an "old friend" of China and acknowledged his significant contributions to China's liberation and progress during World War II. Xi also emphasized the importance of people-to-people connections and called for increased exchanges, deeper understanding, and expanded cooperation between the Chinese and American people to strengthen bilateral relations.
In the meantime, we encourage you to catch up on our latest Focus content, including articles and videos covering Washington's China policy, the future of the China-U.S. relationship, and China's role in the Russia-Ukraine war.
Thanks to all who continue to support our platform. Have a great weekend!
Team Focus
Focus Insights
Quote of the Week
"China's main tasks now lie elsewhere: in education and health care, in matching skills to jobs, in providing for the elderly, and in curbing pollution and carbon dioxide emissions. There is no guarantee that these efforts will succeed, but at least they are on China's agenda."
James K. Galbraith
Professor at the Lyndon B. Johnson School of Public Affairs, University of Texas at Austin
Notable Number
28%
Beyond Our Shores
As China recently supplanted the United States as the world's largest exporter of goods, it's important to understand the key steps to promote successful relationships between U.S.-based companies and China.
Join us to hear from Dr. Keyu Jin, whose recently published book - The New China Playbook: Beyond Socialism and Capitalism - is already causing a stir and bringing new insights to those who would like to better understand the China of today. A Chinese economist educated both in the U.S. and China, Dr. Jin is currently an associate professor of economics at the London School of Economics and a World Economic Forum Young Global Leader. She specializes in international macroeconomics and the Chinese economy.
This special event is made possible through the collaborative efforts of the China-United States Exchange Foundation, the US Heartland China Association, and Global Minnesota.
"The most important book on China in many years, written with stunning eloquence and clarity. Jin does not cover the warts, but insists on a holistic view. Anyone who wants to understand China, and how to engage with it economically and politically, will greatly benefit from this deeply original book."
-Kenneth Rogoff,
Maurits C. Boas Chair of International Economics, Harvard University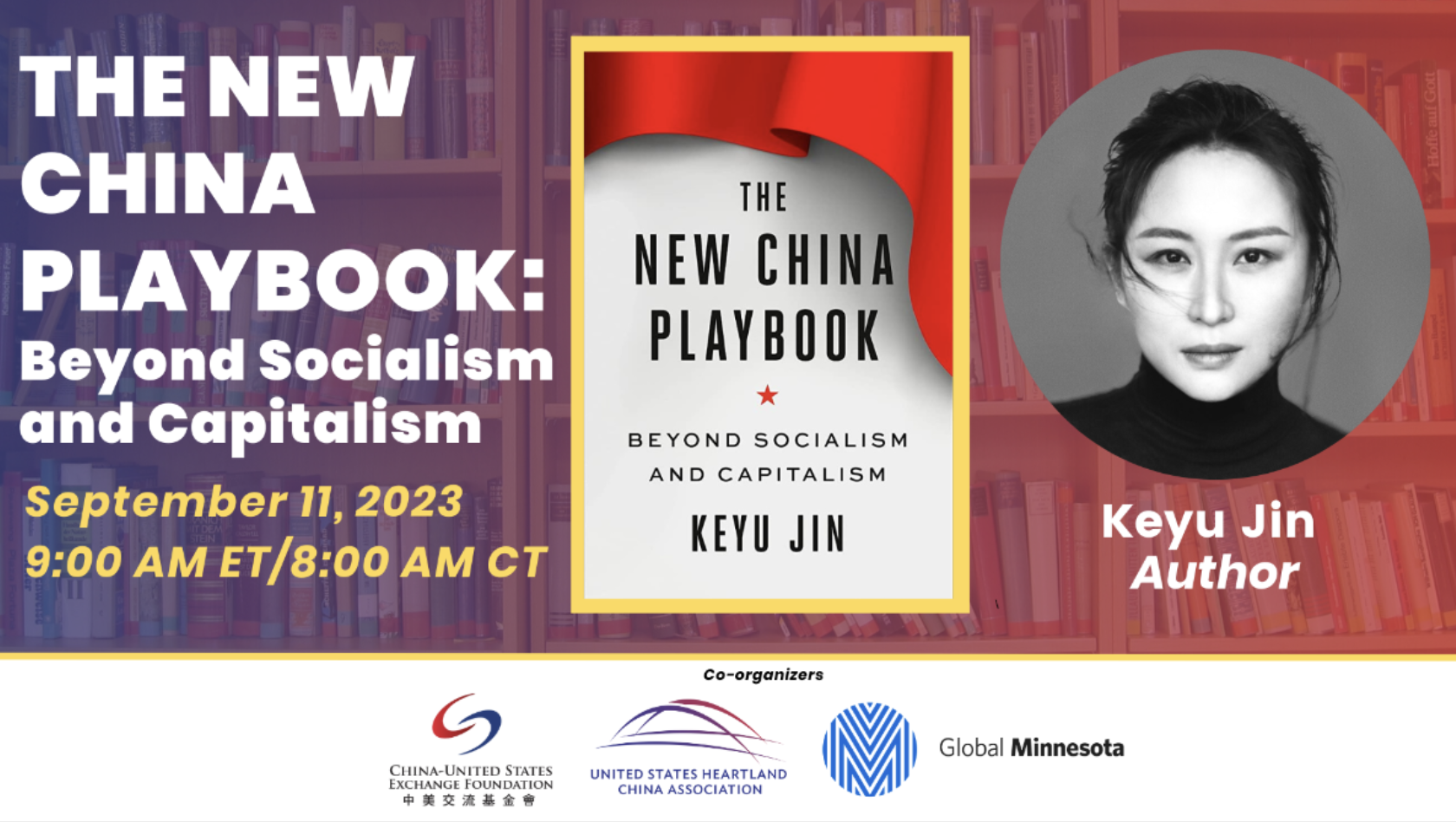 Discover More
Hello Pengyou | Vanessa Garcia | Understanding Each Other
Watch Video
Vanessa Garcia's China story started back when she was in college. She participated in a three-week faculty-led study abroad program that took them to various cities in China, including Beijing, Shenzhen, Xi'An, Guangzhou, and Hong Kong.
Community Connections