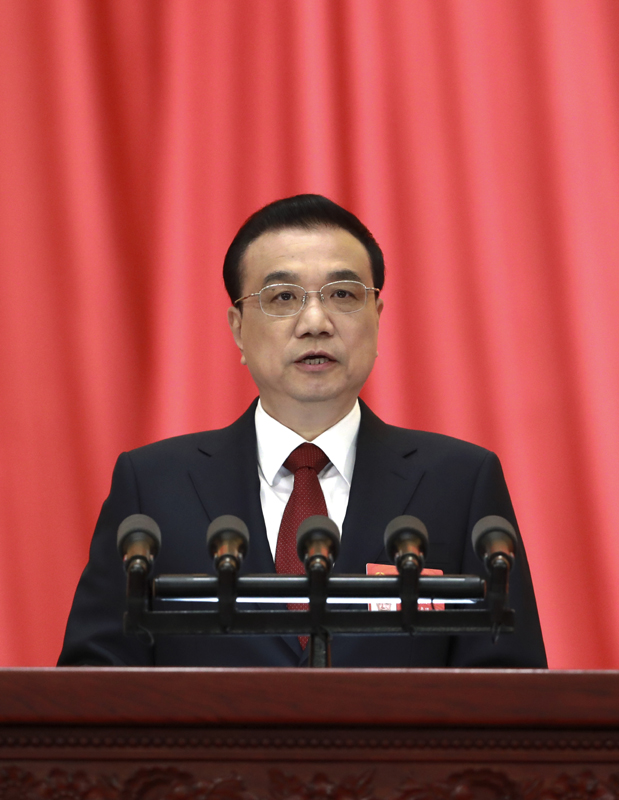 Last March 5, Premier Li Keqiang delivered China's 2019 Government Work Report. It was a comprehensive report that outlined the country's achievements the past year and laid out the tasks and targets for this year. While a great deal of the report focused on the home front, China's increasing role in global economic, security and governance means that domestic reforms will have implications beyond its borders. The 16,000 plus-word document also devoted passages on China's major country diplomacy, the country's hosting of regional forums and Beijing's determination to pursue the Belt and Road Initiative despite criticisms and implementation challenges.
Opportunities despite slowdown
The slowdown in China's economy will continue this year with GDP growth set at 6-6.5 percent. The country will also reduce energy consumption. This will have global reverberations in the energy and commodities markets. Last year, the country's economy only grew by 6.6 percent, the lowest since 1990. As a major consumer of fuel, minerals, agricultural produce and other raw materials, weaker Chinese demand will affect many countries and companies which had built up their production and expansion plans based on China's stellar growth for decades.
As the country's economy transitions to a "new normal" emphasizing capacity cutbacks, consumption, innovation, services and outbound investment, commodity exporters will have to adjust to new circumstances. On the upside, shedding overcapacity at home and the drive for overseas investments may provide opportunities for developing countries eager to build or rebuild their basic or heavy industries, such as steel, transport and construction. For instance, the world's third largest steelmaker, state-owned Hebei Steel and Iron, invested $4.4 billion to establish Philippines' first integrated steel complex in Mindanao. Representing China's largest industrial investment in the Southeast Asian country, it will support Manila's Build, Build, Build infrastructure program and provide critical input for other higher-value industries, such as shipbuilding, automotive, and manufacturing. Latecomer advantages may enable host states to make use of greener technologies to mitigate environmental costs attendant to such investments.
Furthermore, the success of China's first international import expo last year prompted the country to host the second one this November, again in Shanghai. The growing diversity and sophistication of Chinese consumer tastes and preferences offer global producers a chance to get a piece of the ever expanding pie. Despite the slowdown and the US-China trade war, the country is poised to become the world's largest retail market this year.
Greater opening and internet commerce
For foreign investors, the reduction of time in customs clearance, tariff reductions, shortening of the negative list and growth of new foreign enterprises in China to nearly 70 percent were all welcome developments. New sectors, such as finance and automobiles, were opened to foreign capital. A new foreign investment law was also passed. Beijing also pledged stronger protection for intellectual property rights and enhanced penalties for infringements. While much remains to be seen, this is a positive step towards addressing a perennial investor complaint.
The creation of new integrated pilot zones for cross-border e-commerce, such as in Hainan is also good news. China is the world's largest e-commerce market since 2016 with more than 40 percent of global e-commerce transactions taking place in the country. Reduction in broadband and internet rates will further boost this burgeoning digital sector. Chinese companies, such as Alibaba, also began to invest in e-commerce zones abroad, such as in Malaysia and Thailand.
No about turn on industrial upgrading
In what could be a concession to the West, the work report made no mention of Made in China 2025, an ambitious plan laid out in 2015 for China to climb-up the value chain and become a producer of high-technology goods, such as in the aerospace, robotics, pharmaceuticals and information technology sectors. The plan rung alarm bells in Europe and North America, especially as Chinese tech companies like Huawei eventually edged out Western competitors in frontier fields, such as advanced communication equipment production and 5G networks. As the United States and China continue negotiations to end their trade dispute, references to the plan began to disappear in official Chinese rhetoric. Washington continues to raise security concerns associated with Chinese technologies and encourage allies to restrict Chinese tech investments lest they risk affecting their security ties with the U.S.
However, it is unlikely for Beijing to simply give up its aspiration. In fact, the 2019 work report made repeated references to upgrading industrial chains, transformation and upgrading of traditional industries and speeding up growth of emerging industries. Moreover, investments in skills upgrading and Internet Plus initiatives can be seen as essential foundations in preparing the workforce and ecosystem for China's ascent to advanced manufacturing.
Foreign policy gains
In the diplomatic front, the work report cited China's inroads in Eurasia and Africa, key geographies of the Belt and Road initiative. The country hosted the Boao Forum for Asia, Qingdao Summit of the Shanghai Cooperation Organization, and the Beijing Summit of the Forum on China-Africa Cooperation. Despite cancelling some China-backed projects entered into by his predecessor, Malaysian Prime Minister Mahathir Mohamad was the first foreign leader to sign up for the Second Belt and Road Forum slated for next month. Other leaders who confirmed their attendance include Philippine President Rodrigo Duterte, Russian President Vladimir Putin, and Ethiopian Prime Minister Abiy Ahmed. Despite potential backlash from the United States and other Western European allies, Italian Prime Minister Giuseppe Conte also expressed interest to attend the summit.
While the United States increasingly shows lesser appetite for multilateral trade deals, China is pressing on with negotiations for the Regional Comprehensive Economic Partnership, China-Japan-Korea Free Trade Agreement, and China-EU Investment Agreement. Amidst rising fears of protectionism, Beijing is emerging as the unlikely champion of globalization, free trade and reforms within the World Trade Organization. Nonetheless, more work remains to be done to give greater substance to the projection.