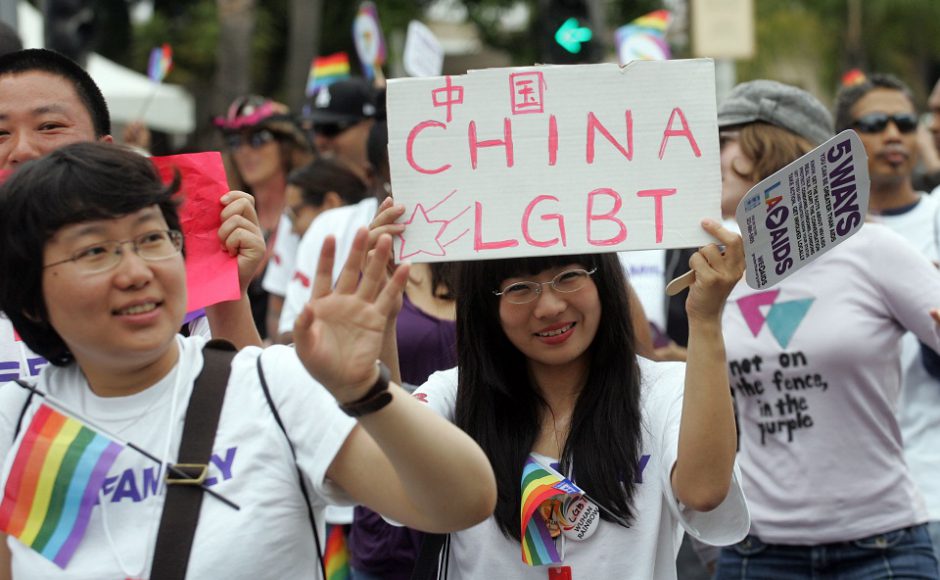 Chinese LGBT activists participates in the LA Gay Pride 2011 Festival. (Photo: AP)
On June 30, 2017, the official China Netcasting Services Association (CNSA) released a new regulation related to online broadcasting. This is the latest step in a government-led effort to tighten political and administrative control over mass communication and social media through the implementation of new laws, rules, and regulations. In a country with 1.3 billion mobile phone users (about 95.5% of the total population), including some 742 million who access the Internet primarily via mobile phone; the Chinese authorities have an obvious interest in monitoring and regulating this vitally important domain. At the same time, netizens and various social groups in Chinese society are increasingly conscious of their basic rights and interests in the digital era.
China's LGBT (lesbian, gay, bisexual, and transgender) community is particularly critical of this new regulation, least of all because it lumps homosexuality in with sexual abuse and sexual violence as constituting an "abnormal sexual relationship." The new regulation also bans stories on, images of, and references to homosexuality in online broadcasting. Unsurprisingly, the regulation quickly sparked outrage on Chinese social media. The topic "Online Content Review Discriminating Against Gays" was viewed by millions. Many critics argue that this new regulation—particularly the way in which it restricts homosexual expression—is unlawful. In a broader sense, this episode reflects the dynamic tension in present-day China between the party authorities, who increasingly use new laws and regulations to legitimize political control, and public interest groups, who strive to protect their rights through the existing legal framework.
Li Yinhe, China's leading sexologist and a former research fellow at the Chinese Academy of Social Sciences, recently posted a 2000-word article to her Weibo account, arguing that the new regulation violates the constitutional rights of sexual minorities to express their sexual preferences. Her post garnered thousands of reposts and likes before it was removed from the platform and Li was subsequently banned from social media for three months. In spite of the ban, she published commentary to her WeChat account. She pointed out that her ban was just another example of China's lack of free speech, and she denounced the constant deprivation of the LGBT community's dignity.
Without a doubt, China's rapid growth and social reform require a host of new laws and regulations. Without these, the country would fall into chaos. Over the past two decades, China's lawmakers and legal community have actively engaged in fashioning a modern legal system by continuously developing new regulations. One of the objectives of improving this legal system is to create a more inclusive, mobile, and diverse society. However, recent steps in regulating online broadcasting have been discriminatory against the LGBT community, and this constitutes a serious setback in the drive toward an inclusive and open society.
In May 2017, the Cyberspace Administration of China released regulations for online news portals and network providers, which extend restrictions on content and subject all services to oversight by party-sanctioned editorial staff. In 2016, the State Administration of Press, Publication, Radio, Film and Television (SARFT) published "General Rules for Television Series Content Production," which ban television dramas from depicting "abnormal sexual relationships and behaviors," including same-sex relationships. As a result, a popular Chinese web series, Addicted (上瘾), was removed from streaming services because the storyline centered on a gay high school couple.
Human rights lawyers and the LGBT community have criticized these actions as major steps backward. Although gay marriage is not yet legal in China, homosexuality was decriminalized when the national penal code was revised in 1997, and China's Psychiatric Association removed the term from its list of mental disorders in 2001. In 2004, references to homosexuality were deleted from a section on "Polite and Civil Behavior" in the "Regulations on Reform of Criminals." China also permits citizens to change their legal gender following sex reassignment surgery, a procedure that Jin Xing, who now hosts the country's highest-rated late-night talk show, underwent in the late 1990s. Hence, when liberal legal scholars and human rights lawyers voice opposition toward the new CNSA regulations, they are arguing on a basis supported by China's current legal framework.
An increasing number of well-known professors and opinion leaders have shown that they are not afraid to publicly criticize authorities on this issue. Geng Le, the creator of Blued—one of China's popular LGBT dating apps—and the grand marshal of the 2017 NYC Pride March, publicly reiterated the legitimacy of LGBT relationships in China and protested against the new regulations. Chinese LGBT magazine Gay Voice asserted: "The false information in these regulations has already caused harm to the Chinese LGBT community—who is already subjected to prejudice and discrimination." According to Ying Xin, director of the Beijing LGBT Center, the ban disrupts organizations working on LGBT issues in China and "is bad for the development of sexual education." The common theme among these criticisms is that the new regulation is unaligned with the current legal framework and is detrimental to the development of Chinese society.
Rule of law is of the utmost importance to China's continued development, as is the case elsewhere in the world. China's efforts to advance its legal system have been impressive, but this new regulation is an incongruous departure from existing frameworks concerning LGBT rights. Members of China's LGBT community still face substantial barriers to protecting their rights, and this contentious regulation reflects the authorities' tightening grip on liberty in China. However, instead of remaining silent on this sensitive topic, NGOs, legal scholars, and activists are using the legal framework to fight for human rights. Their efforts, coupled with close media coverage, are increasing public awareness of the legal protection of the LGBT community.
Only time will tell whether this development has the paradoxical effect of sparking a friendlier environment for LGBT people in China. To a great extent, this issue represents an important test of China's legal system. Will the Chinese legal system serve only the interests of the powerful, or can it also protect the rights of diverse groups in the most populous country in the world?