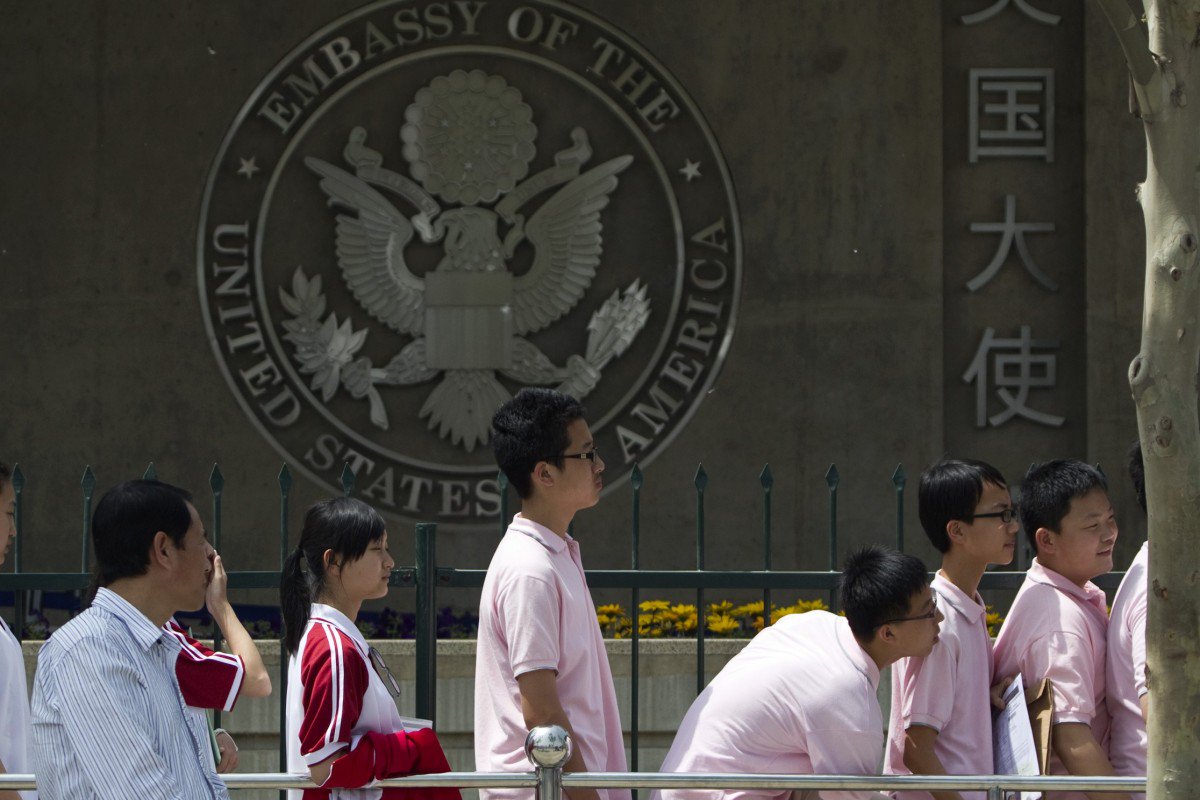 Chinese students wait outside the US Embassy for visa interviews. Photo: AP
Educational exchange is one element of the China-U.S. relationship that is frequently trotted out when ties are strong and receives little attention in periods of turbulence. While China has growing numbers of educational programs catered to international students, China is not a preferred study abroad destination for western countries, particularly the United States. In contrast, U.S. institutions draw large number of Chinese students at all levels of secondary and tertiary education. This imbalance has nuanced and varied impacts on understanding of the U.S. and China for citizens from both countries. Increases in the quality and quantity of US-China educational exchange has not kept pace with increasing economic and political interdependence. Along the sidelines of US-China trade war tensions, this disconnect is likely to continue and widen. Some may dismiss educational exchange as inconsequential amidst diplomatic and business friction. However, people-to-people exchange has an intangible, but influential impact, on both countries' perception of the other and is therefore worthy of evaluation.
The U.S. is a top destination for Chinese students abroad, and the leading destination for overall international student enrollment. In 2018, 360,000 Chinese students studied in the United States, an increase of approximately 25 percent from 2013-2014. Chinese students comprise 31 percent of all international students studying in the US and have accounted for 2/3 of increases to total international student enrollment since 2003. For many US institutions, the uptick in Chinese student enrollment plays a pivotal role in shoring up funding gaps, subsidizing scholarships or improving campus facilities.
While Chinese students continue to prefer US institutions, only around 12,000 American students studied in China in 2018. Most of these students were not in degree granting programs, rather they enrolled in short term language study. In contrast, the vast majority of Chinese students in the US are seeking either undergraduate or graduate degrees in a broad range of subject areas.
In recognition of this imbalance and the need to build collective knowledge on China informed by on the ground experience, President Obama announced the "100,000 Strong" Initiative in November 2009. The 100,000 Strong Initiative has since transitioned into an independent foundation, which focuses on improving access to Mandarin language education in primary and secondary schools, and increasing access to study abroad programs in China at the tertiary level. While this initiative aimed to increase the number and diversify the composition of American students studying in China, it has proven largely unsuccessful in promoting large scale increases in enrollment. Existing scholarship programs to promote study in China include the Critical Language Scholarship and the National Security Language Initiative for Youth, both funded through the State Department to promote Mandarin language acquisition as a "critical language" needed to protect U.S. interests.
The Chinese government, for its part, is supporting a variety of initiatives to both popularize the study of Mandarin among U.S. students, and to upgrade the profile of Chinese universities as a destination for higher education for American students. These goals are accomplished both through educational programs within and outside of China. At U.S.-based institutions, the ever-controversial Confucius Institutes offer language and cultural instruction. Confucius Institute offerings are frequently rejected by U.S. schools and colleges, who view their programming as unduly influenced by Chinese government involvement. American students on a Chinese government scholarship may use it for either language study or higher education, but complaints about quality of instruction and diversity of programming endure. The end result: limited success, despite clear effort and resources dedicated to increasing China's educational profile among American students.
What is the impact of this discrepancy in student scale and composition? First, the takeaways for Chinese and American students will differ drastically. Chinese students in the U.S. are seeking skills-based credentials in a variety of areas, using degrees from American institutions to distinguish themselves in either the foreign job market. American students want to focus on China, whether that includes Chinese language, culture or political systems.
In addition, due to the imbalance in student enrollment, US students are more likely to have a smaller American peer group and thus more emphasis on intercultural exchange. While American students may have the advantage of more concentrated interaction, Chinese students are gaining experience with and knowledge of the US at a much larger scale. The end result: American students returning from China may have deeper knowledge of their host country but are still few and far between. Given US-China trade tensions and anti-China rhetoric, this trend seems likely to continue over time.
There are clear consequences to deteriorating quality and reciprocity in China-U.S. educational exchange. China-U.S. ties are the most vital bilateral relationship in modern international relations. Beneath that concept are connections between individuals, either those are heads of state, leaders in business or at the individual and cultural level. Limited understanding of the other's culture, political structure, and norms has real and immediate consequences on how both sides perceive the other. Limited contact or contact without real exchange, poises the danger of pushing biased or stagnant views to become more entrenched. Even for the most hawkish of American China watcher, this should be a concerning prospect. Lack of understanding of the differences between both political systems means that policy will be crafted at worst, inexpertly, and at best, based on outdated information.